I'm wrapping up my Halloween in July theme for this week with the Sally Hansen Insta Dri fall 2019 releases, including the four glow in the dark shades. Left to right below: Glowing Night, Happy Hollow-een, Boooo-tiful, Hallo-Green, Get the Gold, Leaf Lined Trail.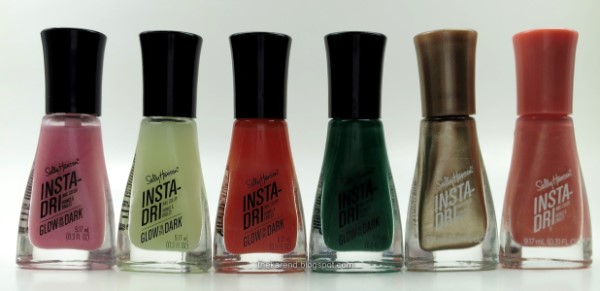 I started my swatching with Leaf Lined Trail, a soft orange with gold shimmer. I bought this because I want to support brands coming out with new colors at a time when many drugstore lines have backed away from polish and because I couldn't think of another shade like this in my stash (I mean, there might very well be one, given the size of my collection, but I couldn't think of it). This was plenty opaque in two coats. Sadly, the shimmer was way more shy on the nail than in the bottle, though it did show on the nail in my lightbox, I just had to look very closely.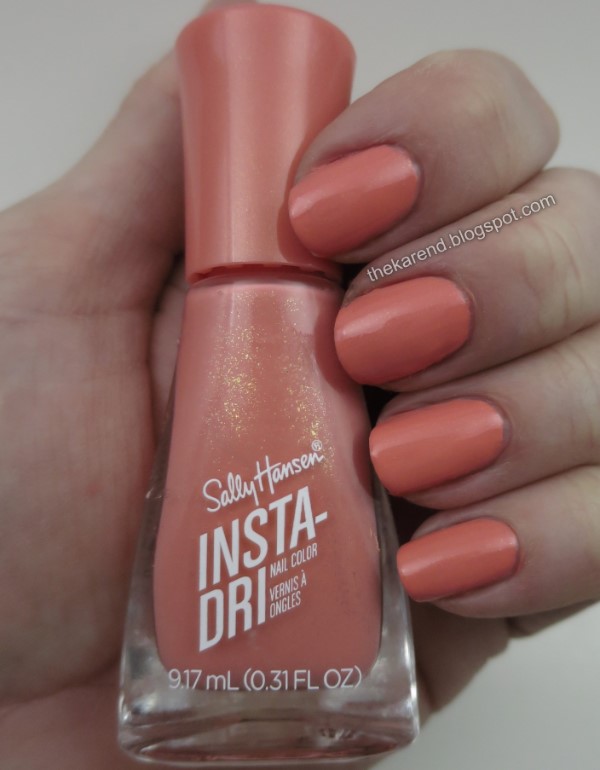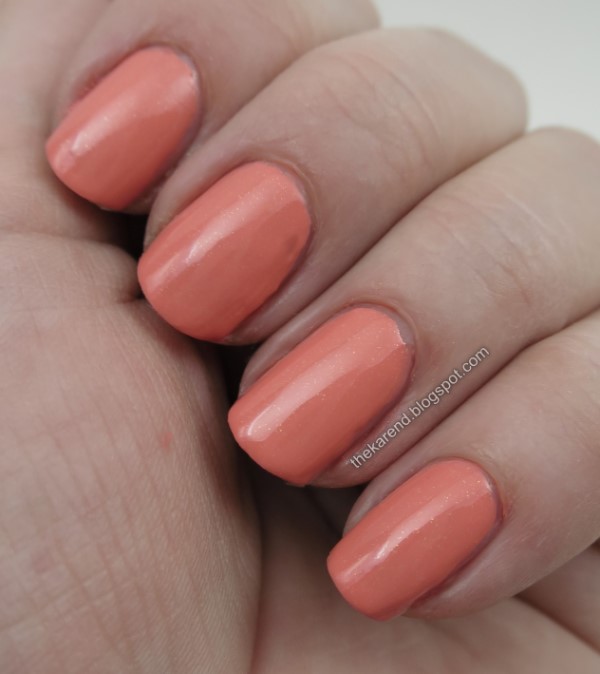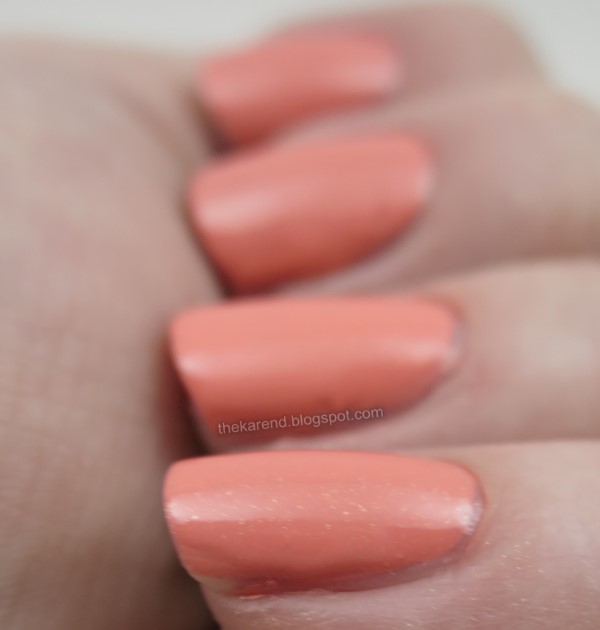 I found it curious that the shimmer maintained its demure character even in the glare of direct light ... usually that helps subtle shimmer pop at least a bit. But Leaf Lined Trail kept itself to itself.
I passed on Get the Gold at first, since I know for sure I have other gold metallics and rarely wear those. Still, I grabbed it when I saw it on clearance because by that point, I'd bought the rest of the new colors and you know how I love to have complete sets. I was pleasantly surprised to find this particular gold is a one-coater; I know the Insta Dri line generally has good coverage (that's why they work well for stamping), but I almost always use two coats because I think it looks better. This time I did one and called it good.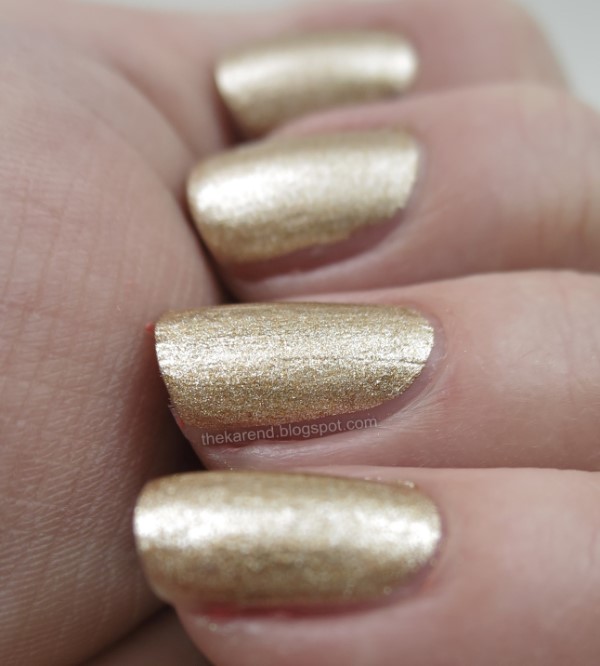 Then it was time to get into the glow in the dark ones. I charged up the bottles under bright light for a few minutes then closeted myself in the dark bathroom for a group shot. Left to right: Glowing Night, Happy Hollow-een, Boooo-tiful, and Hallo-Green. Happy Hollow-een sure has the best glow, which makes sense since it's the one that has only the yellowish glow in the dark pigment in it, with no other tint or tone.
I expected Happy Hollow-een to be on the sheer side based on my experience with similar polishes, so used it over Get the Gold on most of my digits. Top to bottom below: 3 coats of Happy Hollow-een on its own, then 2 coats of it over Get the Gold on the remaining three fingers. It barely changes the gold, just makes it a little softer.
In the dark, the best glow came from the finger with only Happy Hollow-een on it, though the other three weren't too far behind (and those three definitely looked better in the light, which is how they'd be seen most often if I wore this as a full mani).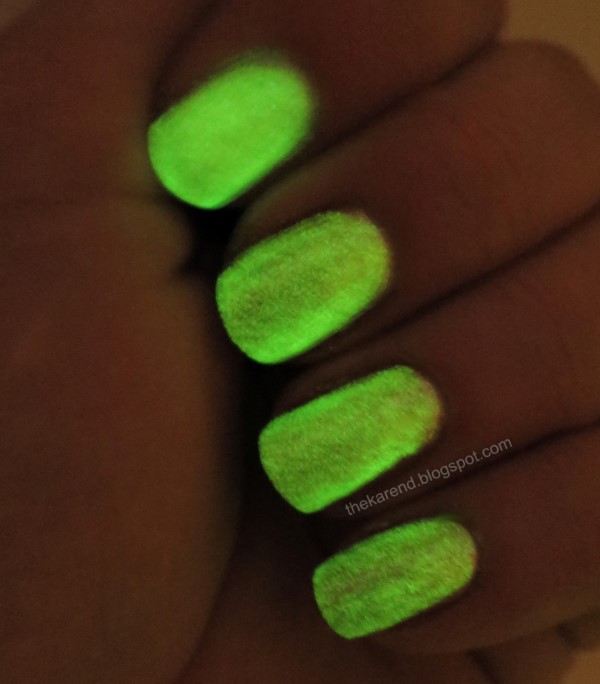 I took the same accent nail approach with Boooo-tiful (I keep wanted to make that only have three o's but it has four according to the bottle), though it wasn't as sheer as Happy Hollow-een owing to the orange pigment in it. Top to bottom: three coats of Boooo-tiful, then three fingers with two coats of Boooo-tiful over Leaf Lined Trail.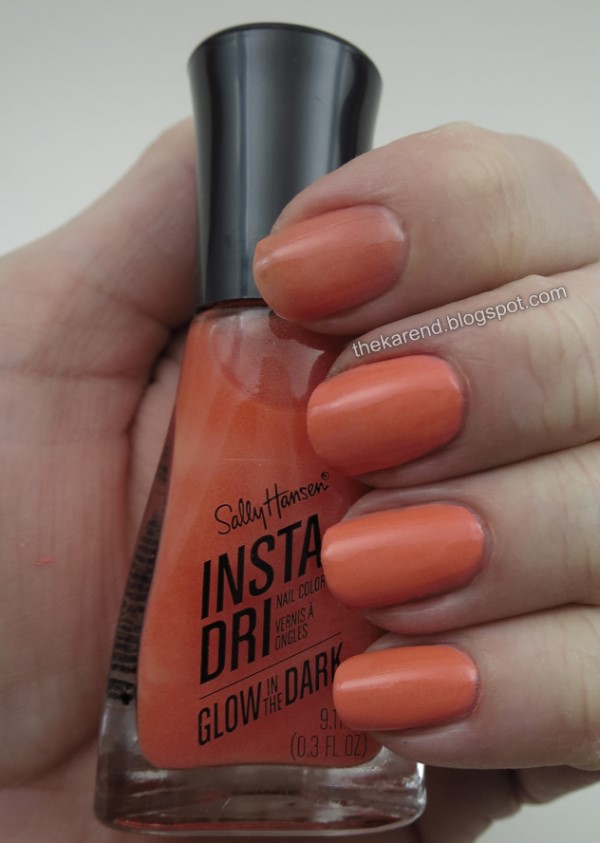 In the dark, this glowed quite nicely, more than I expected based on the bottle shot.
Glowing Night was up next, and it has a surprise: shimmer! That's unusual for a glow in the dark polish, at least in my collection.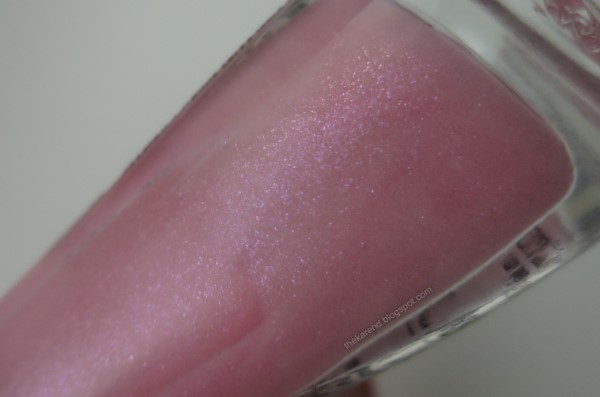 I paired Glowing Night with Sally Hansen Insta Dri Flamin-go, a medium pink you can see on its own in my
comparison post
from last year. Top to bottom: three coats of Glowing Night alone, then two coats of it over Flamin-go. Unlike the first two glow in the dark shades, I would wear this one alone; something about the pink and the sparkle makes the sheerness work for me.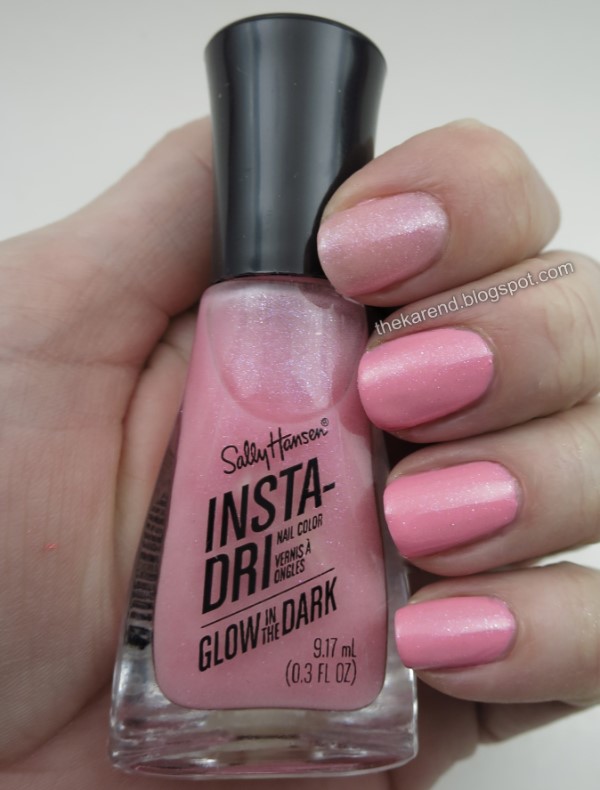 In the dark, the glow was again better than I expected based on the bottle shot; I thought I'd charged them all up equally for that, but perhaps they don't charge/discharge at the same rate so that accounts for the differences. When doing the swatches, I probably charged longer than I had for the bottles alone as I wanted to make sure they would last while I was snapping multiple photos.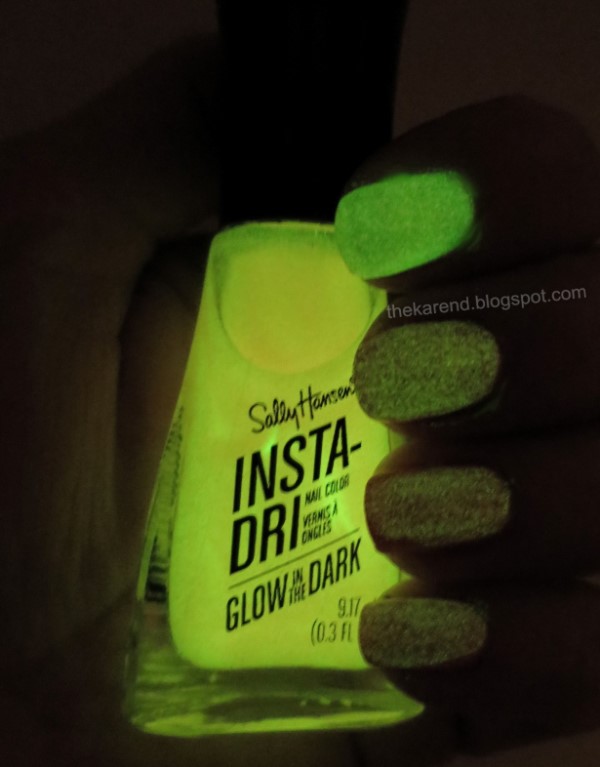 Here's a better look at Glowing Night on the nail without the distraction of the bottle; you can definitely see where I didn't get all the pink creme covered in some places!
Hallo-green is the most pigmented of the glow in the dark ones, yet I still paired it with a complementary Insta Dri shade, Granny Smith Apple, which was on a recent
nail wheel
I posted. Index finger is three coats of Hallo-green and the other digits have one coat of Granny Smith Apple topped with one coat of Hallo-green.
And here's the dark shot, very glowy:
I'd wear the pink and green glow in the dark shades by themselves; the other two I'd rather use as toppers, though at only one or two coats, they give a sort of speckled look in the dark (I'm guessing because the glow in the dark pigment doesn't disperse fully so more coats are needed to fill in the gaps?).