Continuing with my display catchup started
earlier this week
, today I have the non-Look, non-SinfulColors ones I've seen in the U.S. since my April display post. My Canadian content will have to wait just a bit more.
I was surprised to see Butter London at Kohls; I think that's new. They didn't have a full display, just some boxed sets on a free standing shelf unit for the Butter London + Pantone Color of the Year collection. There was an eyeshadow palette, a lip gloss set, and a nail polish set (with tall skinny bottles).
Shades in the polish collection are Sheepskin, Moss, Rose Gold, and Fruit Dove. If you like the looks of these, get thee to a Kohls immediately, as I was in one over this most recent weekend and all of the BL+ Pantone sets were marked down.
There were also Butter London + The Knot wedding themed sets at Kohls.
The "A Perfect Pair" set has a lip gloss and a "fashion size" blue nail polish, The Knot: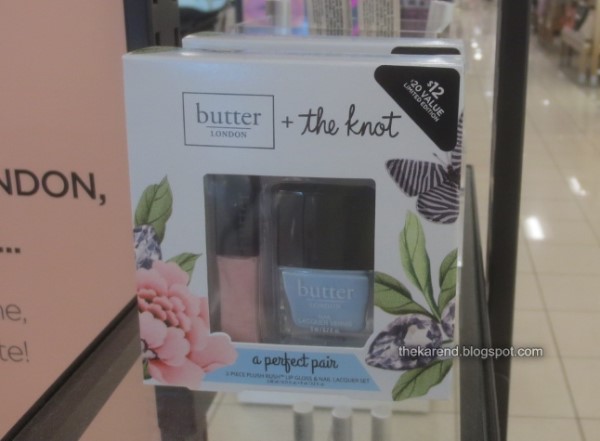 The "Love Me, Knot" set has four "fashion size" polishes—White Wedding, Save the Date, Say Yes, and Flower Girl: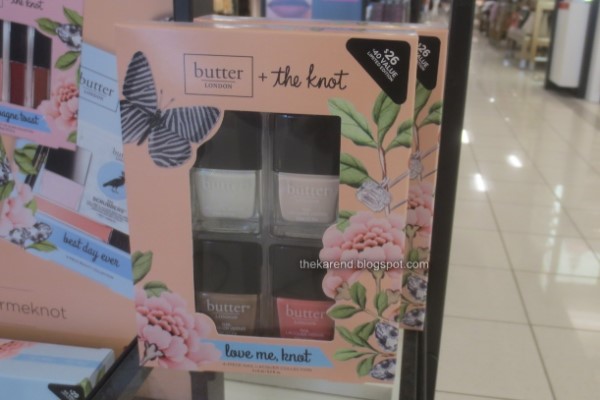 The "Best Day Ever" set has lip stick, lip gloss, mascara, nail polish remover pads, and one "fashion size" pink polish, Happily Ever After:
I've seen the Essie Summer 2017 collection at Fred Meyer, Rite Aid, and Walgreens. Shades here: Sweet Souffle, Blue-La-La, Baguette Me Not, S'il Vous Play, Fondant of You, Eclair My Love. There's also Speed Set fast dry top coat in this display.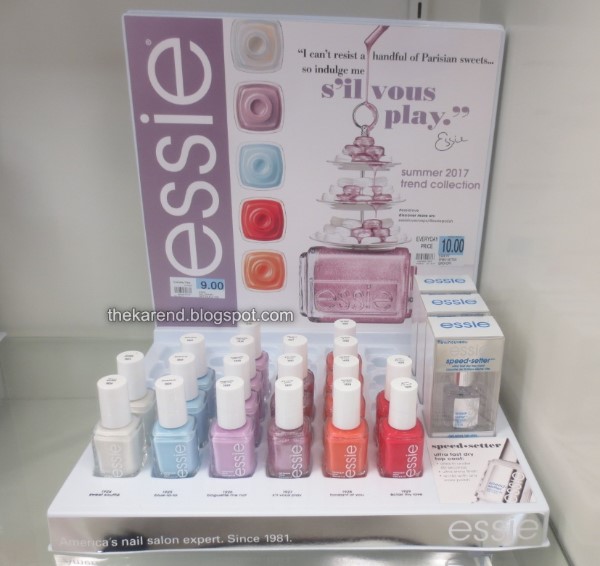 Back in April, a reader (hi, Kim!) commented on Facebook that she'd seen the Essie Wild Nudes in a three-sided display at a Walgreens. I ran across this variation in a Walgreens in Illinois. This one had Wild Nudes on one side, Summer 2017 S'il Vous Play on the second, and core blues and greens and top coat on the third.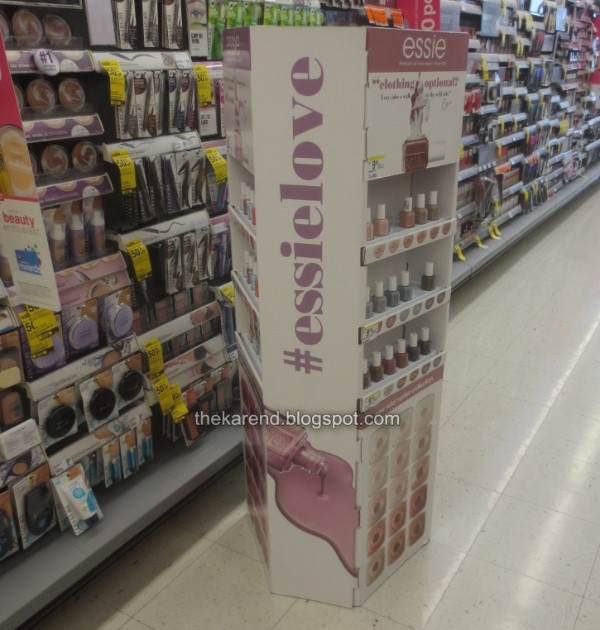 At Sally Beauty, they had an offshoot of the Finger Paints line, the Bamboo Collection, which is "infused with bamboo extract". In front: Wood I Lie to You, Shoots and Ladders, Reed My Mind. In back: Blue Hue Bamboo, Shoots and Ladders, I Knew You Wood. Poking around on the Sally site, I see that there's also a glitter topper in this collection, Feeling Bamboozled, but I never saw it at any of the stores I visited.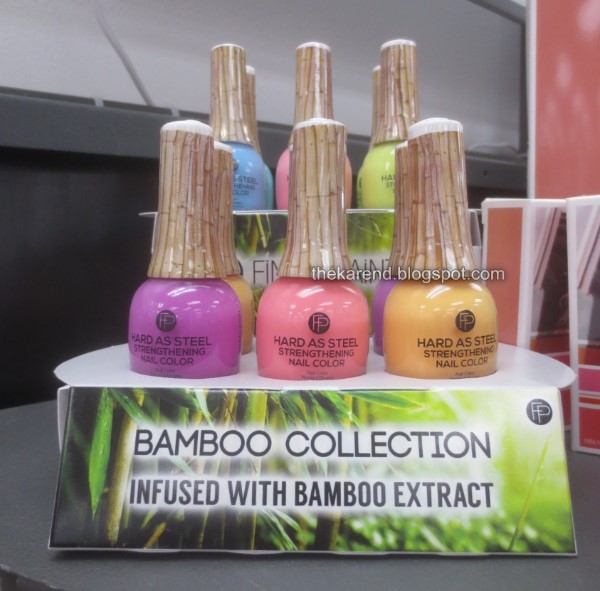 Of course when I was in Michigan I made a beeline for Five Below, where I saw three new to me at least Funky Fingers: Pink Quartz, Mermaizing, and Moonstone.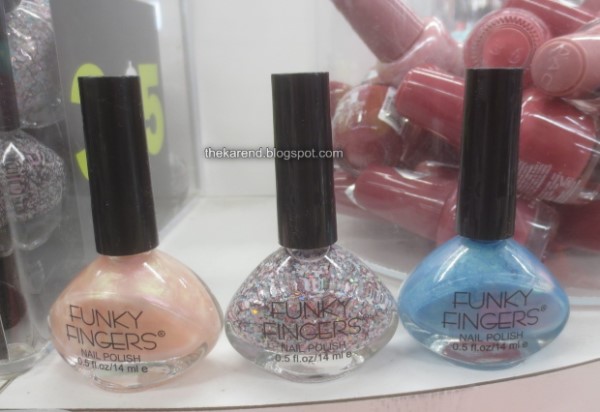 There were also two shaped glitters in the unbranded square bottles that weren't there the last time I was in a Five Below: Always Be a Unicorn and Don't Worry Be Happy.
The summer offering from OPI is California Dreaming. I saw it first at Ulta. Top row: Barking Up the Wrong Sequoia, Time for a Napa, Santa Monica Beach Peach, Me Myselfie and I, Feeling Frisco, Sweet Carmel Sunday, Don't Take Yosemite for Granite. Bottom row: Base Coat and Top Coat, Excuse Me Big Sur, Malibu Pier Pressure, GPS I Love You, This is Not Whine Country, To the Mouse House We Go. So many pinks and reds and peaches; this could be colors for anywhere, really.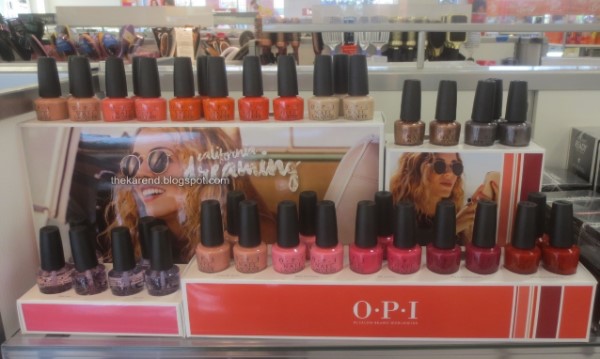 The Gel Shine line has all of the same colors. (I saw a smaller Gel Shine display at Sally Beauty. Same colors there, too.) The mini kit has This is Not Whine Country, Malibu Pier Pressure, Santa Monica Beach Peach, and Time for a Napa.
There were two trios of Orly Color Blast at Kohls that I hadn't seen before: Hollywood Hills (shades are Selfie Time, Happy Hour, and Dress Up) and L.A. Nightlife (Appearance is Everything, Filtered, Girls Night). The backs of these say the shades are new; not clear if they're also limited edition.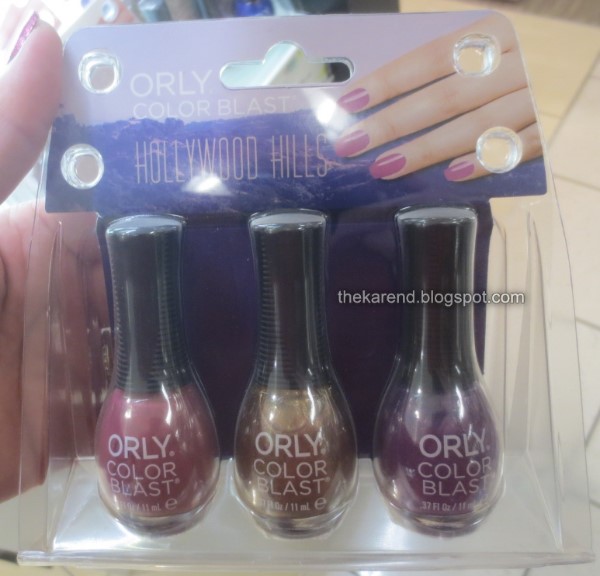 Walgreens had more new Orly Color Blast, these in a special display tied into Wonder Woman. There are nail stickers and four shades of polish: Lasso of Truth (why white? shouldn't this be gold?), Paradise Island, The Amazing Amazon, and Golden Tiara (guess they needed the gold for this name). I'm glad there's a Wonder Woman collection, but wish that instead of the cartoon version, they'd gone with the new movie version. Maybe they couldn't get that licensing agreement.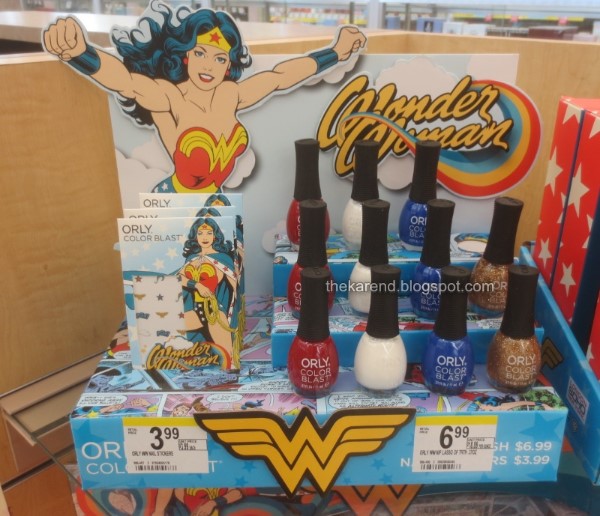 I braved the Walmart in the little town at the base of the mountain and was rewarded with finding the Pueen stamping kit. They also had liquid latex. I am not sure what was supposed to be on the empty peg in between them.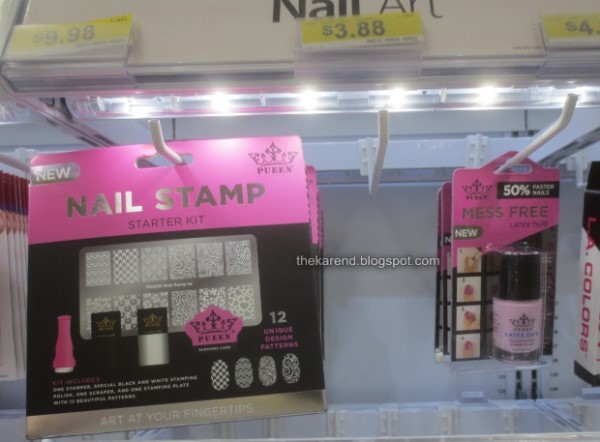 I shared a Sally Hansen Beachside Bride display in my last
display post
. After that, I came across a different Beachside Bride display with a different assortment of colors (though there is a lot of overlap). Front row: Peach of Cake, Make a Toast, Mauvin' on Up, You Glow Girl, Camelflage, In Full Blue-m. Back row: Luna Pearl (x2; one of these slots should be Meant Taupe Be), I Nude It Was You, Icing on the Cake.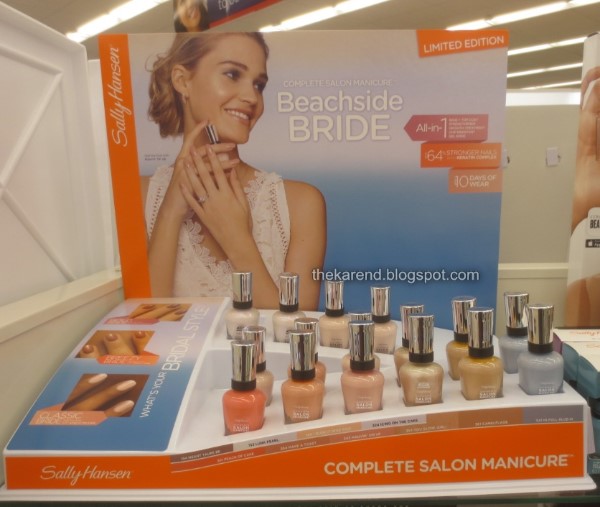 There are new shades of Sally Hansen Miracle Gel in the Cuba Craze display, which I saw first at Fred Meyer. Left side has the new colors: Tropic Relief, Bronze & Effect, Pink Jellyfish, Tangerine Sunrise. Right side has "best seller" core shades: Birthday Suit, Pink Tank, Get Mod, Top Coat. In the middle in the back is a color and top coat pack with Coral Carnival, which also says it's new.
I saw a smaller variation on this display at Rite Aid; this only has the new shades and top coat.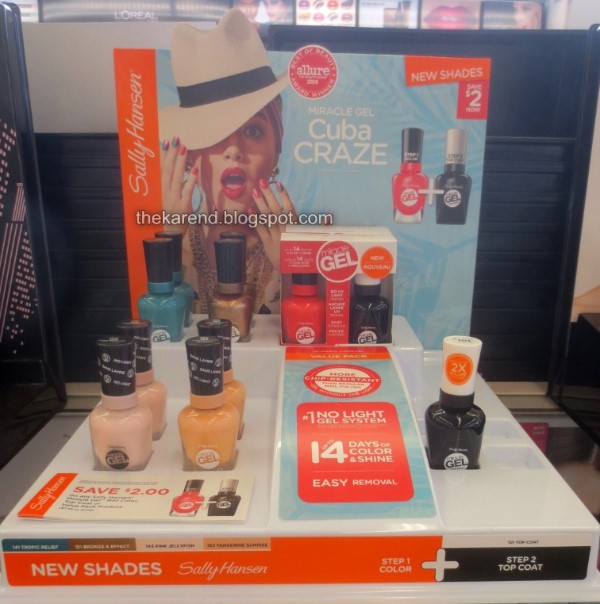 There are more new shades of Miracle Gel in the Travel-Proof Polish display. The corner version of this at Walgreens has room for 22 shades plus top coat; I'm not sure if all of these are new or not. Upper left: Shhhh-immer, Sheer Happiness, Terra-coppa, Adrenaline Crush. Lower left: Proper P-rose, Red-y Set Run, Bordeaux Glow, Cabernet with Bae. Upper middle (all these colors sold out of this display): Tawny Travels, Flushed Wanderer, Lilac Insomniac, Top Coat. Lower middle: Love Me Lilac, Beet Pray Love, Orchid-ing Aside, Top Coat. Upper right: Regal Rose, Smartease, Mauve-olous, In the Sheer. Lower right: Wild For Violet, Swim Upstream, Jealous Boyfriend, Leaf Me Be.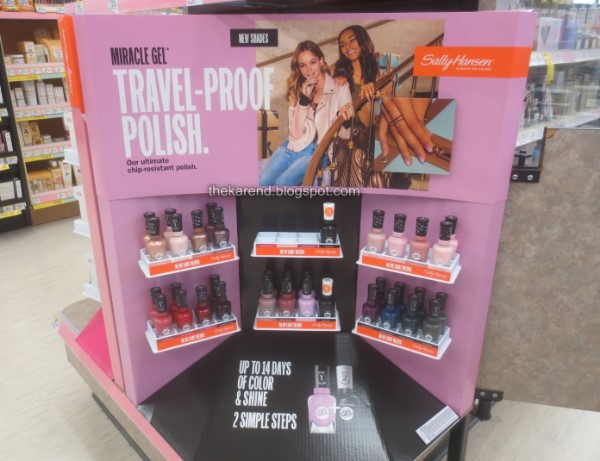 There's a smaller shelf top display of Travel-Proof Polish in some Walgreens. Top row: Shhhh-immer, Sheer Happiness, Adrenaline Crush, In the Sheer, Proper P-rose, Top Coat. Bottom row: Red-y Set Run, Love Me Lilac, Beet Pray Love, Orchid-ing Aside, Wild for Violet, Swim Upstream.
Not to be outdone by Essie's three-sided floor display, Sally Hansen has a four-sided Miracle Gel one at some Walgreens. The sides are: Radiant Reds, Daring Bolds, Flawless Nudes, and Playful Pinks. I didn't record what all shades are in here, as I'm pretty sure they're all core.
One Walgreens I was at had a sidekick with Color Therapy shades. This said "limited edition" on it, but I'm not sure if that applied to all the colors. Top row: Sweet Nothings, Indulgent Truffle, A Latte Love, Warm and Toasty, I Dream of Cream, Toffee Temptations, Top Coat. Second row: Well Well Well (x2), Steely Serene (x2), Blused Petal (x2), Top Coat. Third row: Powder Room, Re-Nude (x2), Sheer Nirvana (x2), Mauve Mantra (x2). Bottom row: Couple's Massage, Red-iance (x2), Good as Blue (x2), Teal Good (x2).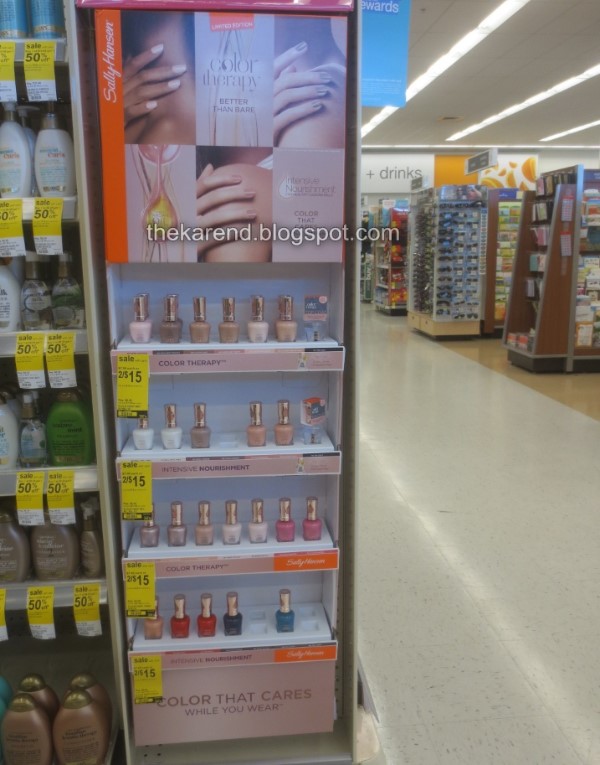 The most recent Sally Hansen I've seen is the Summer Sleek display with new shades of Complete Salon Manicure: A Perfect Tin, Talk is Chic, Stellar Style, and Rags to Riches.
I feel like Ulta hasn't had any new polishes in their store brand line in ages, so was happy to see four in the Festival Ready display, all metallics: Venus, Neptune, Jupiter, and Mercury. I wasn't so excited that I bought any of these, though, since I'm pretty sure I have metallics in all these shades already (rose gold, blue, gold, and silver).
I was really hoping to see the Sally Hansen Insta Dri Crayola shades when I went to the big city last weekend, as I've heard reports they've shown up at Meijer in Michigan (thanks, Michigan Nail Gals!) and HEB in Texas (thanks, Lizzy!), so was hoping Fred Meyer would have them, but not yet, at least not the two stores I visited. This coming weekend, I hope.