For a while, I'd lost interest in China Glaze; the collections just didn't seem as interesting or appealing as past ones. But My Little Pony did catch my eye, and I bought some of those shades, and now Happily Never After seduced me to the point where I bought the mini set that had all the shades in it: Queen Please, Sin-derella, Life's Grimm, Do You Boo, Crown for Whatever, and Lookin' Gore-geous.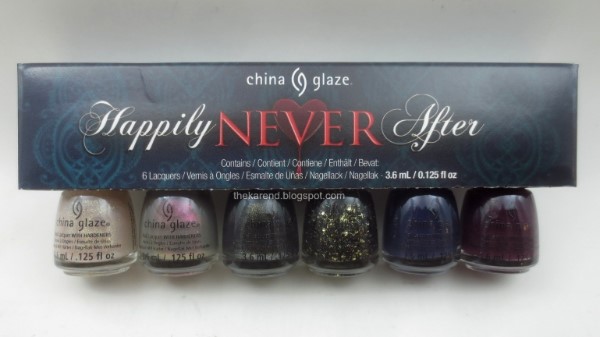 Queen Please is a sheer white with gold shimmer. I did three coats of it alone on my index finger and on the other digits, did tips with Lookin' Gore-geous then added two of Queen Please for a funky French look.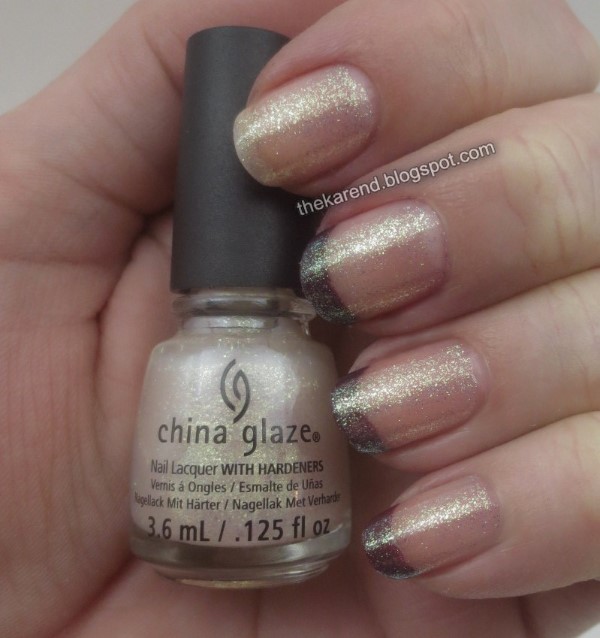 Lookin' Gore-geous is the least interesting shade in this collection; it's a vampy plum creme, the sort of polish I have multiples of in my stash. The only thing that distinguishes it from so many vampy cremes is that I was able to do one coat of it and be happy with it, so that's a plus. I did that one coat on my index finger. On my other fingers, I did two coats of Sin-derella, a grey with strong pink shimmer that's absolutely gorgeous. It's something I could have easily worn as a conservative office appropriate neutral back when that was a concern for me, yet the shimmer makes it so much more interesting than many office appropriate polishes.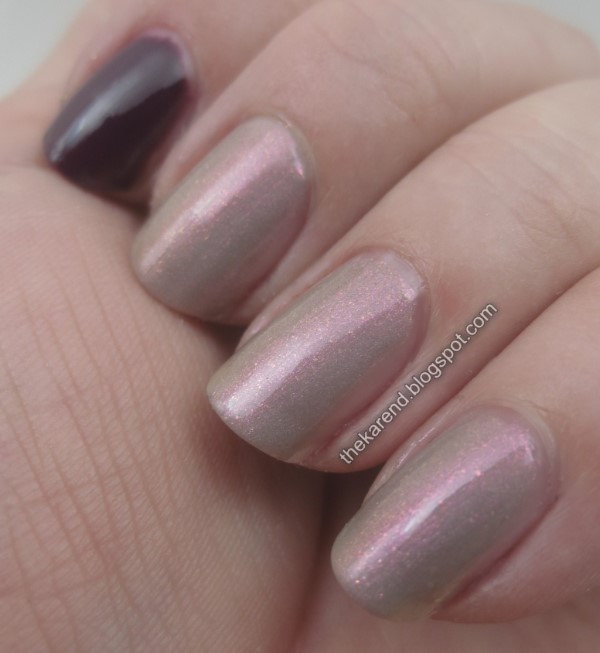 The pink in Sin-derella really pops in direct light:
Crown for Whatever is a dark cool-toned purple that dries to a fairly matte finish. I used two coats for my swatch. There is a fine-grained warm red violet shimmer in this one, but once it was out of the bottle and onto the nail, that pretty much disappeared.
Shiny topcoat didn't coax out the shimmer in the lightbox: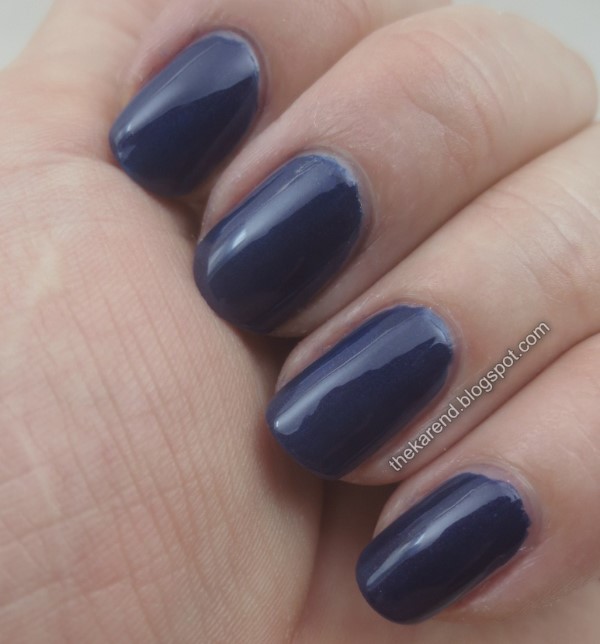 Topcoat plus direct light did make the shimmer show up: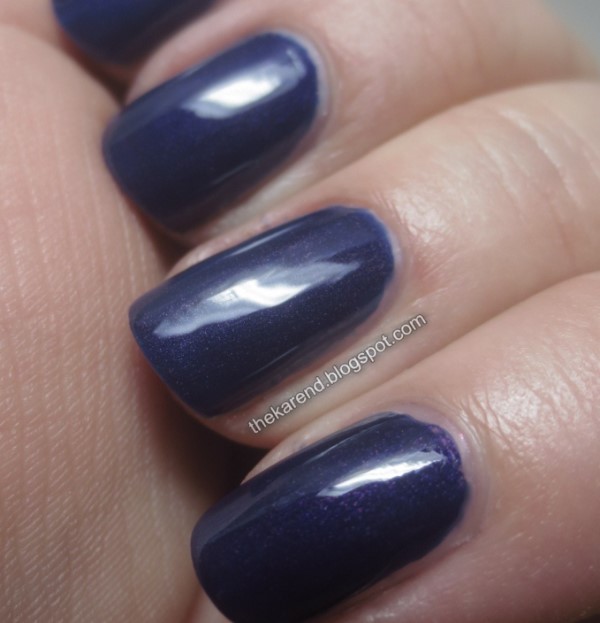 Just for fun, I tried layering over Crown for Whatever. Top to bottom: on its own, plus Queen Please, plus Sin-derella, plus Do You Boo and clear topcoat. Queen Please was the best topper for this, adding greenish gold shimmer that looked good on the deep purple base. Sin-derella is not quite sheer enough to be a layering polish, and the dark glitter in Do You Boo got lost on the purple (Do You, Boo! is the punctuated name, but you know I don't care for punctuation in polish names; I'll use this over a better base in a bit).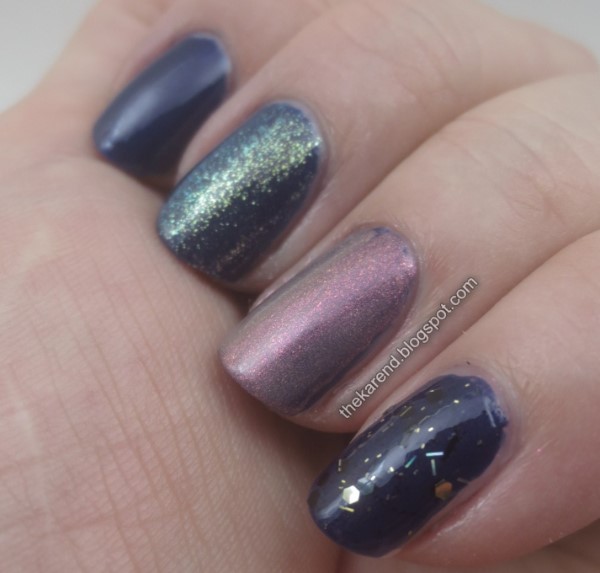 Life's Grimm is a deep warm green with gold and yellow green shimmer. I used two coats and that was plenty. Before I tried this one, I thought Sin-derella was going to be my favorite from the collection, but Life's Grimm was stiff competition for sure. The shimmer is so so pretty and it has a lot of depth to it, which I love.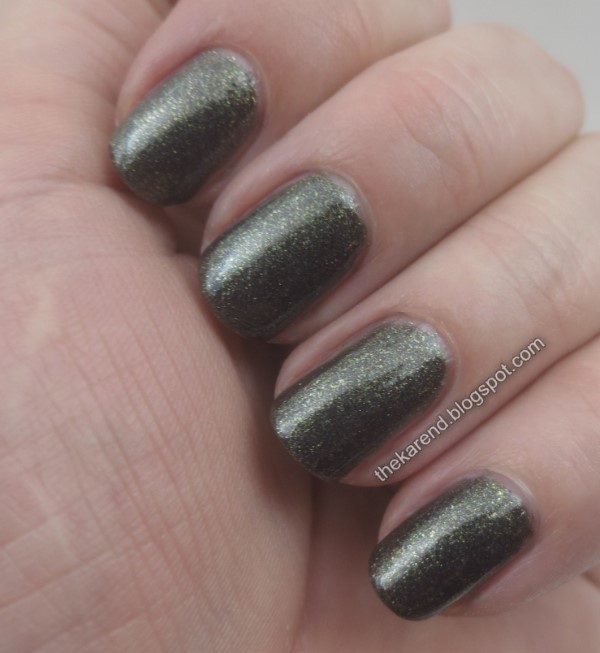 In direct light, the green in the shimmer popped out more:
Of course I had to try some layering over Life's Grimm. Top to bottom: alone, plus one coat of Queen Please, plus two coats of Queen Please, plus one of Queen Please and one of Do You Boo plus topcoat. Queen Please really plays nicely with Life's Grimm, complementing the shimmer that's already there rather than competing with it. Do You Boo looks better over this combination than it did over Crown for Whatever, but the dark glitter still gets lost a bit.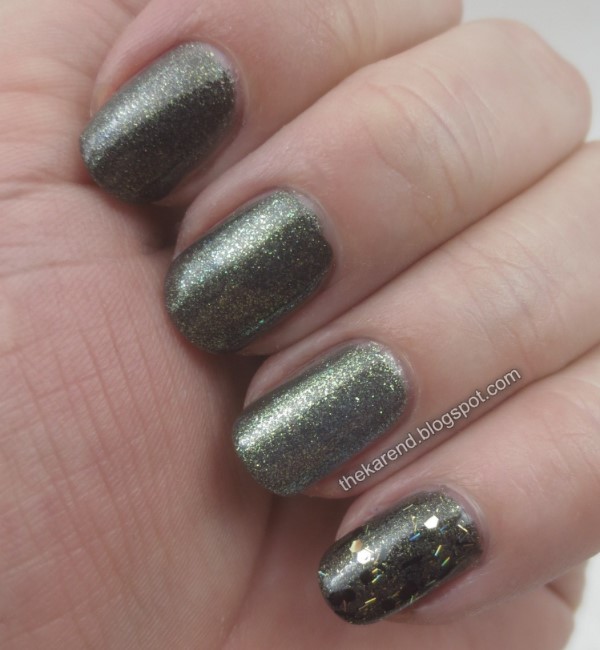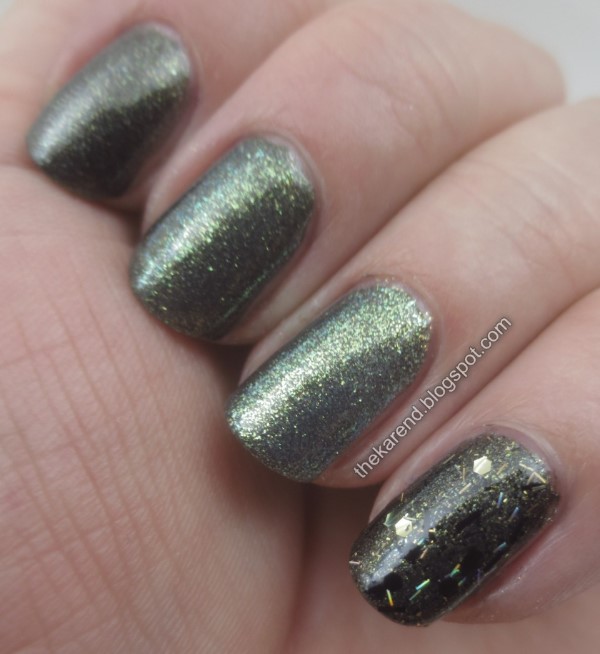 Finally it was time for Do You Boo to shine. This glitter topper has gold and black hex glitter, gold and black micro glitter, chunky black bar glitter, and slim holo bar glitter, all in a clear base. I put on a skintone base color (this has a slight shimmer of its own but nothing that competes with the glitter), topped it with Do You Boo, and smoothed it over with a clear topcoat because bar glitter can be poky-uppy. I'm still no big fan of bar glitter, so this one looked rather messy to me, but maybe that's the sort of glitter toppers zombies like and thus it's appropriate for Halloween.
All in all, this is a dandy seasonal collection. If I see a full size of Sin-derella, I will probably buy it, as I really like that one. Life's Grimm is very nice, too, but I feel like I have things that are similar enough to fill my need for a deep green shimmer (like Zoya Logan).