Getting this wheel of Halloween polishes in on the last Wednesday before this year's holiday. I had some camera trouble the day I painted and photographed this one, so please forgive the uneven quality in these shots. I fear my trusty point and shoot may finally be coming to the end of its useful life but I'm hanging on to it until it's well and truly dead.
1. Fright Night Claw Polish Creepin' It Real (2 coats)
2. Fright Night Claw Polish I'm Here for the Boos (2)
3. Fright Night Claw Polish Ghostly Glow (2) [coffin bottle shape was definitely more interesting]
4. OPI Ghostess Mostess (3)
5. Sally Hansen New Lengths Ceramic Glow in the Dark (2)
6. Fantasy Makers Glo Money Glo Problems 92)
7. Fantasy Makers Roach Busters (3)
8. Fantasy Makers Queen of Envy (3)
9. Fantasy Makers Witch Black (2)
10. Fantasy Makers Goosebump Suit (2)
11. Fantasy Makers Ghouls Rush In (3)
12. skull polish unlabeled pink (2)
13. skull polish unlabeled other pink (2)
14. skull polish unlabeled orange (2)
15. skull polish unlabeled other orange (2)
16. skull polish unlabeled shimmery pink (2)
17. skull polish unlabeled green (2)
18. skull polish unlabeled blue (2)
19. skull polish unlabeled purple (2)
20. Disco Lights unlabelled microglitter (3)
Bottles 1 through 5:
6 through 11: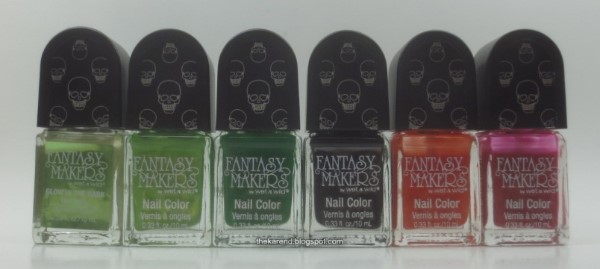 12 through 14: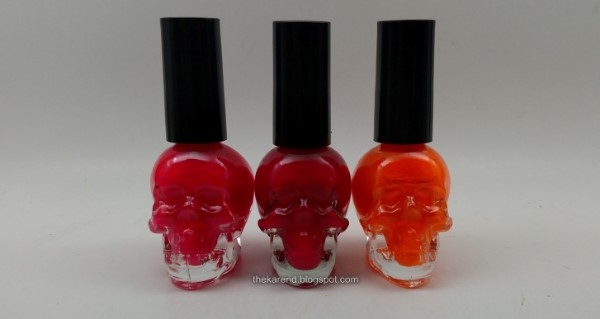 15 through 17; these were part of the great stash smashem up of 2014 (post
here
, scroll down), but I never got around to cleaning them and decided they looked suitably zombie-like for Halloween as they are: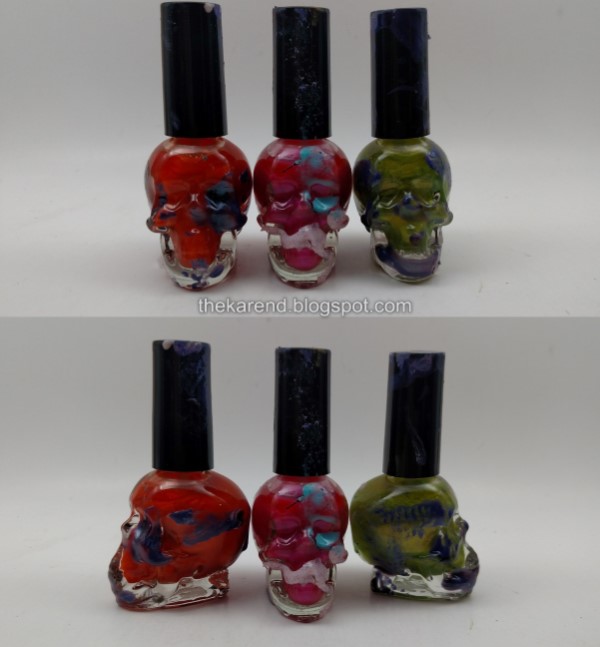 18 through 20: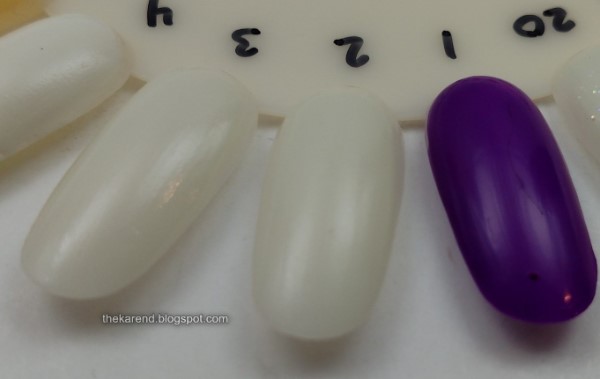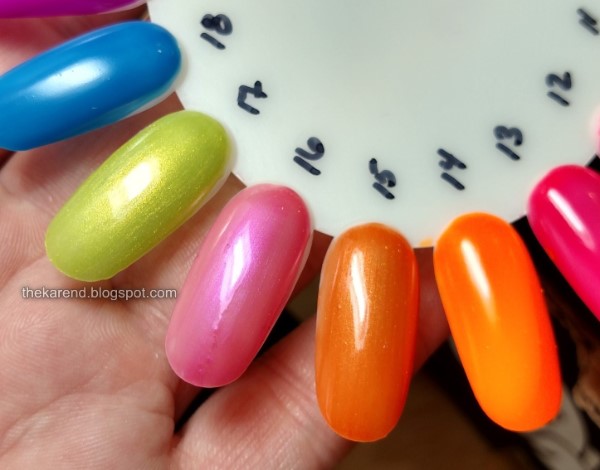 The first six of these were supposed to glow, but only the first five did. I was impressed that the Sally Hansen held its own against the newer polishes, and disappointed that the Fantasy Makers was a dud (maybe I needed to shake shake shake it some more?). The Disco Lights (#20) did show a very very faint glow; not sure it was meant to or just caught light from the others and reflected since it is a very pale polish).
Edited to add that Nail Wheel Wednesday will be going on a planned hiatus until December, as I've now posted all the ones I've painted and am away from my stash until U.S. Thanksgiving.