I am on the road yet again but am really trying to not take a blogging hiatus this time. Thus today I have swatches of the three "limited time" polishes from the SinfulColors Color Beyond collection: Planet Out, Down to Earth, and Cosmotion. All of these "Moon Metal" colors are variations on the same idea: hex glitter in a sheer shimmery base.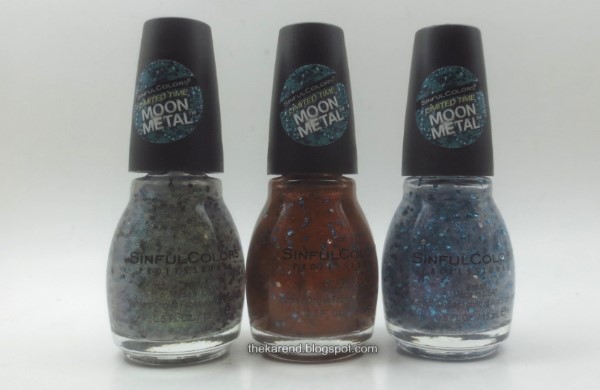 I started my swatching with Cosmotion, the closest to purple one in the trio. This has blue glitter that sometimes looks silver and magenta shimmer.
I wanted to see these over different base colors, so I swatched each Moon Metal on its own on my index finger, over white on my middle, over a complementary creme on my ring, and over black on my pinky. I didn't use any topcoat, as the glitters were pretty flat on their own. For Cosmotion, the complementary creme was SinfulColors High Spirits, a deep berry shade. I did three coats of Cosmotion on my index and then two over the base cremes.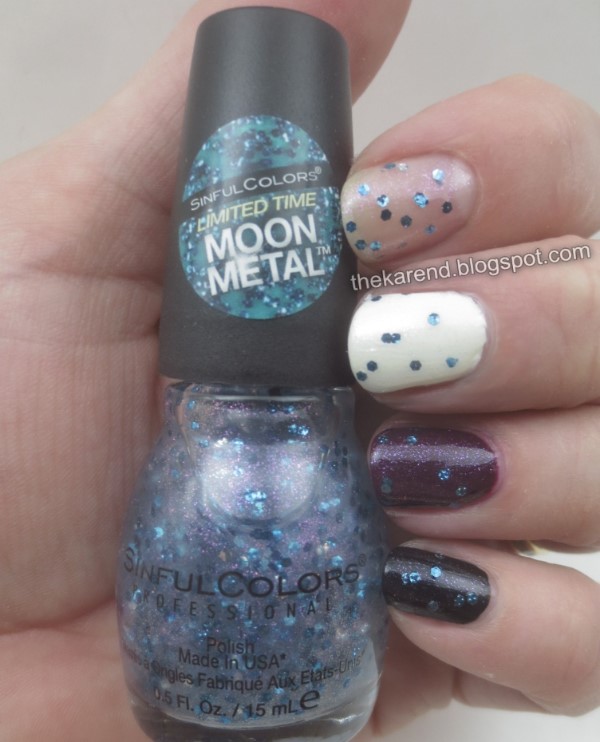 As you can see, the shimmer needs a darker base to make it pop. It barely shows when worn alone and disappears pretty much entirely on white. It's super pretty on the berry base, though, and night sky dramatic against the black.
I reached for Planet Out next, which has shifty dark green (so dark it pretty much looks black) to dull gold glitter and golden green shimmer.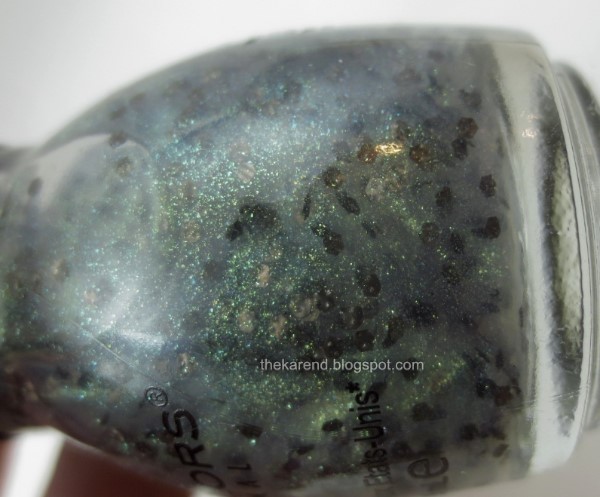 The complementary creme here is SinfulColors Calypso, a dark teal green. I did two coats of Planet Out alone on my index finger and two over the base cremes on my other fingers. The shimmer in this was similar in density and behavior to Cosmotion: shy until it got a dark base under it. The glitter was interesting, as it looked dark green/black on the light bases and light dull gold on the dark bases. As far as I can tell, there's only one kind of glitter in here, so it's gotta be shifty.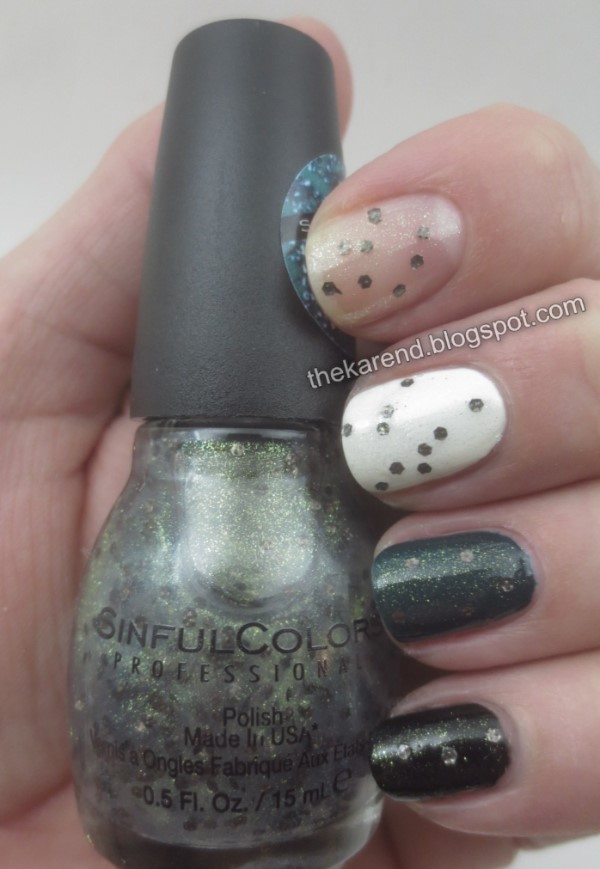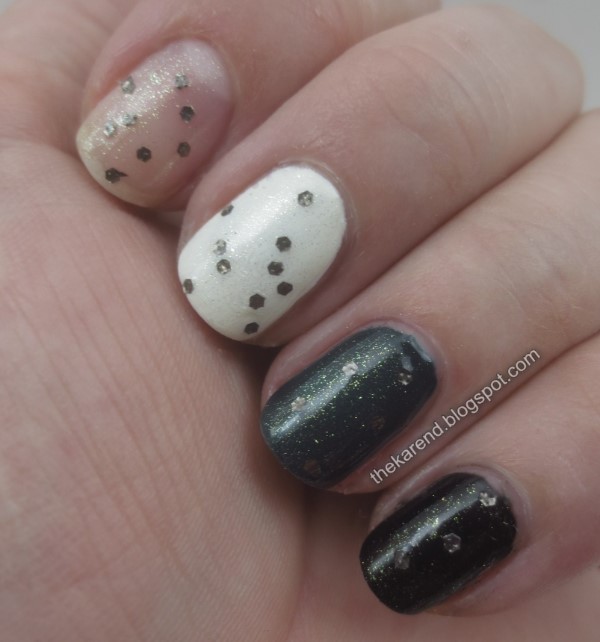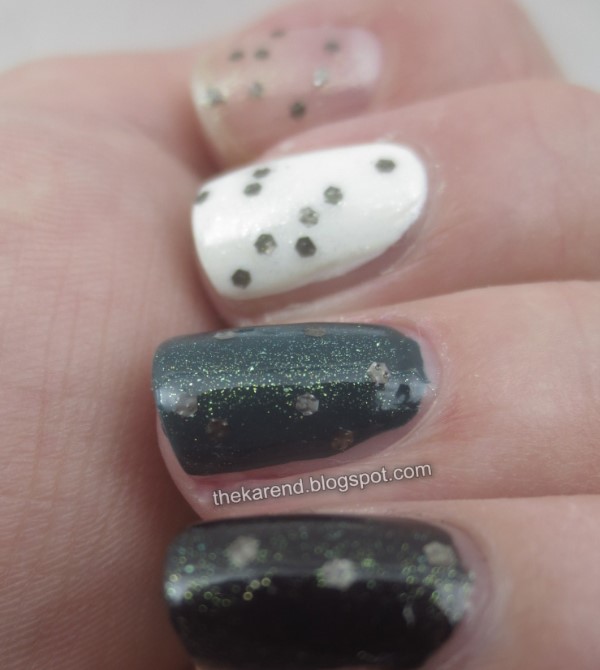 The last of the trio is Down to Earth. This has the same blue that sometimes looks silver glitter as Cosmotion and copper shimmer.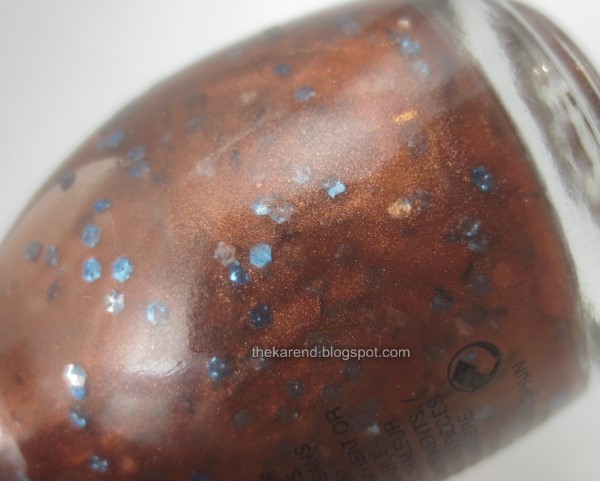 The complementary creme for Down to Earth was SinfulColors Coffee, a dark brown. I did three coats of Down to Earth on my index and two over the creme bases. The shimmer in Down to Earth is more dense than the other two, which in theory should make it more wearable on its own, but in practice just gave my free edge the look of nicotine staining. It looked not at all good over the white base, either. Over the dark bases, it was better, but I would have liked it more if the shimmer were less dense like the other two Moon Metal shades.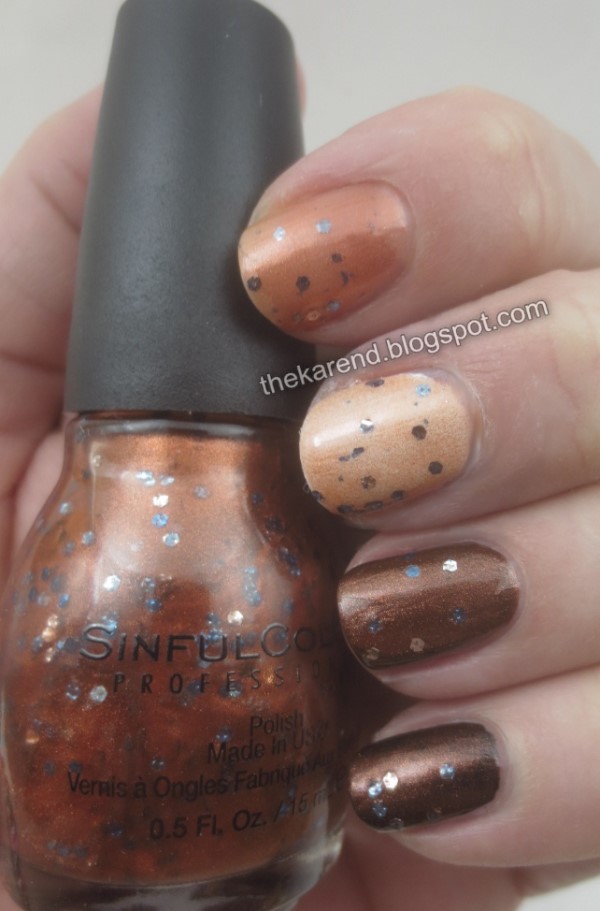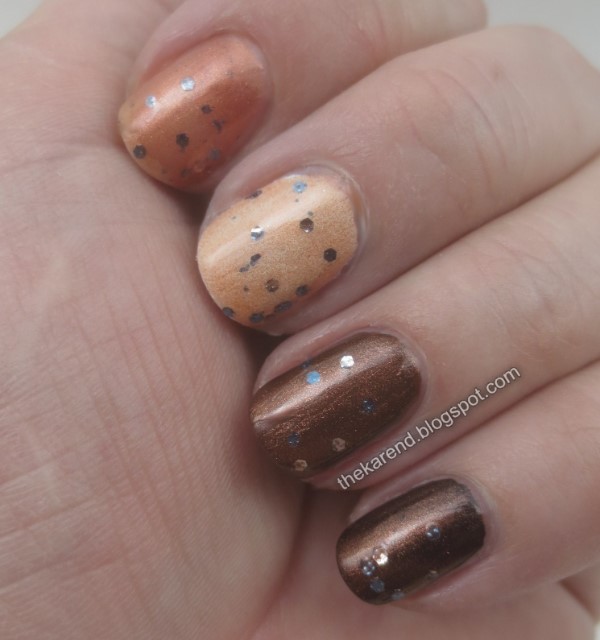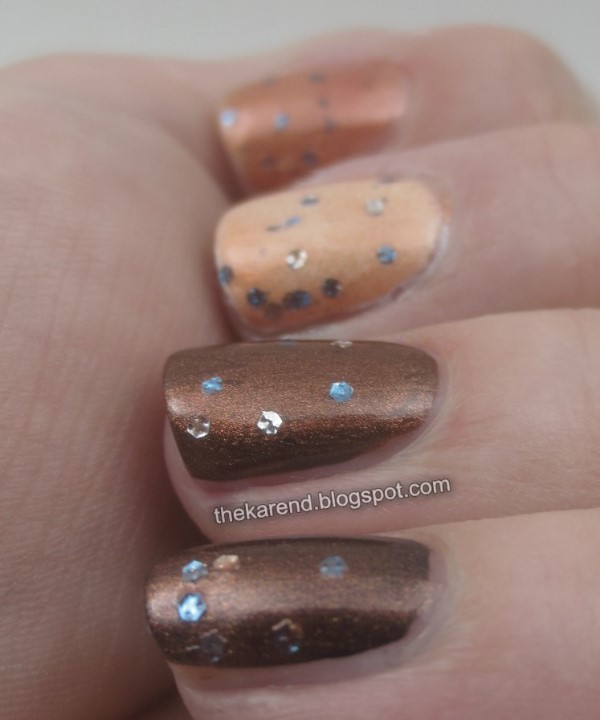 Overall these are pretty interesting for mainstream polishes. I can see Cosmotion and Planet Out looking good over a variety of darker base colors. Down to Earth was trickier to work with though might be just the thing for an autumnal mani (though in that case, I'd rather have the green/gold glitter from Planet Out paired with the copper shimmer. Still, for $1.99 each, these are an affordable bit of fun, and I am watching my pennies more closely than I used to.