Today I have swatches of the shades I picked up from the SinfulColors Halloween displays this year: Good to Ghost, Undead Red, Nut Cracker, If You've Got It Haunt It, Bite Me, and Witch Hazel Bohn.
I started with Undead Red; the sticker on the cap calls it a Vampy Matte. This one has silver shimmer and shards of black glitter in a red base. I did two coats of and waited for it to dry matte. It did not.
It did look very nice when I added a proper matte top coat. Well, except for the parts where I hadn't cleaned up the cuticle flooding and the spots where I didn't get the matte on the whole nail. That'll teach me to try and rush through swatching.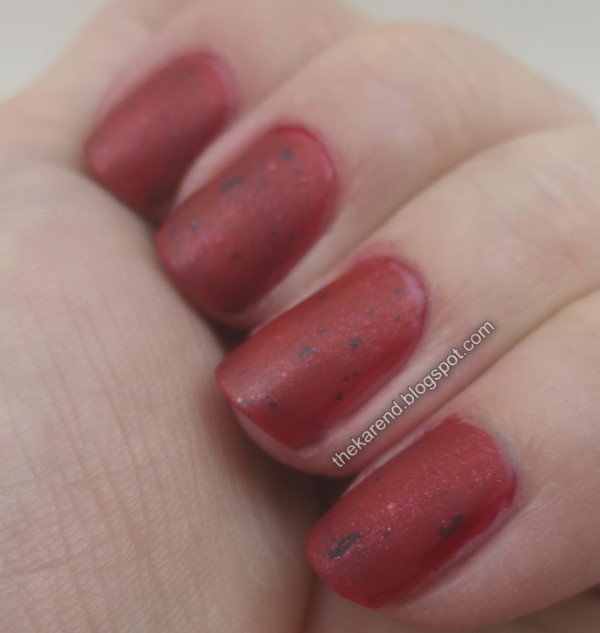 Next, I tried the two glow in the dark toppers, first putting down a base of SinfulColors Sugar Pumpkin, an orange creme. I added two coats of Witch Hazel Bohn on my index and ring fingers, and two of Good to Ghost on my middle and pinky. I did have to fish for the shaped glitters, charcoal skull and crossbones in Witch Hazel Bohn and silver holo crescent moons in Good to Ghost. I didn't add topcoat; if I were wearing this as a full mani I would have done a thick one to smooth out the glitters, especially in Witch Hazel Bohn, as those glitter pieces are wider and thus more prone to having the edges stick up from the rounded nail surface.
I had some trouble finding a sufficient dark space to show off the glow in the dark aspect of these two toppers but did manage to get one semi-decent shot which shows the almost shimmery effect of the glow in the dark particles in these two.
Nut Cracker (or maybe Nutcracker—it's not clear if there's a space there or just unfortunate kerning on the label) was up next. This is a warm brown shimmer with copper and pink highlights.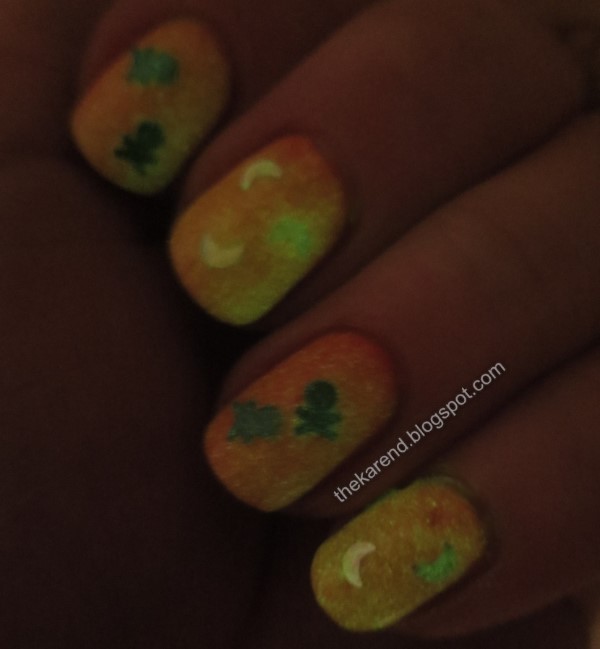 Two coats of Nut Cracker gave a really rich look on the nails; what a great fall polish, never mind Halloween.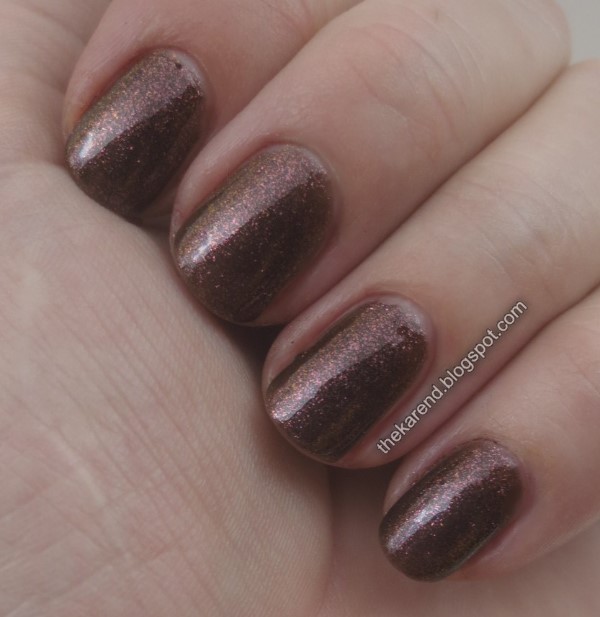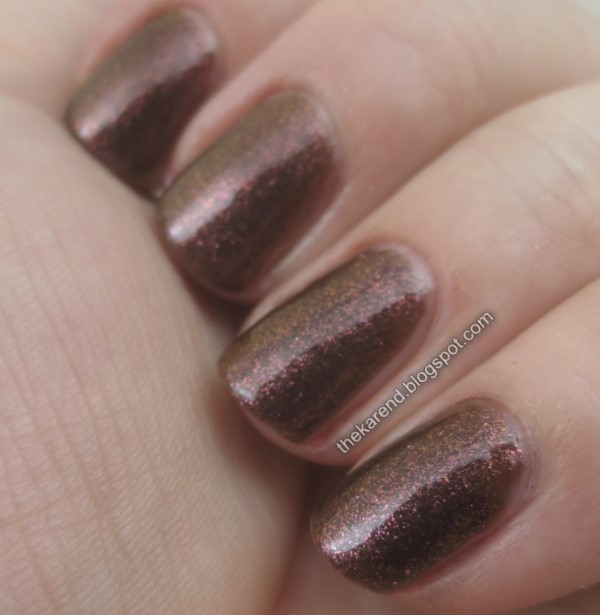 I didn't want to take off Nut Cracker right away, so I used it as a base for If You've Got It Haunt It, a glitter topper. One coat of the glitter plus clear topcoat, and I was a happy Karen.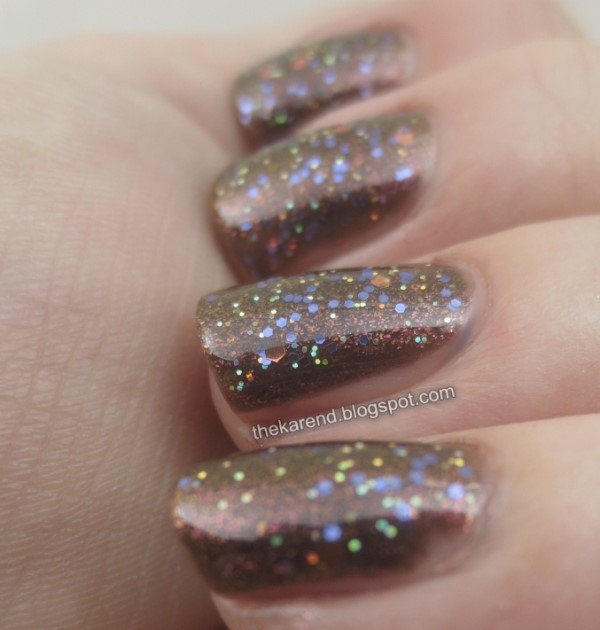 If You've Got It Haunt It has light purple hex glitter, larger copper hex glitter, and smaller gold holo glitter in a clear base. It's right up my alley, as they say.
I just had to try If You've Got It Haunt It over a different base, so turned once again to Sugar Pumpkin and did two coats of that plus two of the glitter plus a clear topcoat. Very festive.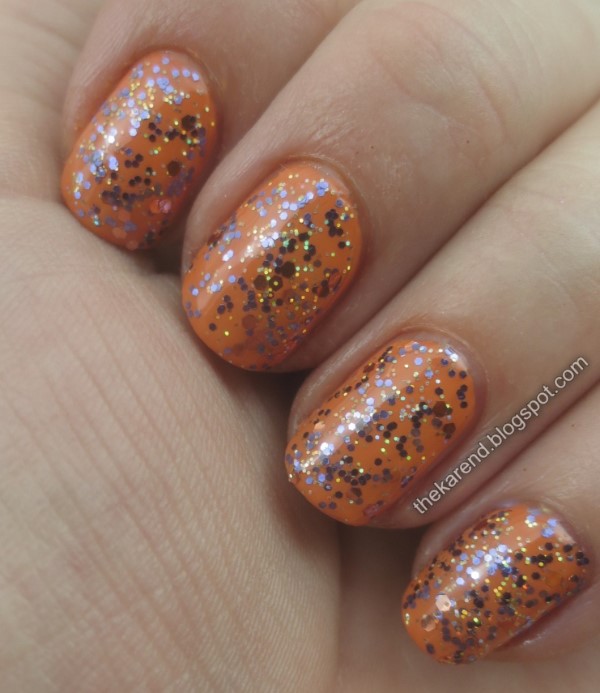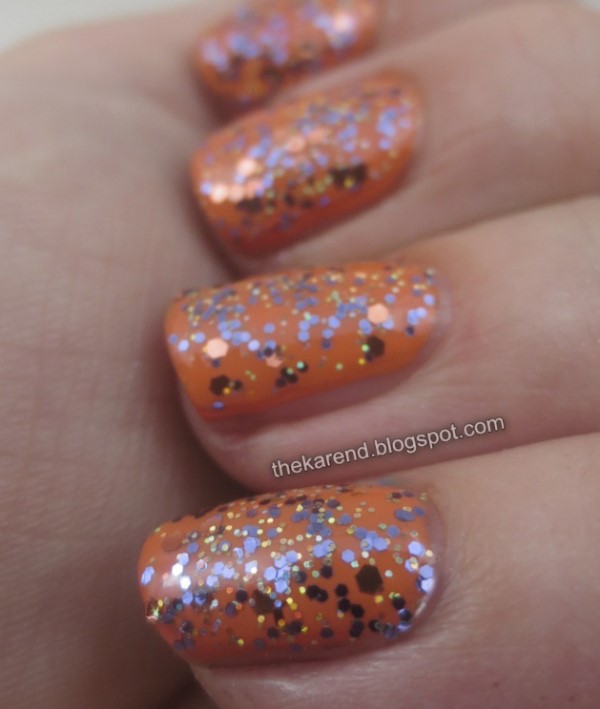 Finally, there's Bite Me, a sheer red shimmer with mixed sizes of black glitter. I played with this one by doing a black tip on my index finger and doing a funky French with two coats of Bite Me. On my other digits, I did a red creme base (SinfulColors No Text Red) plus one of Bite Me. All nails got clear top coat, too.
The shimmer in Bite Me really glowed in direct light.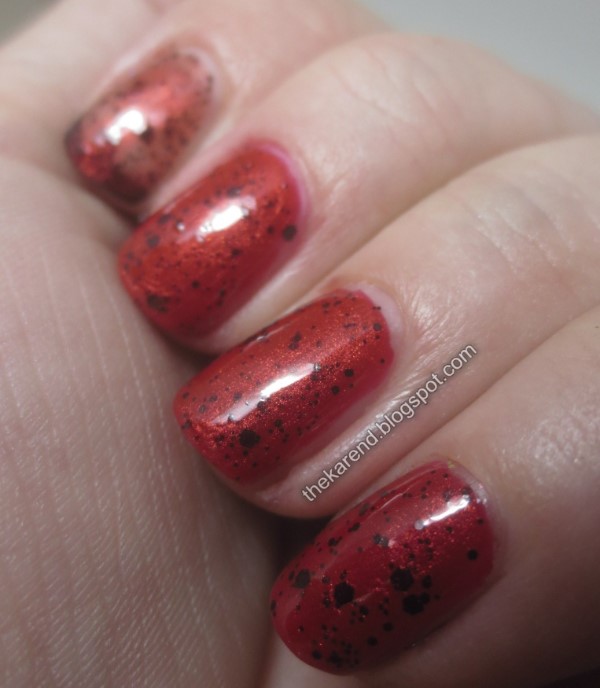 My favorites of these are If You've Got It Haunt It and Nut Cracker. I can see wearing both long after the Halloween season.