It's fall, and thank goodness that means I am seeing some new polishes in the stores. I do also have a few summer stragglers today, collections I saw after my previous
display post
.
I often forget to look at nail polish when I go to Kohl's (I know, bad blogger), so I'm not sure how new the two Bliss mini polish sets are. On the left, there's Brand Spanking Nude, with six shades in the pink/peach/ivory/taupe range. On the right, it's Get Frenched, which has a more varied color palette, from charcoal/black through blue to pink/peach; there's even a glitter in this one.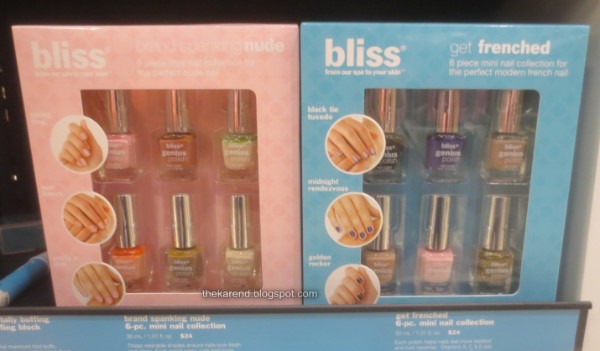 In the Butter London section at Ulta, there were six new shimmery polishes (and coordinated liquid lipsticks)Glazen Lacquers (the bottles had gold caps, which I've not seen from the brand before that I recall): Bubbles, Sea Shell, Dazzled, Rose Quartz, Brassy, and Firecracker.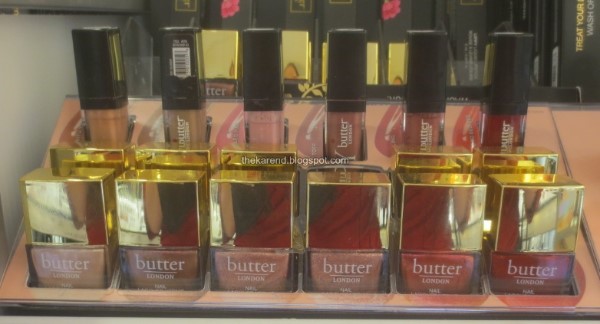 Butter London aside, Ulta hasn't seemed to have as many new polishes as they used to, not even from brands that I know are still putting out new colors seasonally. On a recent trip, it seems that they just may have been hiding them from me, as I happened to see the China Glaze My Little Pony colors just slipped in the annoyingly backlit core display section, which I rarely look at when I'm display hunting. No signage to point them out, just pushed in the slots along with all the other shades.
I saw the newest China Glaze collection at Sally Beauty. It's their Halloween offering, Happily Never After. The full size display was the usual random arrangment, but the mini set had all the colors so I could see what was what.
Left to right: Queen Please, Sin-derella, Life's Grimm, Do You Boo, Crown for Whatever, Lookin' Gore-geous.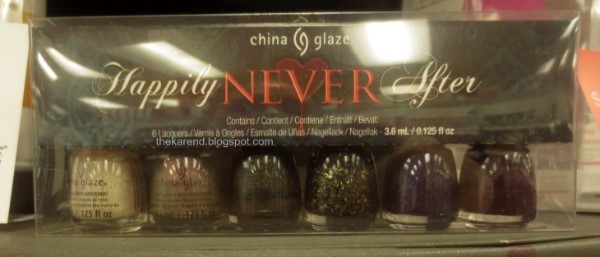 I saw an Essence display at Fred Meyer with two shades of The Gel polish: You and Me (lighter one) and Plump Power (darker). I don't think either of these are new colors, but they might be new to the lineup carried in the US.
Fred Meyer had an Essie display called Haute for Halloween; no new colors here: Tart Deco, Forever Yummy, Wicked, and Licorice.
Walgreens had an unnamed Essie display in a wide box setup that I've never seen Essie in before. It seemed to be for Halloween and had colors we'e seen before: Blanc, Wicked, Kimono-over, Forever Yummy, Tart Deco, Petal Pushers, Tribal Text-styles, and Licorice, along with base and top coat.

Fred Meyer was the first place I saw Essie's 90s themed fall collection. Left to right: As If, Knee-High Life, Girly Grunge, Mixtaupe, Saved By the Belle, and Dressed to the Nineties. There's also Gel-Setter Top Coat in this display.
Near the end of August, I went to a Rite Aid I don't often visit and found the Julie G Bohemian Dreams display. I was tempted, because the handles were different than the core colors and I love collecting variations, but the colors themselves were just cremes in shades I surely must have already, so I passed. Front row: Karma, Aria. Middle row: Henna, Faith. Back row: Eden, Harmony.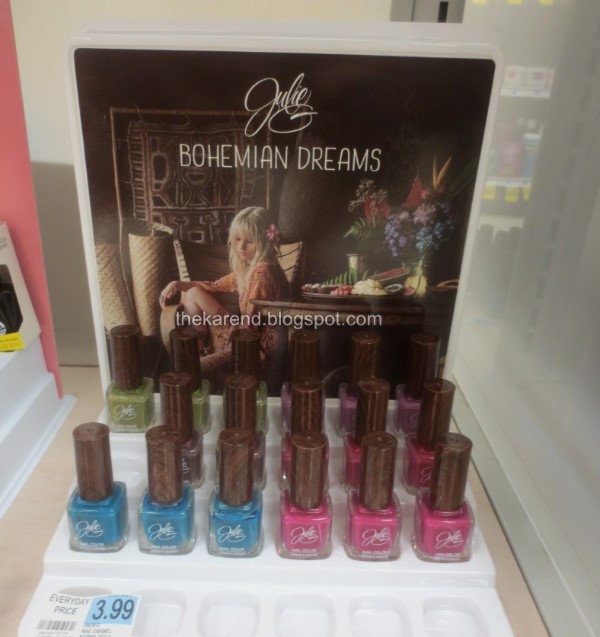 The Kiss Halloween display at Walgreens had fake nails (press on and glue on), stickers, nail strips, and nail glue.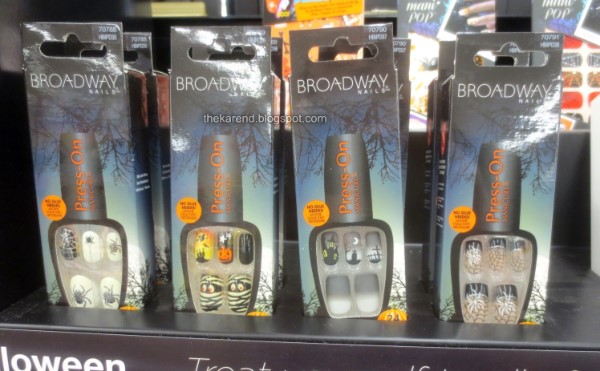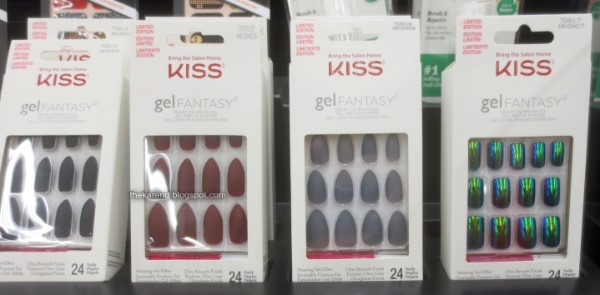 Fred Meyer had a back-to-school display from Look called Chalk It Up. Polish colors here: Matte Black, Sky Blue, White, Aqua, and Pink. There's also a nail art kit with nail wheel, top coat, and tools.
I saw the Look Halloween display at Rite Aid. Shade in this one are It's Close to Midnight (looks like Black to me), Boo (white), Seal Your Doom (lime), Orange You Scary.
Apparently OPI did a collection this past summer for Ulta called Ultamate OPI Lovers; by the time I saw a display for it, it was super picked over and had a random China Glaze polish plunked down in it. Slots in the top/back row for shades called You Had Me at Merlot (room for two groups of three bottles), Have a Grape Summer, Jean'ius at Work, Pre-Pear for Summer, Ulta Ego, and Grin & Bare It. Bottom/front row has Base Coat, Top Coat, Grin & Bare It, Summer Crush Blush, Orange You Ulta-Stylish, Woke Up Crab-y (two groups of three). Based on the colors that were left, I was not excited—so many cremes.
The pumpkin polishes are back at Rite Aid! So glad this seasonal tradition is still happening. Sure, they aren't the smooth round bottles they used to be, but rather the more realistically shaped ones that came about more recently, and they're not made by Blue Cross (these say "Pacific World Corp" on the bottom), but yay, pumpkins for Halloween. In another new twist, these shades have names: Green Machine (lime), Orange You Cute (orange), Speckled (black/white glitter), Confetti Concoction (black/orange glitter), White Fright (white), Black Magic (black), Glow Worm (light green with microglitter), and Pink Punch.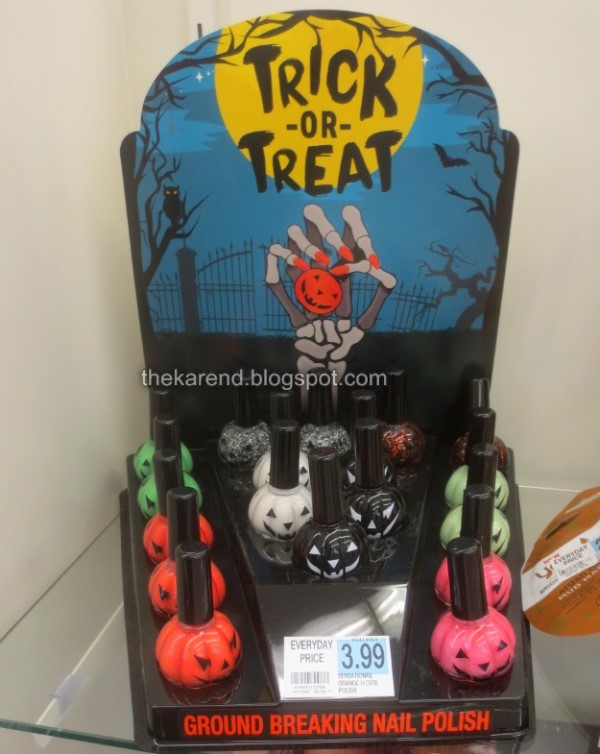 In other Halloween polish news, Walgreens had a display from Sally Hansen which had core shades of Xtreme Wear polish and Nail Art pens.
Fred Meyer had a small shelf top display with the same "I Am Wild. I Am Xtreme." theme, just a smaller selection of polishes.
In absolutely not old colors Sally Hansen news, Salon Chrome is out in stores. Special effects powders for the mass market; I'm liking it. I first saw them in this floor display at Walgreens. Here the powders are packaged in kits with the powder and applicator, base color (Miracle Gel in Blacky O for most, Frill Seeker for the Rose Gold kit), special top coat to seal the powder, and Miracle Gel topcoat. There are four shades: Peacock, Mermaid, Rose Gold, and Gunmetal. First two look like multichromes while last two are metallic chromes.
The same kits are also in a small shelf top display I've seen at other Walgreens stores.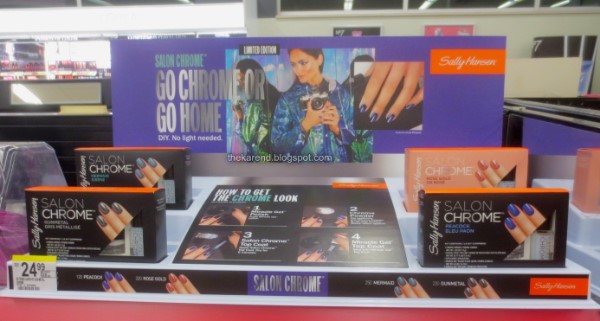 Fred Meyer had a Salon Chrome display where the kits have the just powder and applicator and special top coat. The base color (just Miracle Gel Blacky O, even though there are Rose Gold kits here) and Miracle Gel top coat were in the display too, but sold separately.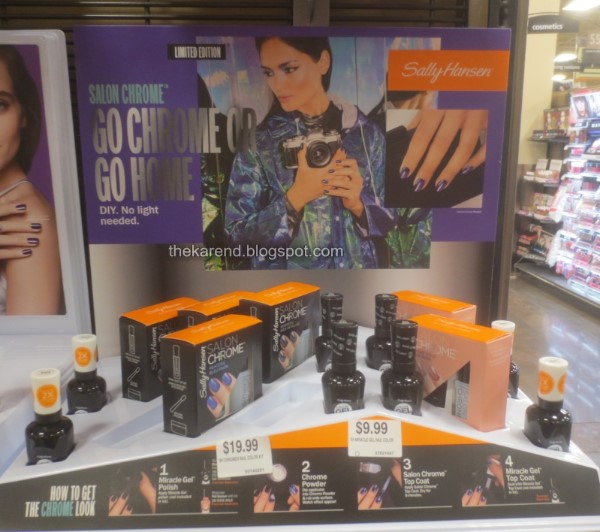 There is supposed to be a fifth color of Salon Chrome, Holographic, exclusive to Ulta, but I haven't seen that at my store yet.
There are some limited edition shades of Sally Hansen Complete Salon Manicure out for fall in the Completely Bold collection. Frustratingly, they are mixed in the display with core colors, a la the SinfulColors approach. I have yet to see a complete display for this with all the shades in all the right slots, and I doubt I will now. Oh well. Here's a shelf top display I saw at Fred Meyer. Bottles, left to right: Tagine Supreme, Tell My Fuchsia, Pat on the Black (core), Lan-turn Up, Magic Carpet Ride, Dark Hue-Mor, Wine Not (core), Gilty Party (core). Missing from this display: Marrakeshed from a Rose (limited edition) and Raisin the Bar (core).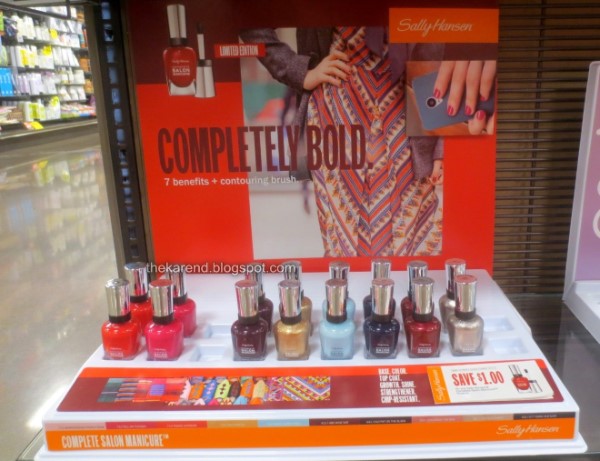 Walgreens had a sidekick display for this collection; it was even less well stocked by the time I saw it. Top row: Marrakeshed from a Rose, Tell My Fuchsia, Tagine Supreme (two slots), Lan-turn Up (x2), Magic Carpet Ride. Second row: Magic Carpet Ride, Let's Snow (core), Raisin the Bar (core), Gilty Party (core). Third row: Wine Not (core), Society Ruler (core), Pat on the Black (core), Clean Slate (core, and sold out of this display). Bottom row: Dark Hue-mor (core), Blue My Mind (core), Gel Shine topcoat.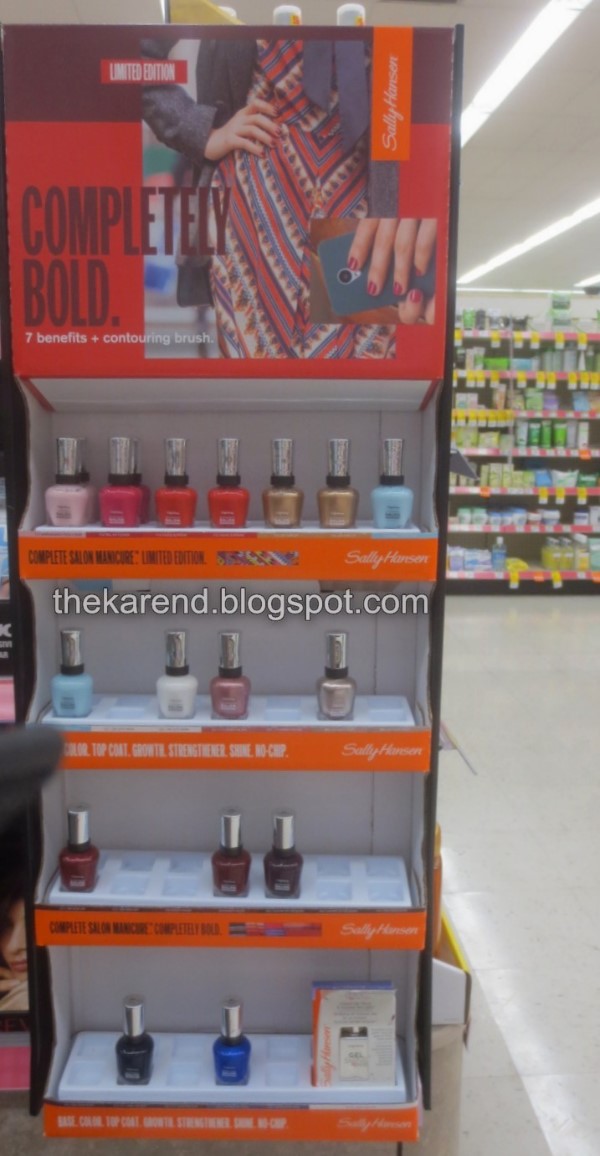 There are also some limited edition shades of Sally Hansen Color Therapy in the Enchanted Gems display, which I saw at Fred Meyer. Front row: Opulent Pearl (LE), Rosy Quartz (core, 2 slots), Rose Diamond (LE), Pink Sapphire (LE). Back row: Brilliant Lapis (LE), Black Orchid Amethyst (LE), Slicks and Stones (core, 2 slots), Smoky Emerald (LE). Display also has cuticle oil and top coat.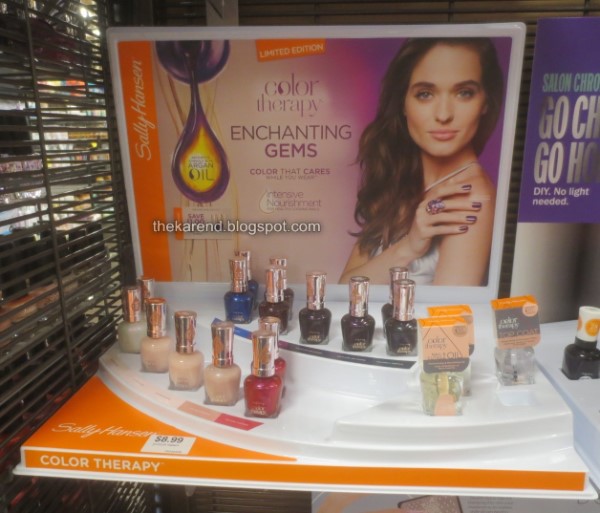 Fred Meyer also had a Color Therapy display called Better Than Bare which also touted limited edition shades. I remember seeing these colors in a sidekick at Walgreens this past summer, so not sure where FM was hiding these all this time. Maybe Sally Hansen shipped this version later? Starting at lower left and going clockwise: Warm and Toasty, A Latte Love, Indulgent Truffle, Sweet Nothings, top coat, cuticle oil, Re-Nude, Blushed Petal, Toffee Temptations, and I Dream of Cream.
Also in the department of stuff popping up at Fred Meyer are two displays for Sally Hansen Miracle Gel with the Travel-Proof Polish colors. I hadn't seen this shelf top display before, though Walgreens had these colors in other displays I shared back in July.
Then there was the Adventure Land display, which had some of the colors from Travel-Proof Polish. Never saw this one last summer either.
Wrapping up the Sally Hansen display variant section, I found two more display styles for the Crayola colors at different Fred Meyer stores since I last shared this collection's displays, and they're so bright and colorful that I just can't resist including them. This wide shelftop display had slots for all twelve of the Crayola shades plus some core colors: Re-teal Therapy, Set Sail, Cherry Fast, Leapin' Lilac, Cinna-snap, Sonic Bloom, Peppy Le Fuchsia, and Sugar Poppy.
Then there was the narrow shelftop display, with room for eight of the Crayola shades. This particular store must have also had the larger display, as there were some of the other Crayola shades shoved in here that didn't belong (Scarlet, Denim, Purple Heart, Razzmatazz).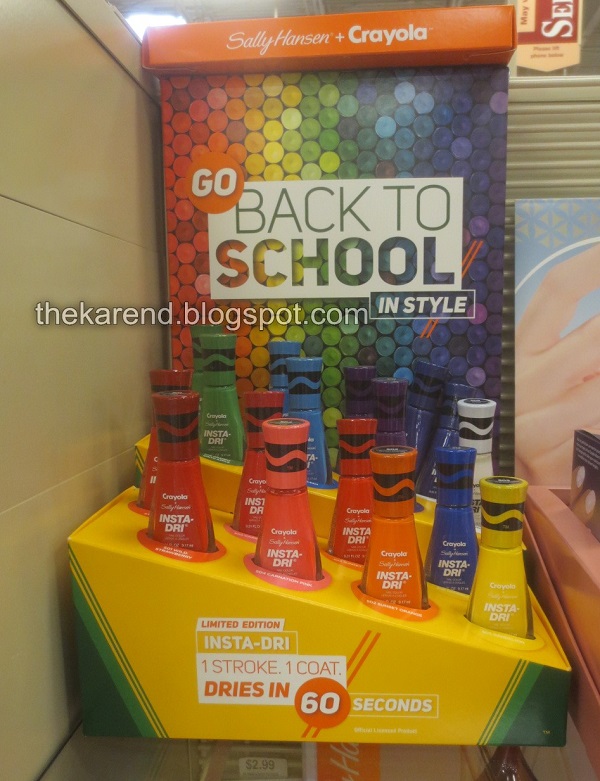 SinfulColors usually does interesting things for Halloween, and looks like this has continued again for 2017. I saw the Night of the Living Red display at Rite Aid. Shades here: Witch Hazel Bohn (new, two slots for this transluscent glow in the dark with charcoal skull and crossbones glitter), Splatter Spell (reissue), Play Dead (reissue), Nutcracker (reissue), If You've Got It Haunt It (new), Good to Ghost (new, transluscent glow in the dark with holo crescent moon glitter), Bite Me (new).
Walgreens had a different SinfulColors Halloween display with a different assortment of shades. Front section: Glow in the Dark, Good to Ghost (new, same as Rite Aid display), Pumpkin Spice, Courtney Orange, Let's Talk. Back section: Devil's Stare, Bitten, Undead Red (new), Bite Me (new, same as Rite Aid display), Black on Black.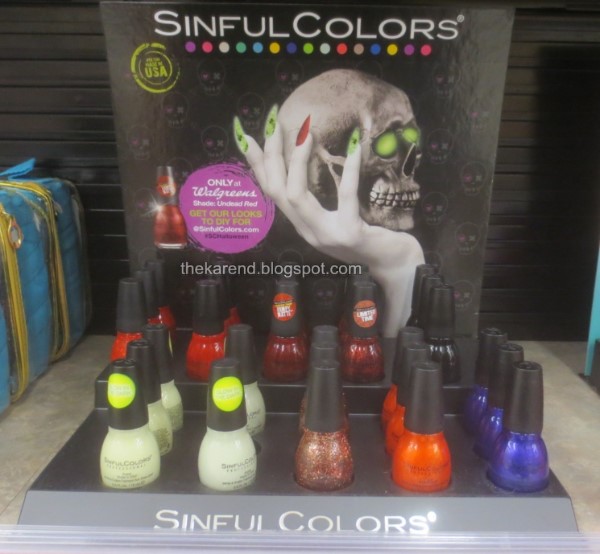 Fred Meyer had another new SinfulColors display, but it wasn't specifically Halloween themed. Color Beyond has three new glitters plus core/reissue shades. Left to right: Berry Charm, Cosmotion (new), Gold Medal, Endless Blue, Planet Out (new), Clear Coat, Jade Kat, Down to Earth (new).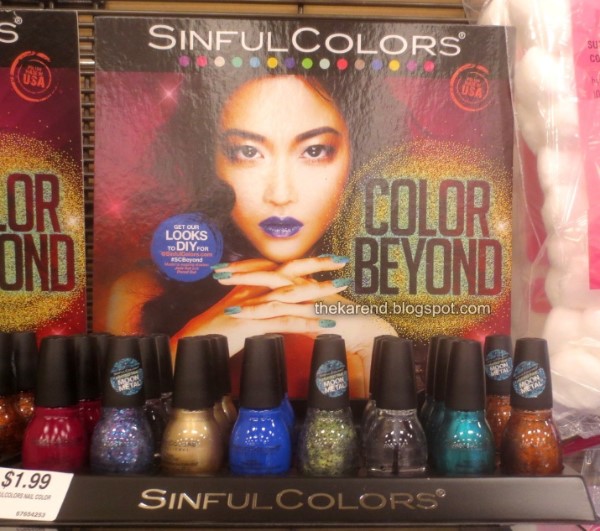 The display I'm most excited about in this whole post is one I wasn't expecting because I'd heard nothing about it: Smackers Disney Tsum Tsum polishes for Halloween, with the heads of Disney characters on the caps. Left to right: Mistress of All Evil (Maleficent), Wickedly Stylish (Cruella De Vil), Sorceress of the Sea (Ursula), Rag Doll (Sally), Skellington (Jack Skellington; two slots for this). The colors aren't anything crazy special, but those bottles! And only $2.99, too.
Wet 'n' Wild, I am disappointed. I saw the Fantasy Makers display and all the polish is core colors. Where are the special Halloween ones you used to do?
Other than the holographic Sally Hansen kit, I can't think of anything I'm looking for display-wise right now. Hoping to be surprised with things I'm not looking for soon.