What—a second display post in October? Believe it. I really have to, as I'm on the road again and saw some Halloween displays I hadn't spotted closer to home, so those really need to go up now and not whenever I get around to it, and while I'm at it, I might as well share the rest of the stuff I've seen since my last
display post
in case I slip into another unplanned blogging mini-hiatus as I tend to do when I'm traveling.
Before I left Idaho, I spotted a Butter London Little Gems gift set with six mini polishes at Ulta. (True minis, not the "fashion size" ones they often put out in sets.) Shades here: Smart, Say Yes, Regalia, Adventure Awaits, Full Steam Ahead, Diamond Geezer. This looks suspiciously like a Christmas gift, but it's way too early for Christmas stuff to be in stores, right? I was tempted to get this, as I always am with sets, but then I remembered the untouched sets I just gathered up the last time I was playing in my stash and left it in the store.
I was surprised to see a fully stocked China Glaze My Little Pony display at a Rite Aid. They have China Glaze in the Nail Bar, yes, but not usually any of the seasonal collections. This display was missing the backing card, so not sure what that's about.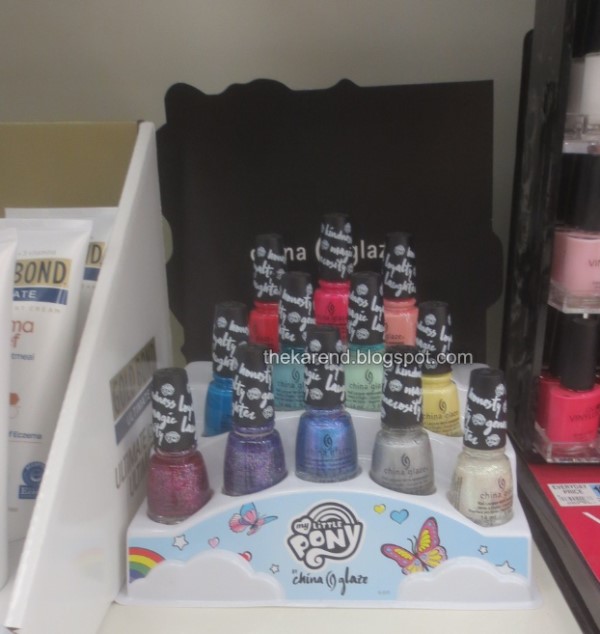 Apparently it isn't too early for Christmas and other winter holiday polishes to be out in stores, as I saw the Essie Gel Couture Holiday Collection on an endcap at Ulta. They're the ones along the left hand side of the display. Top to bottom: Jade to Measure, Gold Gilding, Taupe of the Line, Diamond in the Cuff, It-Pearl, Amethyst Noir.
I did a happy dance when I saw all the new things at Five Below when I got into the right part of the country. There was one shaped glitter in the 2 for $5 square bottles that are unbranded: Shooting Star.
There were holographic Fresh Paint colors for $5 each: Milkyway, Luminosity, Starburst Galaxy, and Dark Star.
At a different store, I saw an honest to goodness proper display for the holos.
I also saw a mostly sold out display for the Fresh Paint thermals; that light one in front is a shade I hadn't seen before, Tomorrowland.
There were two regular 3/$5 Fresh Paint colors, too: Drops of Jupiter and Nirvana.
I came across Fresh Paint Platinum when I found it incorrectly placed in the holographic display; I don't recall seeing it before, but it might have been there and I just overlooked it as silver is so common a shade.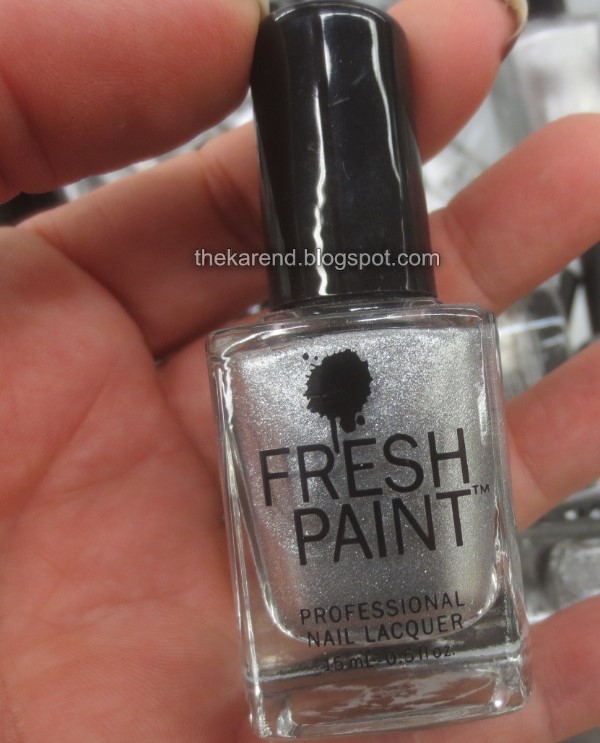 I didn't see any specifically Halloween themed shades, but there were two new glow in the dark glitters from Funky Fingers: Glow Your Own Way and Here We Glow Again.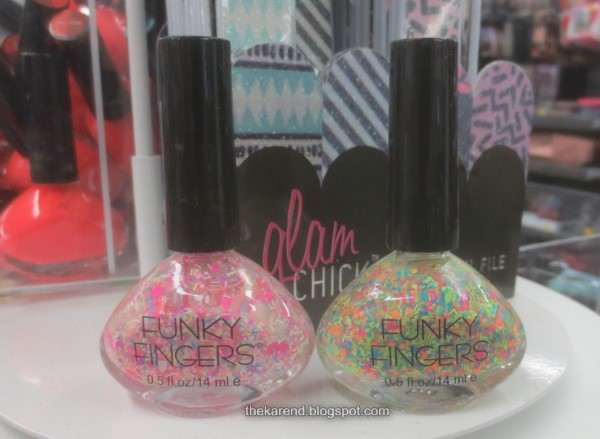 There were also two other new Funky Fingers, or at least ones I hadn't seen before; they sort of looked like they coordinated with the three spring colors I swatched
this past summer
. Mermaid Tears is a shredded flakie and You Betcha I'm a Unicorn is a glitter.
The Fright Night brand seems to be not as widely distributed this year as in the past, but I did see a large end cap at a Meijer that had a section for Claw Polish.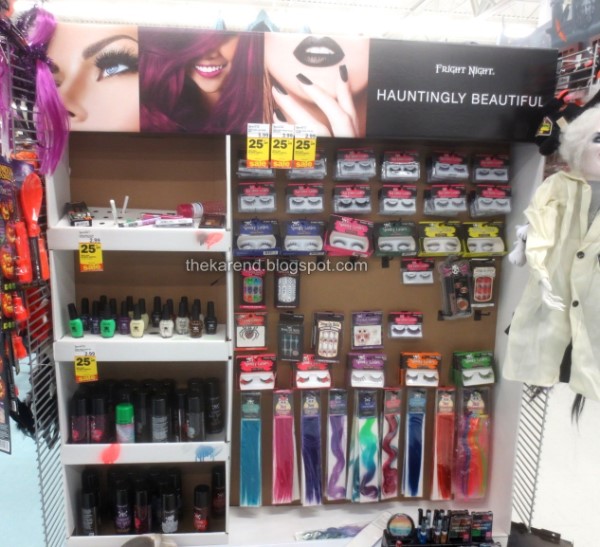 Left to right: Purple Confetti, Creepin It Real, I'm Here for the Boos, Where My Witches At, Ghouls Night Out, Ghostest with the Mostest, Polk-a-Dots, Gettin Witchy With It.
At an Ulta on the road, I came across a fuller display of the Ultamate OPI Lovers collection than the one I shared last time. Top/back row: You Had Me at Merlot, Have a Grape Summer, Jean'ius at Work, Pre-Pear for Summer, Ulta Ego, and Grin & Bare It. Bottom/front row: Base Coat, Top Coat, Grin & Bare It, Summer Crush Blush, Orange You Ulta-Stylish, Woke Up Crab-y.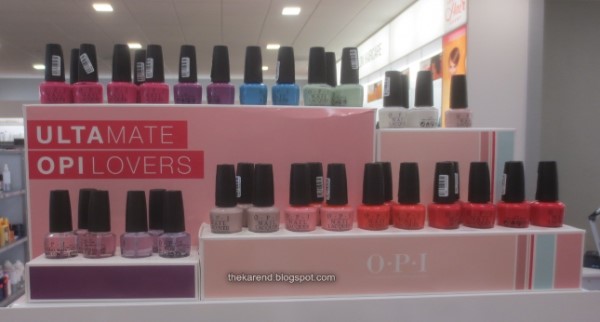 I saw the OPI holiday collection, XOXO, tucked into the awful for pictures backlit core display at Ulta. Top row: Snow Glad I Met You, Ornament to Be Together, Coalmates, Holidazed Over You, Feel the Chemis-tree, Wanna Wrap (x2), The Color That Keeps on Giving, Sending You Holiday Hugs, Adam Said It's New Year's Eve (x2), My Wish List is You, Top the Package with a Beau, Gift of Gold Never Gets Old. Row below is core stuff.
The same colors are also available in OPI Infinite Shine.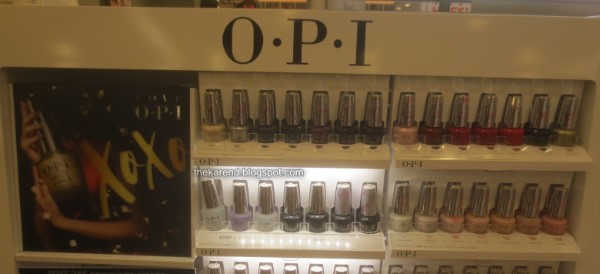 A different Ulta had an endcap with XOXO, which made it easier to see the colors. There were also some gift sets at the bottom of this one.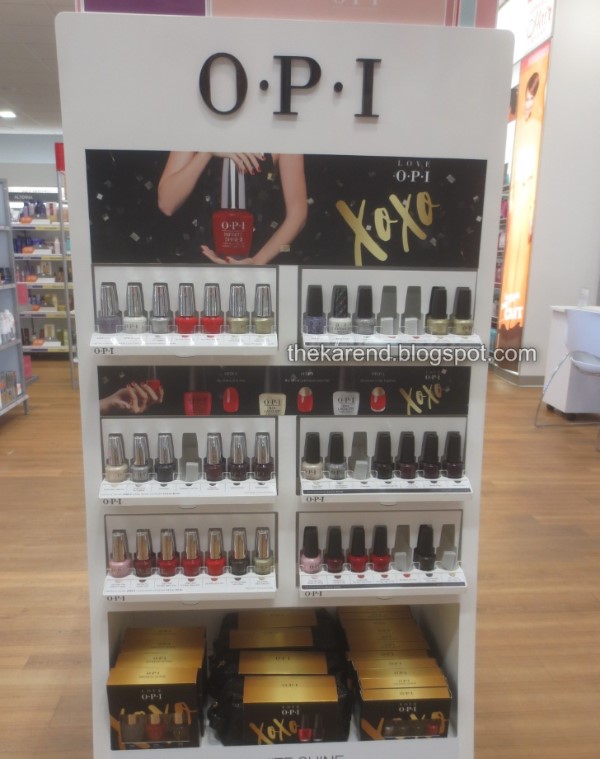 When I shared the Sally Hansen Salon Chrome displays last time, I was puzzled at one that had all four kits but the base creme for only three of them. Apparently that example was just not well stocked, as this one I saw did have the Frill Seeker base for the Rose Gold kit.
The Sally Hansen Salon Chrome kits showed up at my home Ulta in Idaho before I left. The first display had the same shades as I'd already seen at mass market stores: Peacock, Gunmetal, Mermaid, and Rose Gold, with the Blacky O and Frill Seeker base cremes and the Miracle Gel Top Coat in the display to be paired with the smaller kits.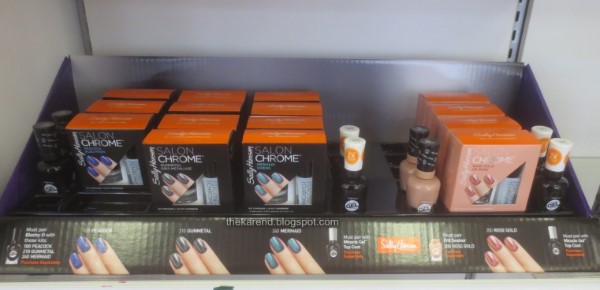 There was a separate display with the Ulta exclusive shade, Holographic. This only came in the bigger kit, with the powder and applicator, base color, special top coat to seal the powder, and Miracle Gel topcoat.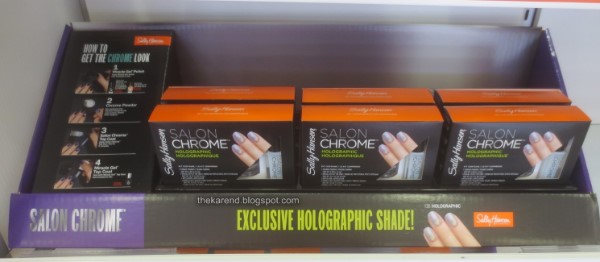 At two Walgreens stores recently (but not all of them), I've seen the Sally Hansen Chrome kits on clearance. Most were marked down to $12.99 but one of the colors, Mermaid, was only $6.29 (no idea why just that one). I sure felt dumb for paying full price for the one I got when I first saw the display what seems like only a few weeks ago, especially since I haven't had a chance to try it yet.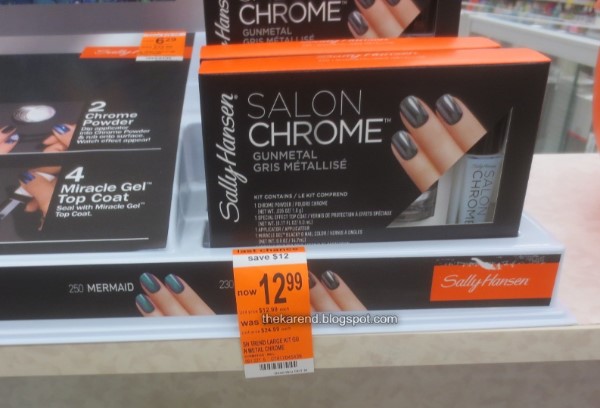 I know I covered SinfulColors Halloween last time, but I saw this cute little display at a Walgreens with a subset of the shades in the big one I shared before. Front: Black on Black, Witch Hazel Bohn, Undead Red. Back: Bitten, Glow in the Dark, Courtney Orange.
Every year it happens, and every year I get annoyed: the fragrance and bath gift sets for Christmas and other winter holidays have started to show up and take over space that should be used for makeup and nail polish. It's less annoying this year, though, since there have been so few new collections in recent times.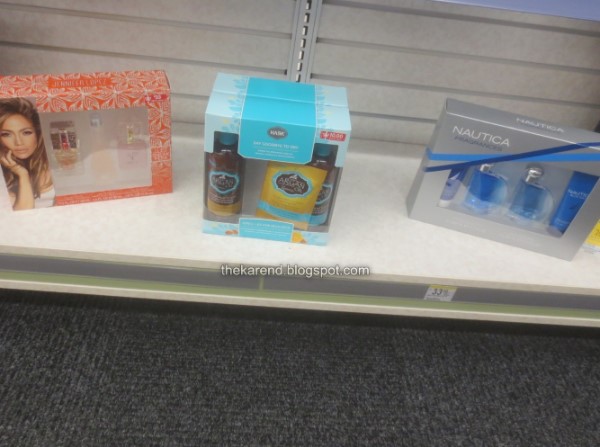 I never did find any pumpkin polishes at any of the Meijer stores I went to, but one did have a Smackers display with the polishes I'd previously seen only at Fred Meyer out west.
Also at Meijer, I saw this Studio M Dare to Be Bold display. I'm not as up on the shades in this line as I used to be, but that won't stop me from taking my best guess on which ones are new to the brand. Top row: Bright Night, Rave Review (new), Grape Escape, Purple Crush, Stroke of Midnight (new), You're a Star (new), Good as Granite (new), Ghosted (new). Middle row: Darkest Black, Purple Medallion, After Dark (new), Neon Pink, Simply Stunning (new), Clementine (new), Orange Hot, Orange Sunset. Bottom row: Party On (new), Fresh Grass, Just My Luck (new), Energy Star, Under the Moon (new), Lightning Blue, Off the Deep End (new), Darkest Black.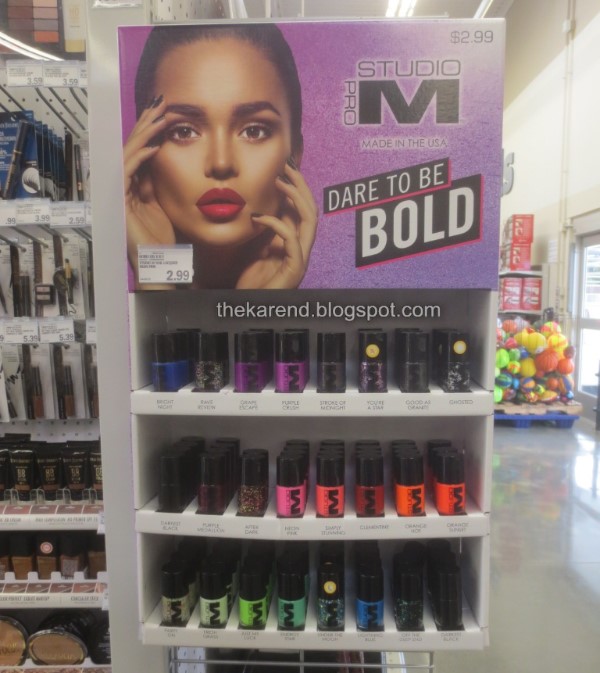 I'm heading into a part of this road trip that probably won't involve a lot of polish hunting, so it may be a while before I have enough photos for another display post. I do hope to have some other posts, though, so we shall see how I do with that.