Sally Hansen Sour Patch Kids CollectionI was on such a high after my nail polish display hunting outing the other day that I swatched some of my purchases almost immediately, including the ones I have today, the Sally Hansen Insta-Dri Sour Patch Kids Halloween collection. Left to right: First Sour Then Sweet, Pump-kid, The Un-red, RIP-urple, Boo-lue, Hallogreen, and Ghouls Night Out.
Because all except the white one are cremes, I decided Skittles swatches would be fine to show the colors, so I started with Pump-kid (orange), The Un-red (red), and Ghouls Night Out (black). I did freehand stripes on my index with all three, then each shade got its own digit. Pump-kid and The Un-red were two coats; Ghouls Night Out was one.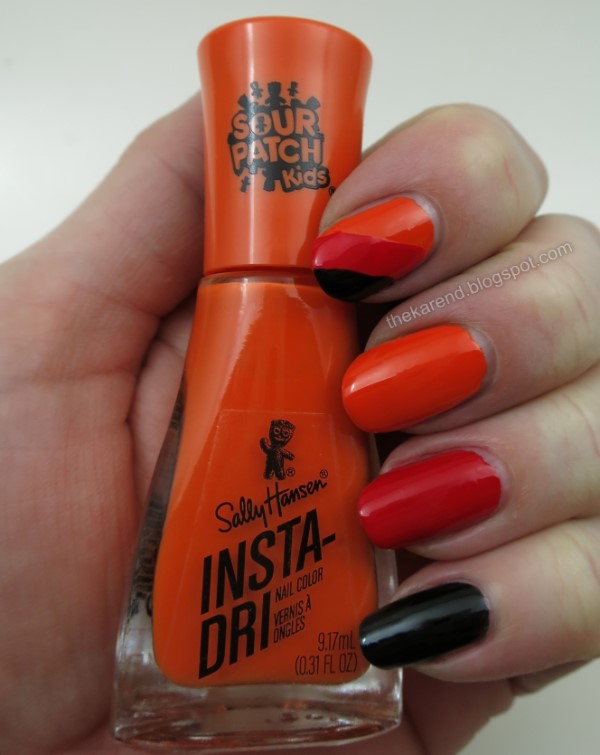 I gave the same treatment to RIP-urple (purple, though a lighter shade than has become popular for Halloween in recent decades), Boo-lue (blue), and Hallogreen (green). RIP-urple and Boo-lue were two coats; Hallogreen was one.
I put down a base of the black, Ghouls Night Out, then did a ghost on my ring finger with one of the Insta Dri whites (I think it was the Crayola one), dotting her eyes in with Ghouls Night Out, then put a coat of First Sour Then Sweet, which has tiny white matte glitters in a clear base, over everything. Given that it's not unusual for it to snow on Halloween where I live, I think this is a perfect mani for the holiday.
Of course I had to do some comparisons. I started by putting Hallogreen up against Jelly Belly Green Apple from 2020, Jelly Belly Green Apple from 2019, and Crayola Granny Smith Apple.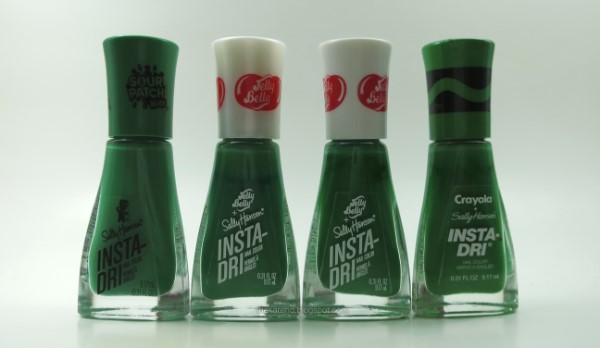 Below on the nails, one coat each, in the same order as the bottles above. Hallogreen is pretty much indistinguishable from either of the Green Apples (I had to use them both to make sure it was just a shade number change from year to year); it might be a touch darker but not so you'd notice unless you were studying it super duper closely. Granny Smith Apple is definitely more yellow than the other three.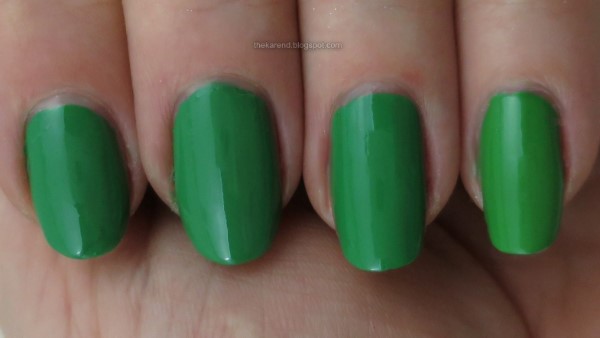 Pump-kid was up next; I pitted it against Pumpkin Queen (from 2014's Halloween collection), Crayola Sunset Orange, and Crayola Atomic Orange.
On the nail at two coats each, Pump-kid is ever so slightly darker and red-leaning than Pumpkin Queen and Sunset Orange (which are pretty much dupes). Pump-kid and Atomic Orange are basically the same. (My apologies for the poor cleanup here; as will become even more clear later, I was evidently having some kind of a day and didn't realize at the time.)
The Un-red matched up with Crayola Wild Strawberry, Jelly Belly Very Cherry, and Crayola Scarlet.
I call this comparison the most subtle red ombre ever. From The Un-red to Scarlet, these shades get the tiniest bit more orange as we move from index to pinky. All are two coats.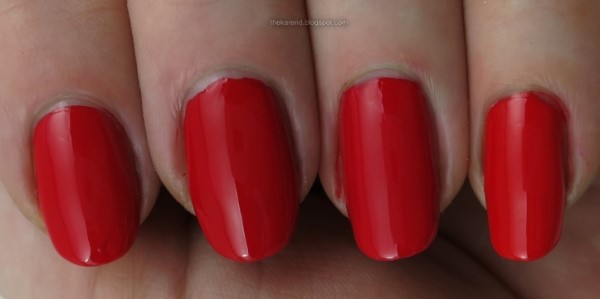 I pulled two polishes to compare to Boo-lue, namely Crayola Cerulean and Crusin' Blue (from 2019's Tropical Brights collection). I snapped the bottle shot, painted my nails and took notes, and then apparently briefly blacked out or was abducted by aliens or something because I did not take any photos of them on my nails and failed to notice until I was writing this post. You and I will have to take my notes' word for it that there were no dupes here. Cerulean is less turquoise-leaning than Boo-lue, and Crusin' Blue is lighter.
I did no comparisons with RIP-urple because there were no shades that were even close in either the Jelly Belly or Crayola releases (nor in any of the other Insta Dri purples I had close to hand). I'm sure I have something in another line that's close if not a dupe but I didn't go digging in my stash.
I rallied to do a bit more play with these colors, doing a dotticure with the five non-black cremes, then topping with First Sour Then Sweet, which did a good job of distracting from where I'd smeared some of the dots with topcoat.
Obviously the most interesting of these it First Sour Then Sweet. Ghouls Night Out is a great black creme if you're needing one. The other cremes are also solid choices with good formulas (though I know the Insta Dri wide flat brush is not to everyone's liking), but none of them are must haves if you've already got a stash built.