Since I don't have any brand-imposed deadlines these days, what I decide to swatch when is based on a) what I've bought recently and b) what catches my eye as I continue the seemingly never-ending process of getting my stash organized. Today's polishes are from option b); I was going through a box of indies to get them into the queue for putting on nail wheels and saw these two from KBShimmer that just demanded to be used. They're both acquisitions I made at IEC 2019: The Eh Team and Off Tropic.
The Eh Team is a teal-leaning green shimmer with prominent holo shimmer and subtler gold/orange shifting microflakies.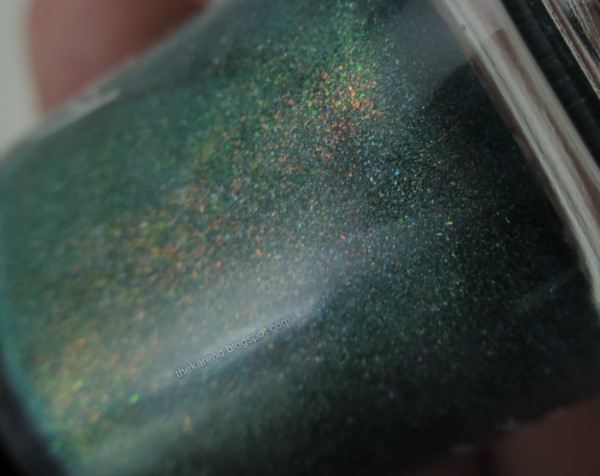 Two coats were plenty for full opacity; I added clear topcoat for extra shine and depth. Under indirect light, The Eh Team shows a few glimmers of color on the teal background.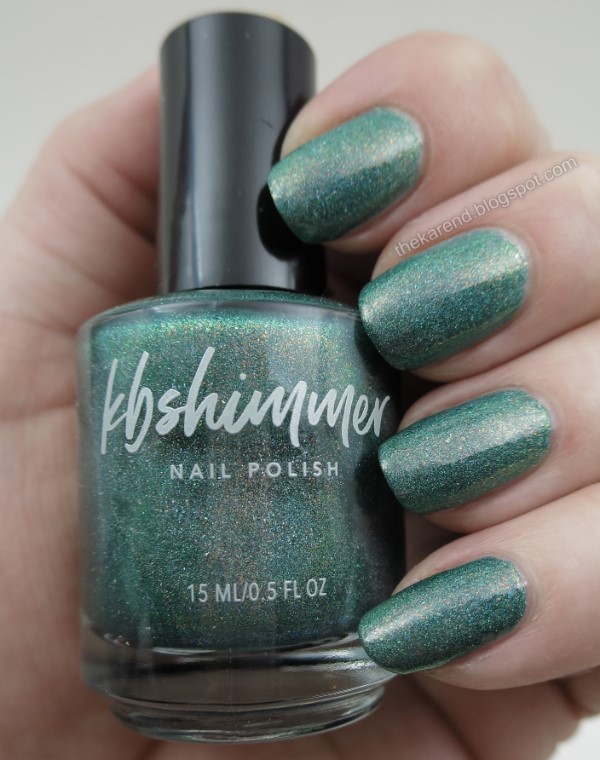 Under direct indoor light, more color shows up:
In sunlight, it's "hello rainbows!".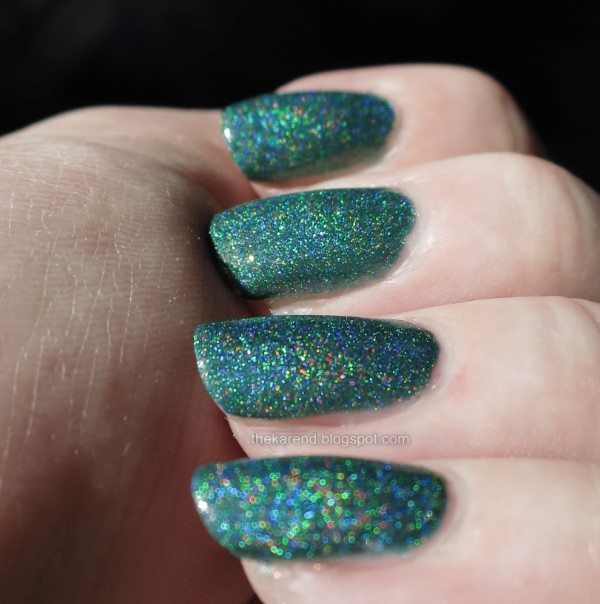 Off Tropic is a topper with multichrome flakies in a clear base. Purple, fuchsia, blue, green, and gold make up most of the mix, with a few other colors peeking out here and there.
I put one coat of Off Tropic over the Eh Team and slicked on clear topcoat over that to make sure I had a smooth surface. Friends, this combination was so gorgeous—I felt both regret for not trying Off Tropic sooner and delight that I finally had and could look at all the pretty colors.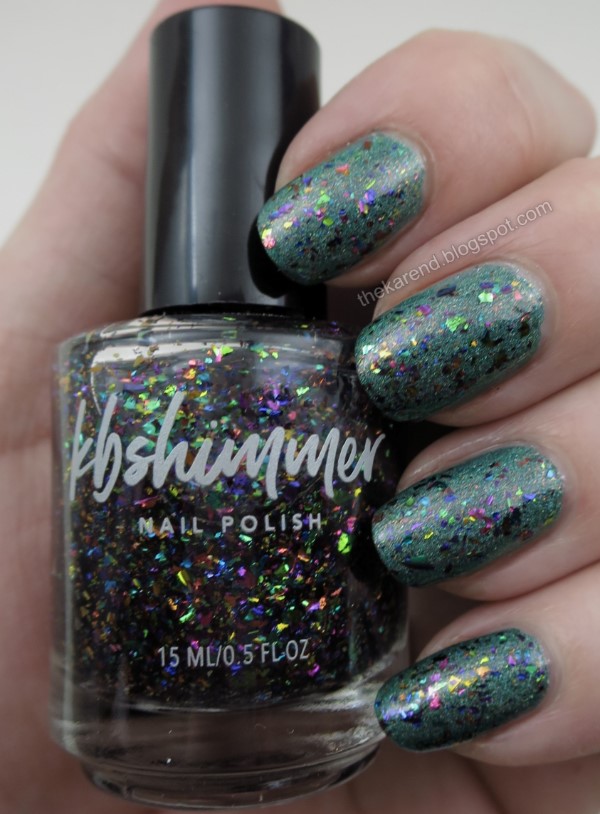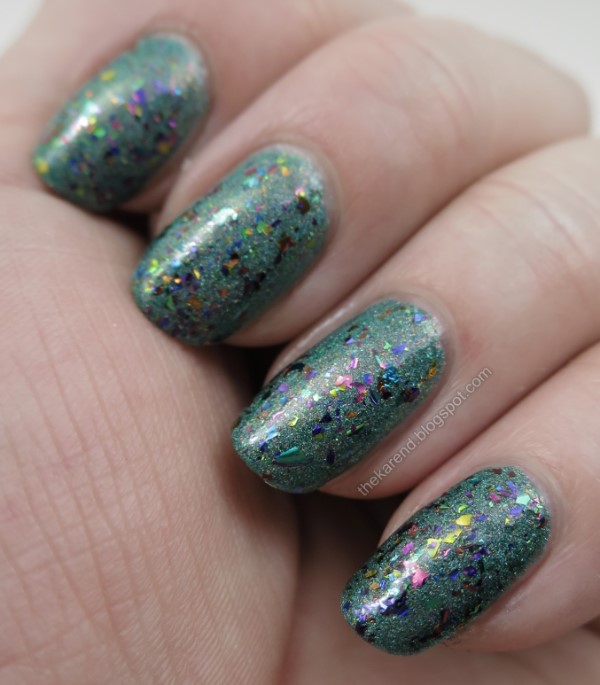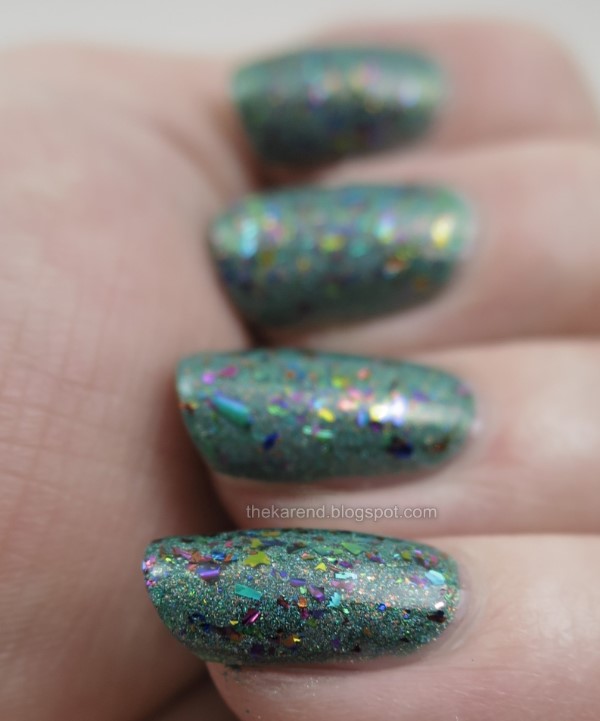 Direct indoor light—still pretty:
Sunlight—differently pretty as the holo was powerful enough to take top billing from the flakies: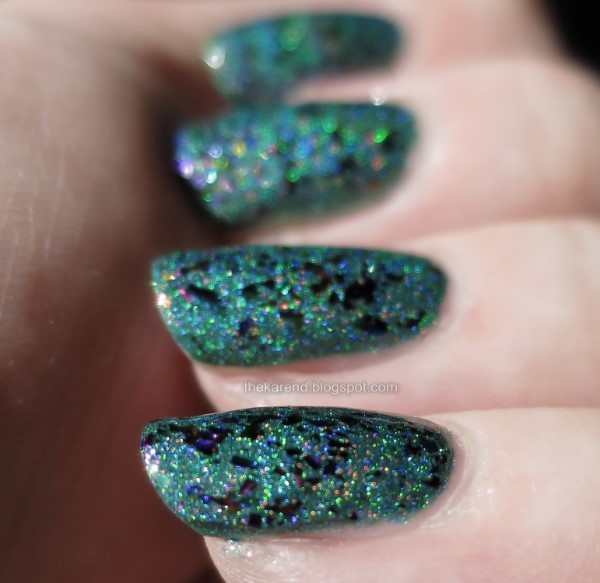 I just had to see Off Tropic over other base colors, so did Skittles with Essie Mani Thanks (light gold shimmer), SinfulColors Fearless (red violet creme), Sally Hansen Insta Dri Bluetiful (blue creme), and Funky Fingers Dark Knight (black creme), then added Off Tropic and clear topcoat. Different aspects of the flakie mix were highlighted against the different bases; I liked all these combinations.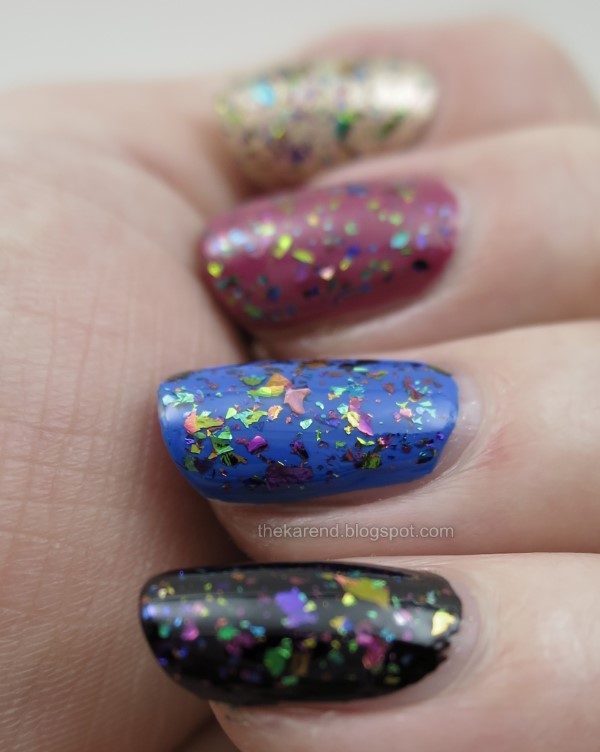 The Eh Team was an IEC exclusive and no longer available, but I see that Off Tropic is in stock on the
KBShimmer
site. Maybe I should get another bottle? I mean, it goes with so many things and makes me so happy to look at—but probably things in my unswatched boxes will, too, so probably best to save my pennies for other things.