It's been two months since my pandemic-affected
display post
consisting of the limited selection of things I'd seen while hunting for necessities at Walmart and Dollar Tree. As the some of the shortages have been easing, my detours from the grocery stores have been less, so as of late last week, I'd only seem about three new displays and one of those I only snapped a photo of to make a point that it had no polish in it. But that all changed when I made my first trip out of my home county in five months and popped into places I hadn't set foot in since the pandemic started. I masked up and went to Walgreens and Rite Aid and Walmart and Kohls and Target and Ulta and Sally Beauty and Fred Meyer, sanitizing my hands in between stores like it was my job. Some of the places didn't have anything worthy of documenting—either they've cut back on stock due to conditions or I missed what new they had during my long absence—but there was enough to see that I was getting a bit worn out by the time I buckled in at my last stop and did the hour plus drive home.
I was happy to see an untouched Essie Fall 2020 display at Walgreens; I'd only previously spotted them at Walmart, placed in the polish wall where the shelf labels were obscured by cretins trying colors out on them and at least one of the colors missing, either sold out, not yet stocked, or put in the wrong place. Six shades here: Adrenaline Brush, Don't Be Spotted, Swing of Things, Cargo Cameo, Waterfall in Love, and Heart of the Jungle. This style of cardboard display wasn't something I'd seen from Essie before as far as I recall.
To be fair, I did see them also at the Walmart in the bigger city and their nail polish section wasn't nearly as bad as my local store; they even had the display card to tell people it was the fall collection.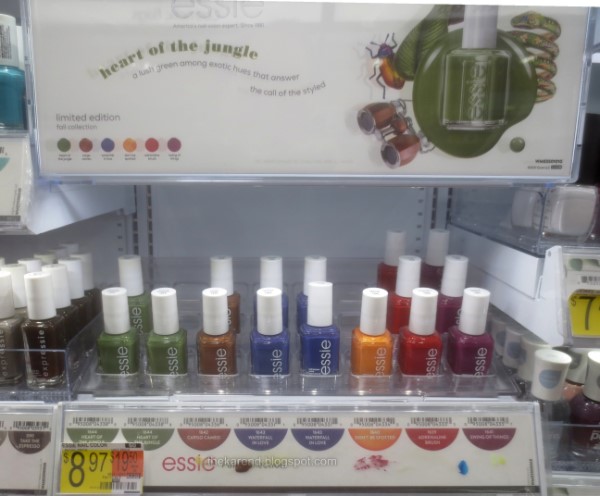 Rite Aid had a different style of cardboard display than Walgreens but with the same imagery.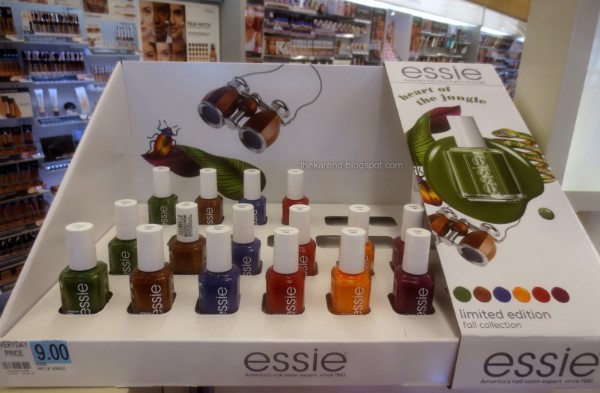 Ulta didn't have the Essie fall collection but did still have a summer display with at least one of each shade still in it: Worth the Tassel, Bustling Bazaar, Mosaic on Down, Spice it Up, Souq Up the Sun, and Kaf-tan.
Ulta also had some of the things I'd seen on their website but not in person yet, including the Essie Gel Couture Sunset Soiree collection. Left to right: Atelier at the Bay, Coastal Couture, Low Tide High Slit, Sunset Soiree, Sequins on the Rocks (plus Chiffon the Move and Top Coat, both core).
And the Essie Perfect 10 collection (which I think was supposed to tie in to the Olympic gymnastics for the summer games which aren't happening now). Three shades here are Balancing Act, Summer-sault, and Perfect 10.
There was also a Perfect 10 gift set with Balancing Act and three pairs of earrings.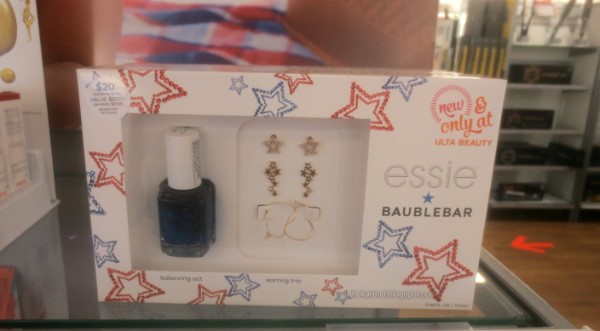 Fred Meyer had a mostly empty Essie Expressie display which said both "limited edition speed of life collection" and "new shades", so I'm not sure if all were LEs or not. Slots left to right: Clock In (sold out, pale grey), On to the Next (pale pink), Speed of Life, Energized & Wise, Fueled Up, So Matcha Energy (sold out, grey green), Re-charge to Take Charge (sold out, slate blue), Expresso Double Shot, In the Fast Lane (sold out, dark brown), High Energy Low Stress.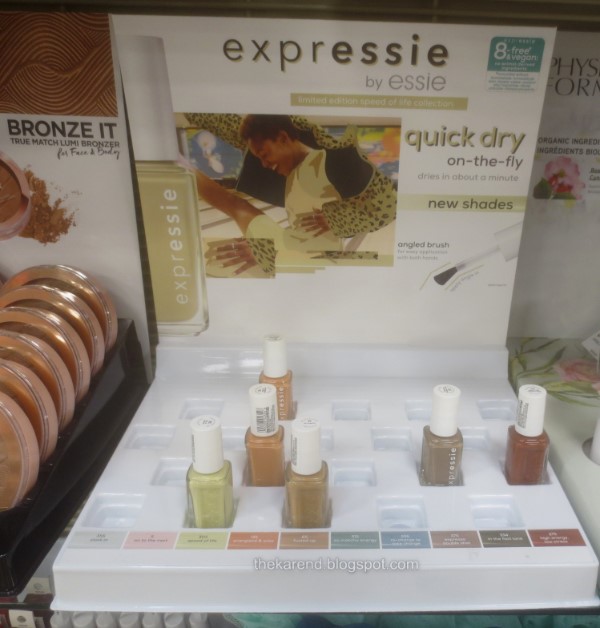 Walmart had a sidekick display for LBK, which had some colors from the core line that's in the regular nail polish section as well as some other shades. Top row: Beaming Brityn (times 2), Katie's Witness, Claire's Creation (core), Ultralicious, Ultra Violet Rays (x2), Lola Belle (core). Bottom row: Jewel of Janelle (core), Elyse (core), Kylie (core), Strong Hildy (core), Driven Mattie (core), Lovely Lavender, Bluetiful You, Gel-Like Topcoat (core), Base Coat (core). The two that most intrigued me were Beaming Brityn and Katie's Witness, as those looked like good holos. I bought those two and now looking at this I'm sort of wishing I'd also gotten Ultra Violet Rays and maybe Ultralicious, as those seem to be re-names of the two Ulta exclusives from last year (Ulta to Ultra is not that big a leap), and Bluetiful You looks good to me now, too, even though I most likely have dupes or near enoughs of all three of them. With any luck they won't be there the next time I go back and the decision will be out of my hands.
The only thing new at my Sally Beauty was Mini Mani Moo Gel No More gel polish remover, wihch apparently you brush on over gel, glitter, or other hard to remove polish and push it off.
I'd seen the Nailtopia brand on the Ulta website and was delighted to see a big display of it in the store. Some colors were sold out but there were plenty left to enjoy. This seems to be aimed at the same "natural" niche as Sally Hansen Good Kind Pure. I was surprised to do the math and find that despite the fancy bottles with the raised leaf design, it's a better value per ml than the Sally Hansen, at least at Ulta prices. Nailtopia is $10 for a 14ml bottle, while Good Kind Pure is $8.99 for 10ml. The front of the display has 77 (!) slots, so 75 colors plus the base and top coat.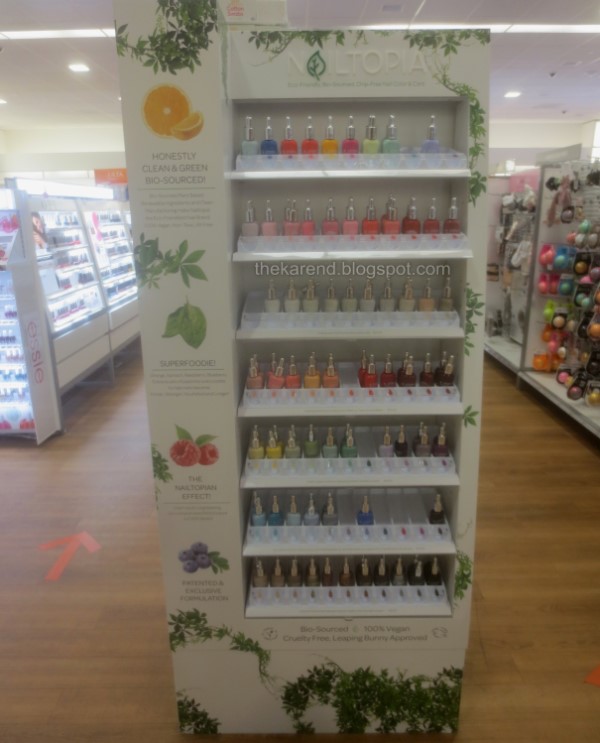 The side of the display (only one side has product) has mini duo kits, treatments (infused with orange, blueberry, raspberry, or spinach), and remover (that's avocado "flavored").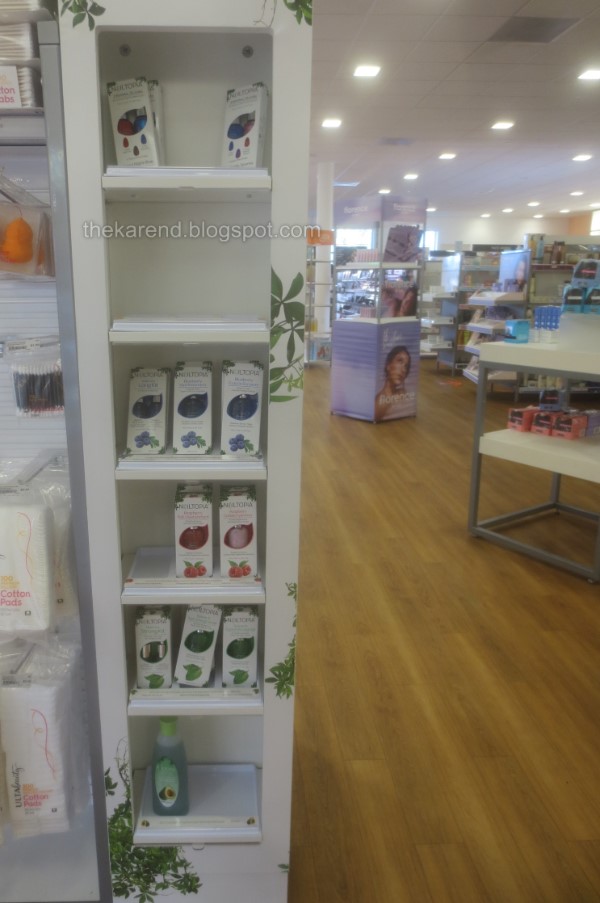 A closer look at the colors, starting from the top. First row: That's the Tea, Slay All Day, Hustle Hard (in the slot for Shooting Stars, a dark blue), Hustle Hard, Glow Up, That's Hot, Squad Goals, Trust the Process, Nails on Fleek (sold out, blue green), Keep it 100, Jomo. Second row: Kissin' in the Rain, Do of FiDi, Uptown Girl, One in a Melon, Bronz & Boujee, Bird of Paradise, Pizza Queen, You Got this Babe, Goodnight Kiss, Rosey Cheeks, Nailed It.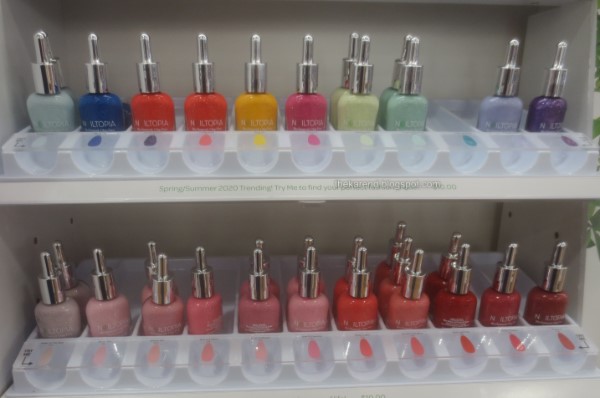 Third and fourth rows below. Top: Started from the Bottom (sold out, clear pink base coat), So Fresh So Clean (in the slot for Top of Your Game, clear top coat), So Fresh So Clean, Sunday Funday, Doing Great Sweetie, Hold on Tight, Morning Fog, Namastaybeautiful, Creme de la Creme, Champagne Dreams, Les Mess. Bottom: Harlem Shake, Lilita from Nolita, West Side Story, Just Peachy, Queen of Queens, Red Hot Summa (sold out, orange red), Engine #5, Don't Kill My Vibe, Feelin' Spicy, Run Now Wine Later, Ruby Slippers.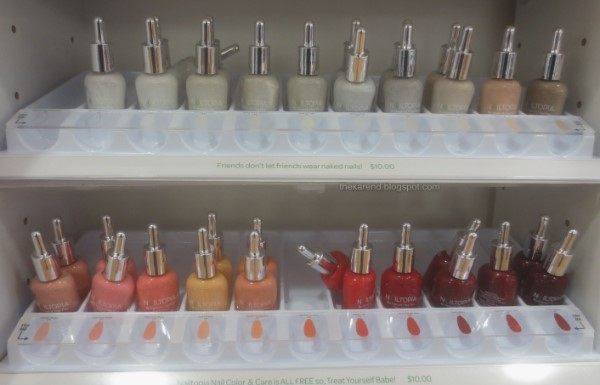 Fifth and sixth rows below. Top: Mellow Yellow, Sol Glow, Union Square Pair, Juice Cleanse (says "cleans" on display), I Sea You, Yacht Week, Forest Hills (sold out, dark green), Passion Player, When the Night Falls (in the slot for Set the Pace, light purple), Smoky Road, Slide in my DMs. Bottom: Tropinail, Hawaiian Blues, Hula Girl, Bali Baby, Blank Slate, Stay Inspired (sold out, medium purple), Indigoto Ibiza, Ride the Wave (sold out, medium blue), Spill the Juice (sold out, fuchsia), Curve Ball (bright purple), When the Night Falls.
Seventh row below: Camel Pose, Mocho Loco, Tira-Miss-You, Liquid Gold, Not Today, Dream Big, But First Coffee, Hater Blocker, Dynasty, Back to Basics (display leaves out the "to" but website doesn't), Respect.

There are three duo mini kits, designed to layer (similar to the Defy + Inspire ones at Target): Good Night Blue (Good Night Kiss + The Deep Blue = purple), Smokey Road Glow (sold out, Smokey Road + Hampton Glow = platinum), and Slay Smile Sparkle (Slay All Day + Smile Sparkle Repeat = purple). One of the polishes in each is a core shade but the other is not.
I was keeping an eye out for the OPI Neo-Pearl collection, but never came across it. At Walgreens, I did see a mostly empty display for the Hidden Prism collection, which hadn't made it onto my radar at all. The two colors that were left were Ray-Diance (yellow) and Gleam On (green). Missing were Magic Hour (yellow orange), She's a Prismatic (pink), Rainbows a Go Go (red violet), and Pigment of My Imagination (blue). Based on the bottles that were here, these look more appealing to me than the Neo-Pearl colors I saw online (these are brighter and seem to have that shifty sort of flecked shimmer I love to layer with). I might need to look online and see if I can get the set somewhere.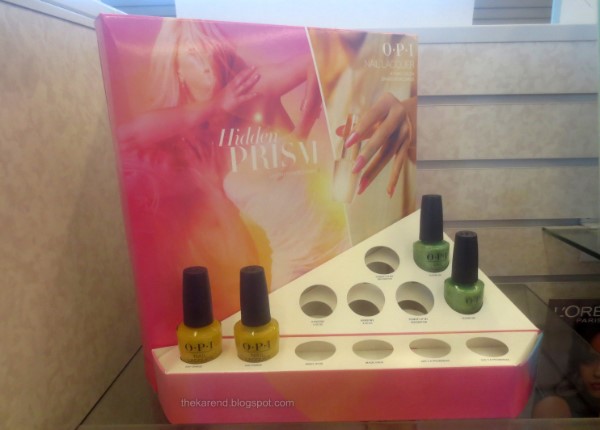 The OPI Muse of Milan end at Ulta was pretty picked over when I got there.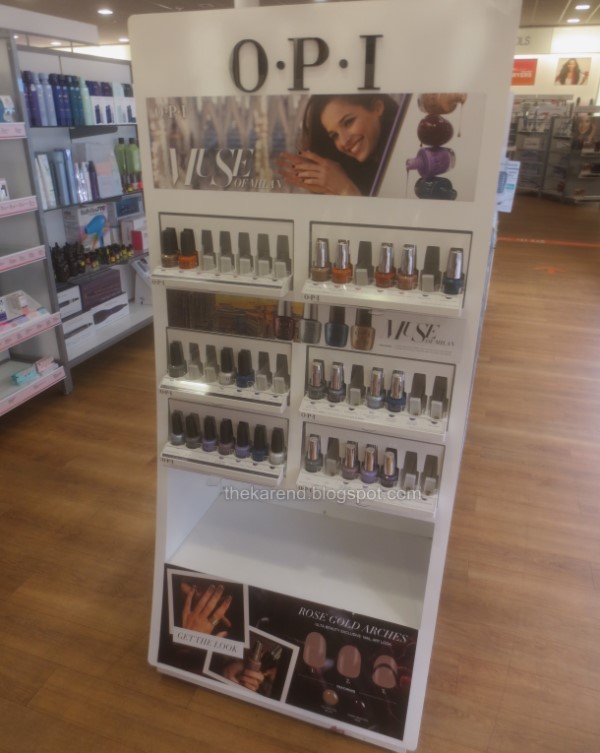 Fred Meyer had a more well stocked but less well identified display. Top row: Falling for Milan, Have Your Panettone and Eat It too, My Italian is a Little Rusty, Drama at La Scala, This Color Hits All the High Notes, Duomo Days Isola Nights. Bottom: Suzi Talks with Her Hands, OPI Nails the Runway, Galleria Vittorio Violet, Addio Bad Nails Ciao Great Nails, Leonardo's Model Color (sold out, purple), Complimentary Wine (sold out, deepest berry).
At my local Walmart, I'd seen an endcap display for Revlon's tie in with the new Wonder Woman movie. It had no nail polish in it and no slots for nail polish that I could see. So I was a bit surprised to see a small shelf display for the collection at both Walgreens and Fred Meyerthat did have a little nail polish polish in it along with the other makeup. Two shades, both core, with the Wonder Woman logo in gold on the caps: Revlon Red on the light side and the blue Sultry on the dark side.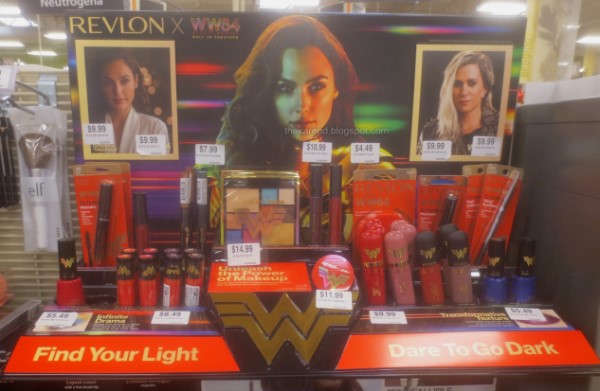 It being August already, the Sally Hansen Pride displays were gone, but those were all core colors, many of which I had already (though without striped caps). What Walgreens did have was Sally Hansen Halloween displays. Normally I'd probably complaing about it being too early, but this year I'm just happy to see them. I apologize for the wonky photo; I was apparently too excited to notice I hadn't gotten a good overall shot. On top there's Xtreme Wear that appeared to be all core colors; on the bottom it's Insta Dri with some core colors but also seven shades in a Sour Patch Kids collection.
Here's the display card I cut off in the shot above: Xtreme Wear Monster Color and Shine. The mummy-wrapped fingers are a nice touch.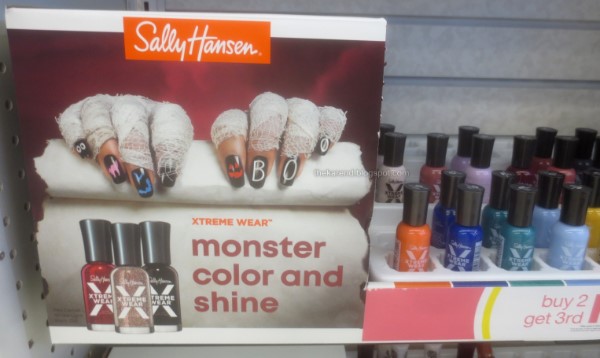 I did have the presence of mind to neaten up the Insta Dri display a bit, pulling the Sour Patch Kids colors into the front section. Left to right: Clearly Quick (core), White on Time (core), Pump-kid, The Un-red, Boo-lue, RIP-urple, Hallogreen, Ghouls Night Out, and First Sour Then Sweet. All of these are cremes except for the last one, which has tiny white matte glitter in a clear base. Despite having enough cremes, and despite the sale touted on the display not starting until a couple days later, I scooped these up and hope to get swatches done soon.
Walgreens also had some Sally Hansen Good Kind Pure colors I hadn't seen before, starting with the limited edition Seaside Escape display. There were core colors in the back half; the limited edition shades in front were: Mango Punch (empty slot, looks like a soft coral from the color chip), Pink Sand, Blue-tanical, and Mint Refresh. It was easy to skip these as I wasn't wowed by the formula of the ones I have (and I do not lack for pastels in my stash).
There were also new core shades of Good Kind Pure, which they had both in a shelf display near the front of the store and in a section in the nail polish wall deeper in. It was slightly confusing to me that these new shades were also referred to as the Back to Nature collection yet there were no greens or browns but I'm not a marketing expert. The new colors were mixed with core colors in the shelf display, and there were fewer of them there, so take a quick look and then let's move on to the section in the nail polish section of the regular aisle.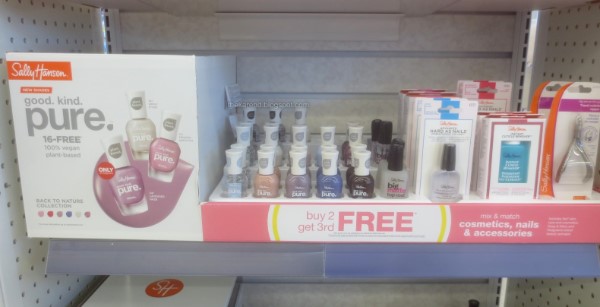 Here's the display card in the nail polish aisle, showing color chips for eight shades versus the six on the shelf display.
And here are the polishes themselves: Honey Harmony, Pink Magnolia, Passion Flower, Frosted Amethyst, Natural Spring, Simply Stone, Lavender Haze, Warm Cacao. So okay, there is one brown there.
I found the Sally Hansen Miracle Gel Marine Metals collection display tucked into the drugstore nail polish aisle at Ulta. This had core colors along with the new ones (I didn't see limited edition on this at all). Of the new shades, the only ones that weren't sold out by the time I saw this were Sunken Treasure (gold glitter) and Deep Sea Diamond (silver glitter).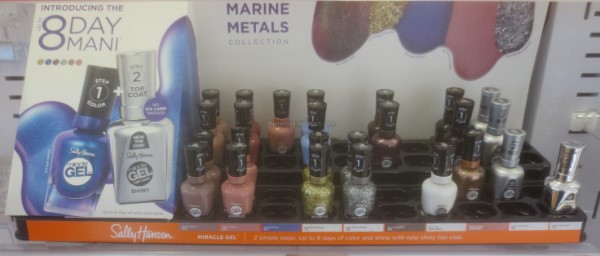 Fortunately, I'd noticed a section of Miracle Gel at Walmart that seemed new despite having no signage to indicate that ... it had the new shades missing from the Ulta display as well as another one that wasn't listed on the Ulta display though is included in the group on the Sally Hansen Facebook page. Left to right: Get Mod (existing core), Onyx-pected (existing core), Hue There (times 2), Hyp-nautical, Holllaa-gram, Deep Sea Diamond, Sunken Treasure.
The Walmart I went to had no new Sinful Colors, but Fred Meyer had the So Savage display, which has a bunch of core colors plus two snake-like top coats (which look on the display card to be crackles of the type we've seen before): Sss-sparkle, a gold, and Snake It Happen, a black. They're on the right side section of the display, flanking one of the Quick Bliss colors.
Ulta had a limited Woke Up in Paris collection in their self-named line, but it was impossible for me to get a good photo of it due to the backlit display. Here's as good as I could get of most of the shades: A Beret Good Time, City of Love, Paris Please, Bonjour Babe, Rainy Days, Views from the Top. Not pictured: France-y Pants (light orchid). They also had a Neon Lights collection, but those photos turned out even worse. I can tell you that in addition to the Snow White to be used as a base, there were five colors: Bananarama (yellow), Mingle Flamingo (bright pink), Heat Warning (bright coral), Fam Jam (bright purple), and Party Like a Patriot (blue). Those were labeled "new" rather than LE, so should be around for a bit.
On Target's nail polish wall, there was a brand I'd not seen before: TenOverTen, which seems to be another "natural/non-toxic" line. The top row had base coat, top coat, remover, oils and treatments. The colors on the bottom: Washington, Canal, Madison, Jane, Watts, Mulberry, Liberty, Austin, Church, Oliver, Cliff, Hester, Elizabeth, Delancy, Ludlow, and Carmine.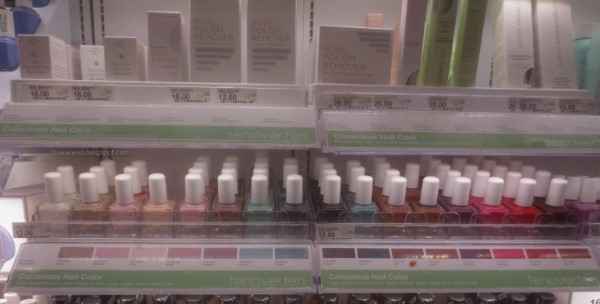 Wow, it feels good to have done a proper display post again.