Today I have a semi-good excuse for getting this post up late: the power went out as I was cropping and watermarking the photos. It's only a semi-good excuse because it was a scheduled outage for maintenance work to be done, but I'd forgotten about it in the four or five days between when Mr. K told me he'd gotten a notification and when the time came. I really wished I'd remembered before it went out because I hadn't had my tea yet. Guess I should have popped a reminder in my calendar when he told me.
I chose a few colors/finishes to try from the Nailtopia line which Ulta added to their offerings earlier this year: Yacht Week, JOMO, and Hula Girl. These are "bio-sourced", vegan, and cruelty free, according to the back label.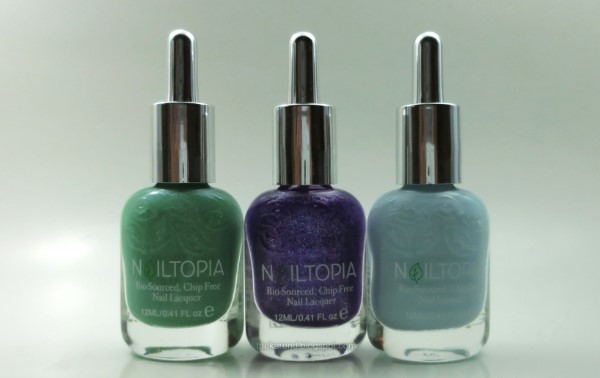 Yacht Week is a blue-leaning light (but not so light I'd call it pastel) green with fine white/silver shimmer.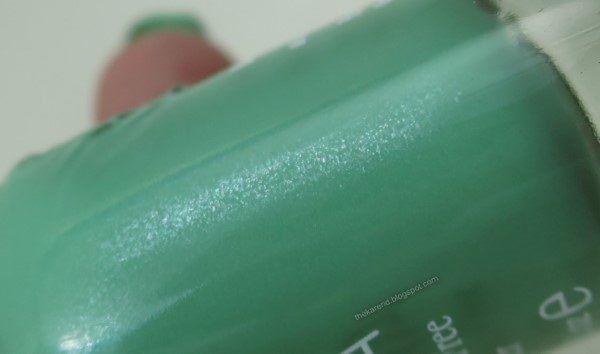 I did two coats for my swatch; the formula on this one was a touch thicker than I'd prefer for good control but it leveled out okay. The shimmer in Yacht Week is subtle but is visible on the nail in most lighting conditions. I felt like this shade gave me a touch of lobster hands (does anyone even say that anymore? lobster hands? or is that too old school now, like "mannequin hands" and "meganchair that"?), but then noticed my hands had a ruddy look with the other two colors as well, so must have just been a bad hand day (we've have a lot of winter weather here already so maybe that was the issue when I swatched these).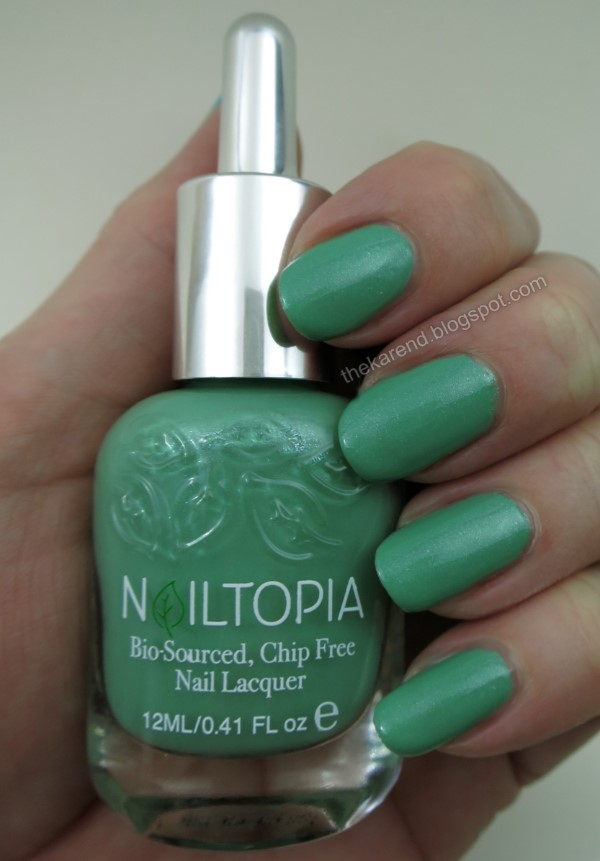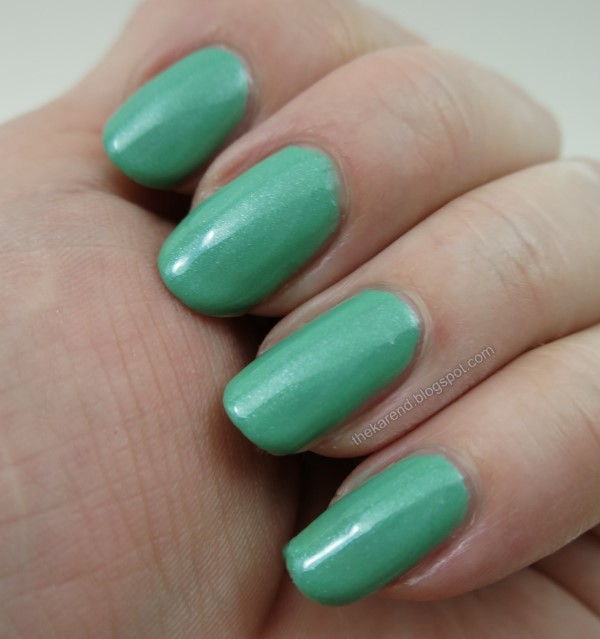 Of course the shimmer in Yacht Week shows up a bit better in direct light:
JOMO is a purple shimmer. It is more dense with shimmer than Yacht Week, packed with silver/white microflakies.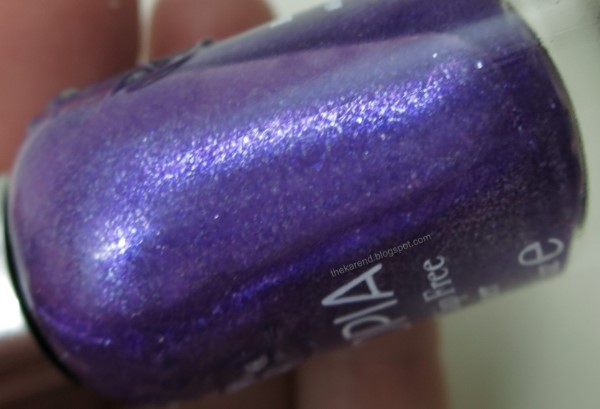 On the nail, JOMO was more sheer than I expected, and more warm-toned than it looked in the bottle. I used three coats and there's still some nail line showing. It did apply more easily than Yacht Week, so that's a plus.
What with the sheerness of JOMO, I had to try layering with it. Top to bottom: JOMO alone (3 coats), 1 coat of JOMO over China Glaze Plur-ple (warm-leaning purple creme), 1 coat of JOMO over Sally Hansen Insta Dri Vivid Violet (cool-leaning purple creme), 1 coat of JOMO over Zoya Lidia (deep warm purple creme). I definitely like it as a topper.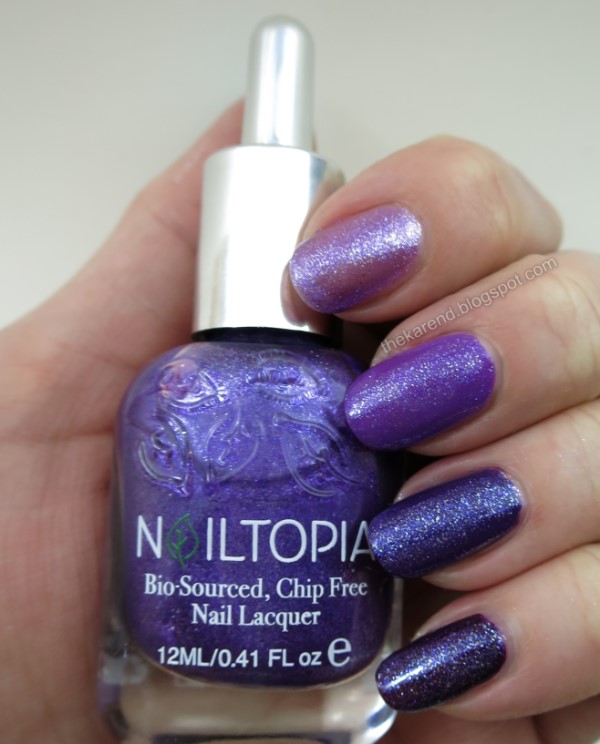 Hula Girl is a pale blue creme. This was a bit tricky to apply; it seemed thick but didn't self level as well as I'd like. Two coats was opaque enough in most spots, but I needed a third coat to even things out.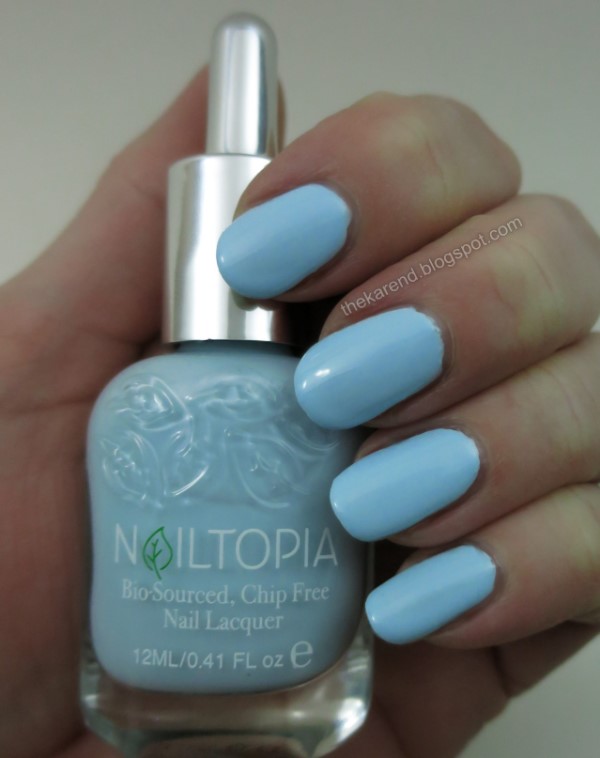 Here's what the brush looks like; it's flat, neither wide nor skinny. I thought the cap might be annoying to work with, what with that skinny bit at the top, but I didn't really notice it when I was using it (of course I do fine with the small Essie caps, so your mileage may vary). I'm not sure what they were going for with that cap design ... elegant face serum vibe maybe? It reminds me of an eyedropper or a Flonase bottle, neither of which make me think of beauty.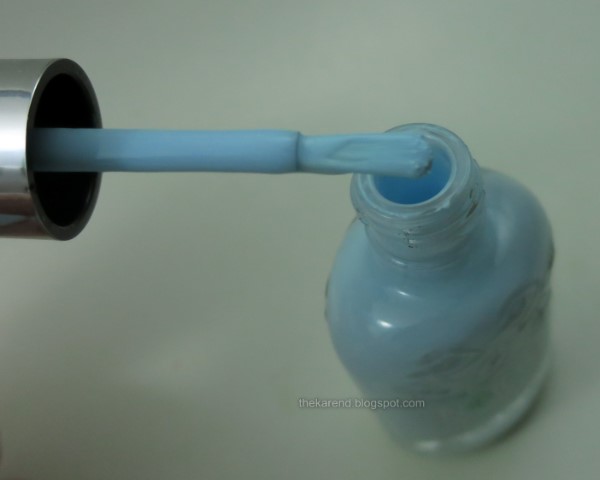 I'm not sure if I'll get more of this brand. They're fine, but the line has a lot of cremes, and the creme I got wasn't the best of the three I tried (plus I need more cremes like I need to gain more pandemic isolation weight). I noticed on the Ulta site yesterday that some of the colors are half off; not sure if they're discontinued some shades already or what. Ones I noticed for $5: Slay All Day (blue), That's Hot (hot pink), Squad Goals (pastel green), Trust the Process (pastel blue green), Keep It 100 (lilac). That's only 5 of the 70+ plus shades, so maybe they're just tweaking the lineup.