The first product I tried from Pacifica was their matte top coat, which
wasn't all that matte
. Once in a while some shades in the display at Ulta would catch my eye but I always passed because I didn't have any compelling reason to get involved with yet another brand. That changed when on my one visit to Ulta since the pandemic, I saw that most (all?) of the Pacifica nail section was on clearance, so I grabbed a few, two of which were holos: Rainbow Gloss Top Coat and Milky Way Crystal Gloss Top Coat.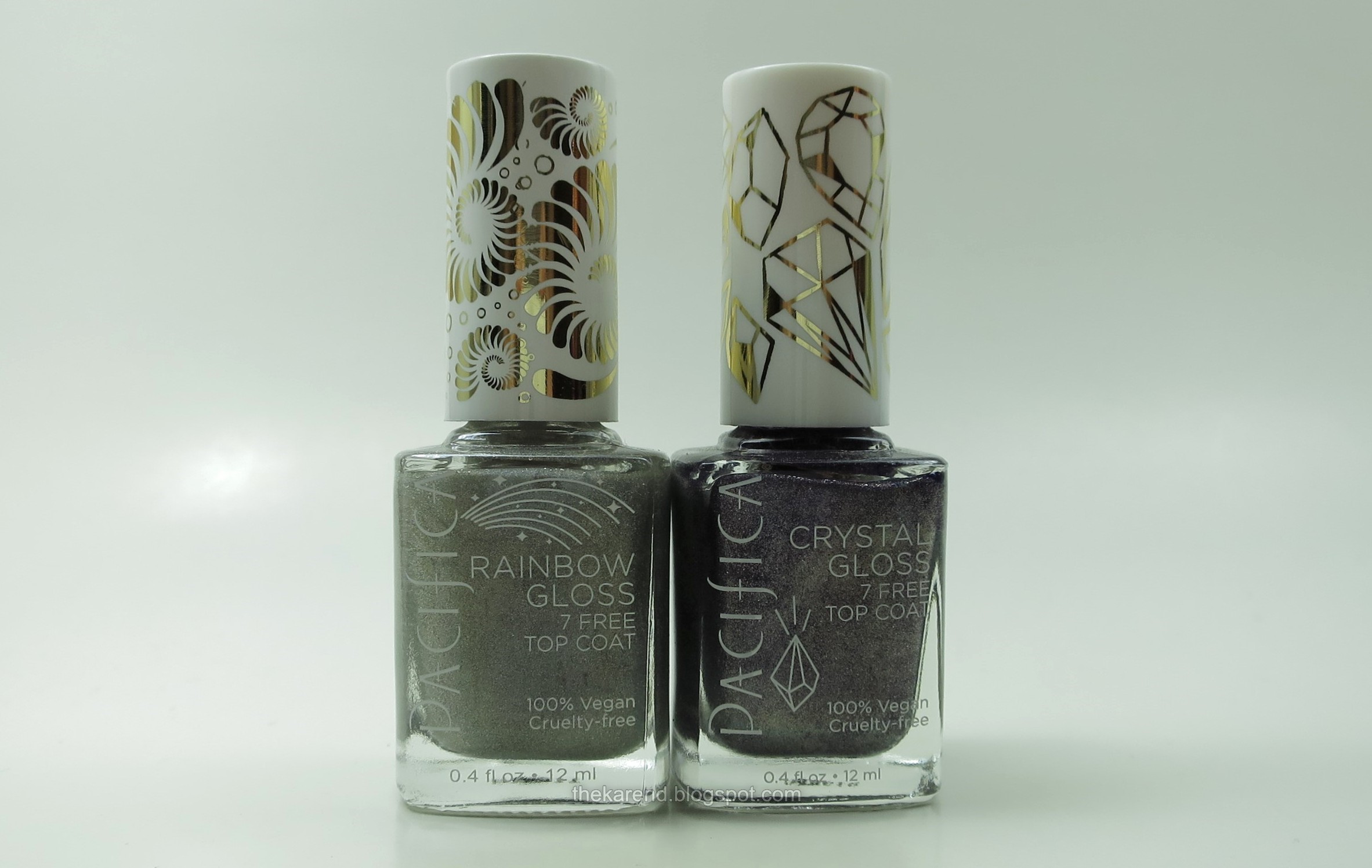 Because it said it was a top coat right on the bottle, I put a creme base on before I tried the Rainbow Gloss, namely Sally Hansen Insta Dri Island Punch, a dusty orchid. I did one coat of the Rainbow Gloss on top of that. In the lightbox, it added some silvery shimmer but not really any rainbows to speak of.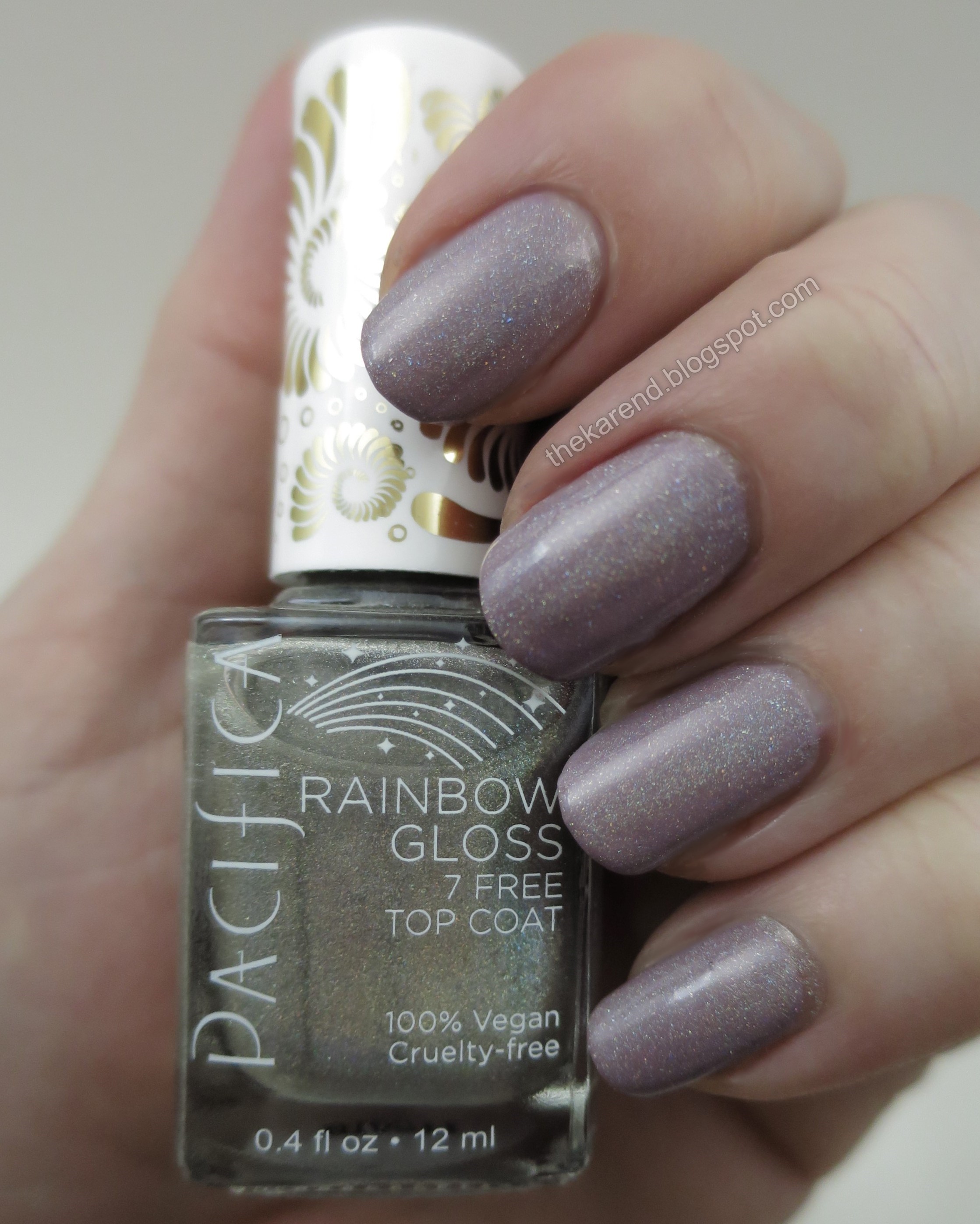 In direct light, some scattered rainbows showed up.
In sunlight, as one might expect, more colors were evident.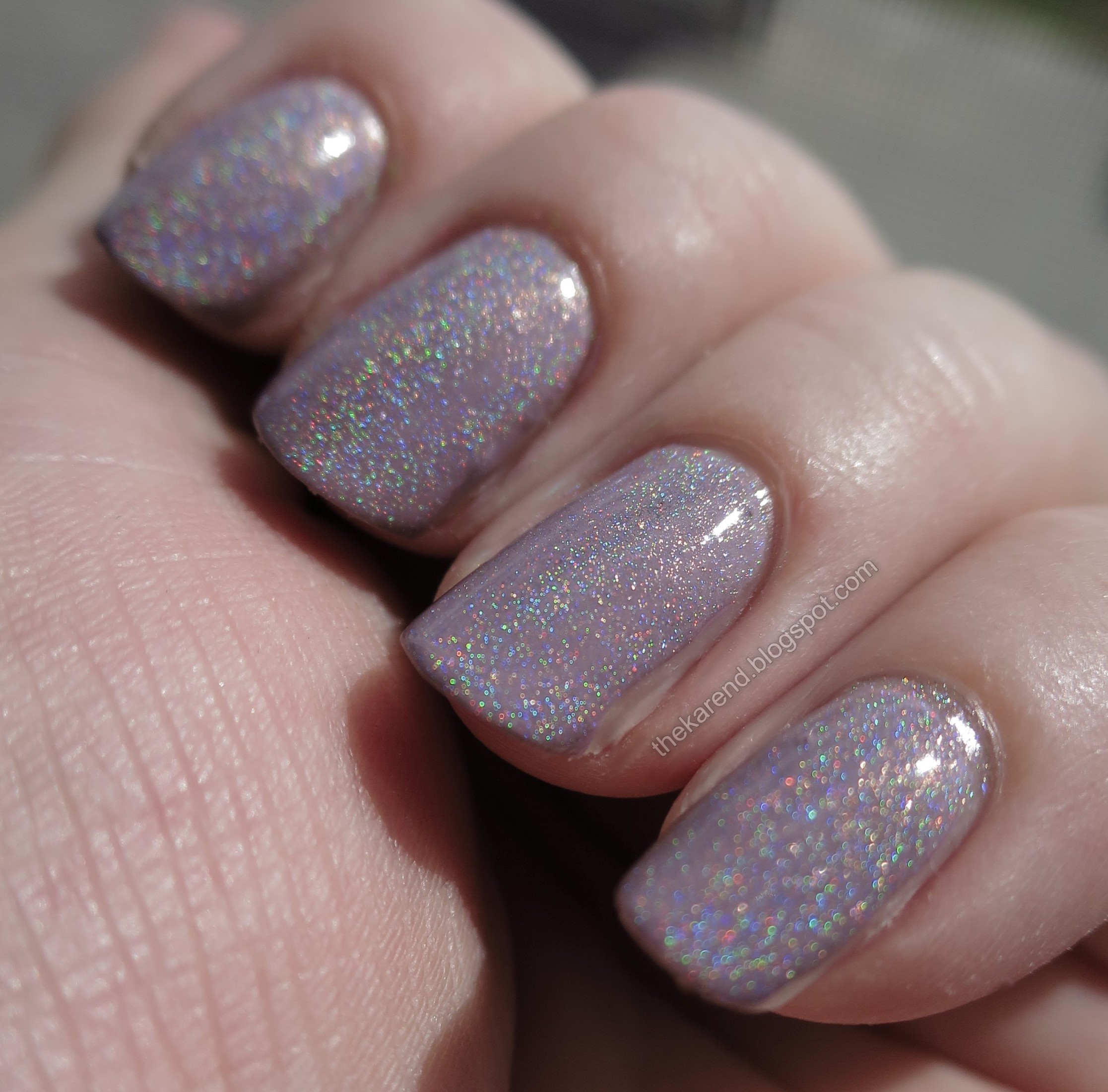 I experimented and added a second coat of Rainbow Gloss to just my index finger. This definitely upped the rainbow effect but also greyed out the base color more than one coat had.
I tried Rainbow Gloss over more base shades. Top to bottom, one coat of Rainbow Gloss over Sally Hansen Insta Dri Razzle Dazzle Rose, Sally Hansen Insta Dri Island Punch (kept one nail the same for comparison's sake), Essie All The Wave, and L'Oreal She's So Matte. Here's how that looked in the lightbox: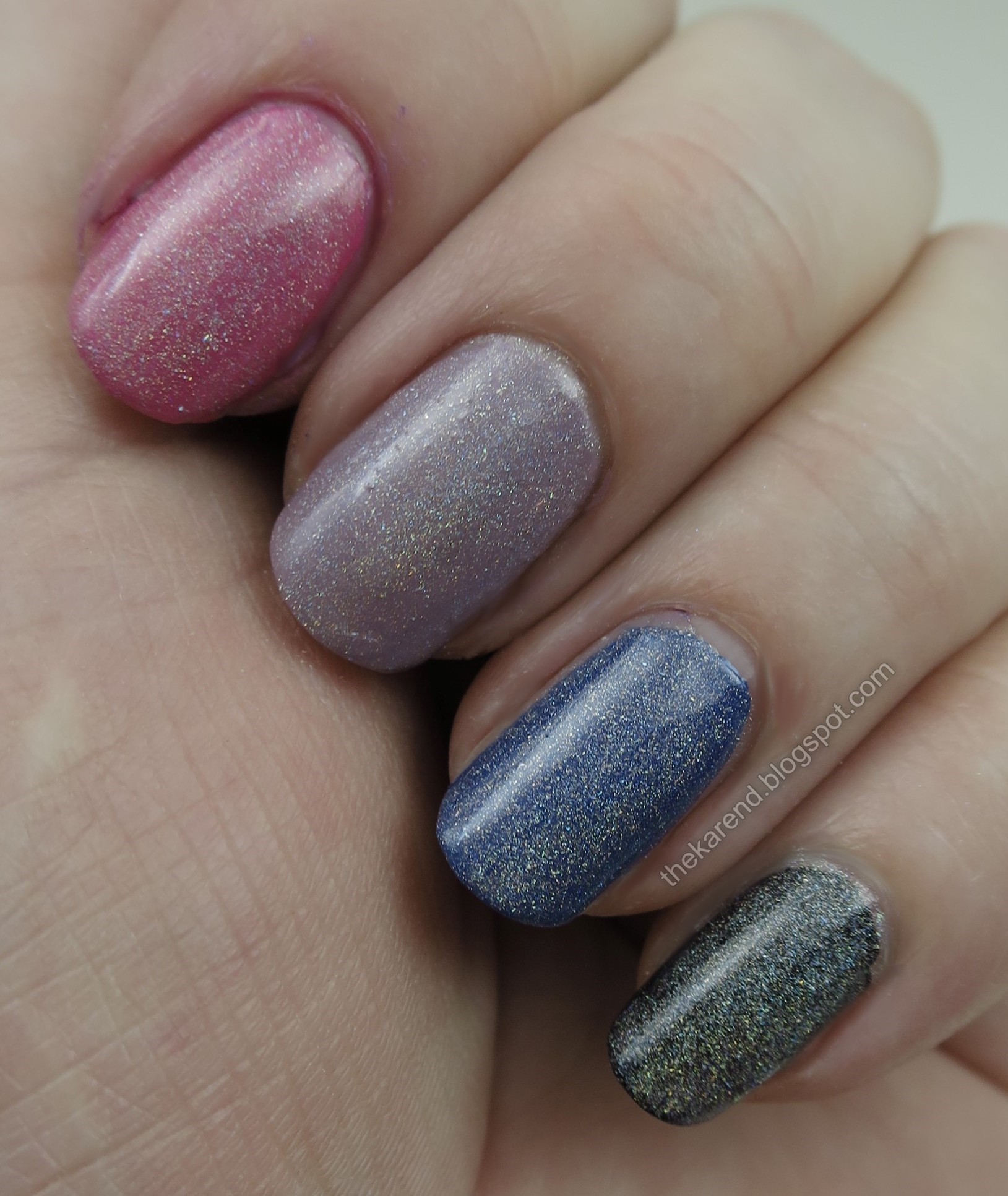 And in direct light:
And in sunlight:
Moving on to Milky Way, while this also said it was a top coat right on the bottle, it looked more pigmented, so I tried it both on its own and over other colors. Top to bottom: Milky Way alone (two coats), over Sally Hansen Xtreme Wear Out for Oxblood, Sally Hansen Insta Dri Vivid Violet, and L'Oreal She's So Matte. You can see the base makes only a slight difference in the overall look with this one; I'm going to argue that it's not really a top coat since it can be worn on its own just fine without any nail line showing.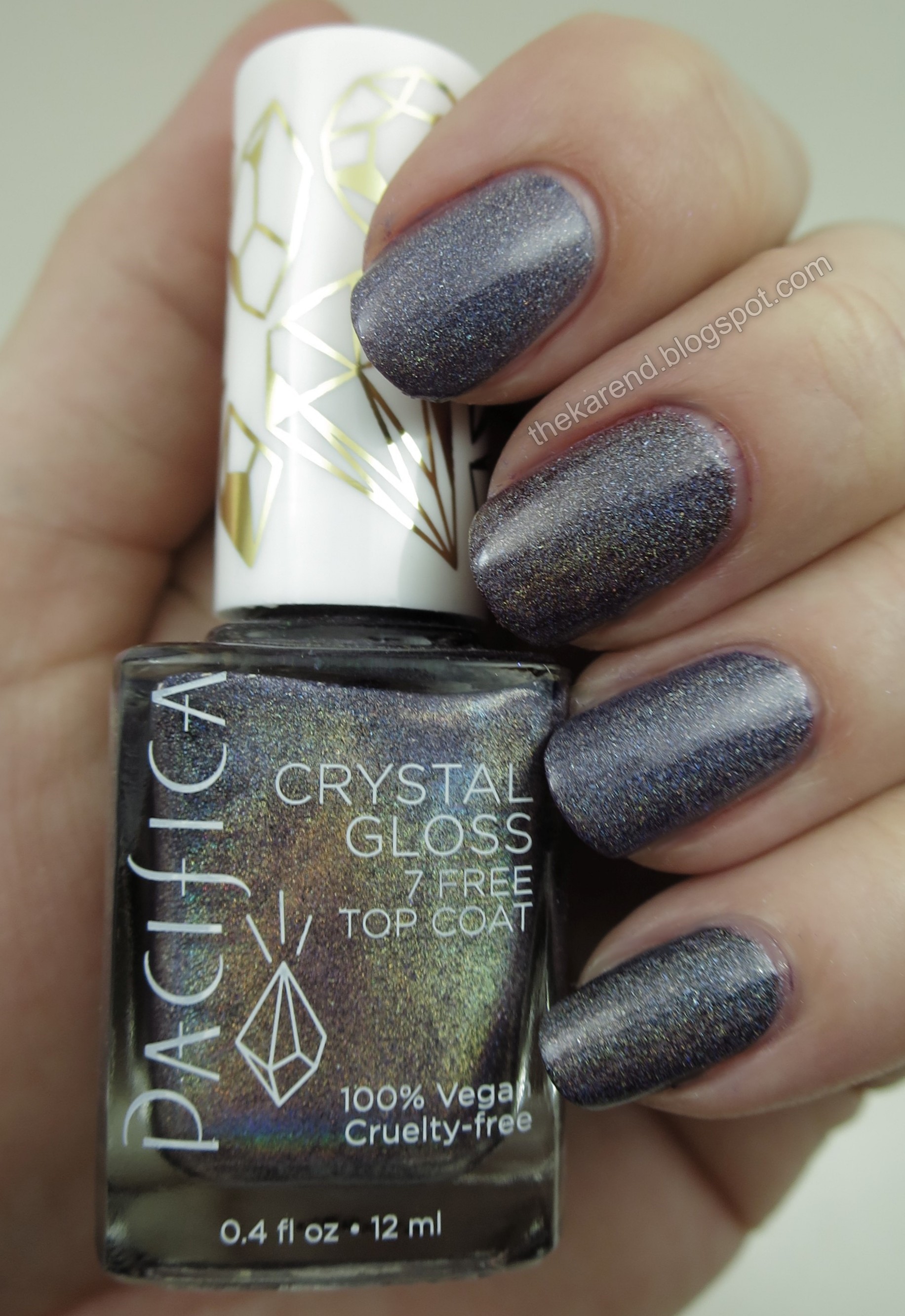 Above shot was indirect light, below is direct indoor light:
In sunlight, Milky Way really showed off.
I did a side by side comparison of both of these Pacifica holos, both over Sally Hansen Island Punch. Two fingers on the left are topped with Rainbow Gloss; the two on the right with Milky Way. You can see clearly here how pigmented the base of Milky Way is.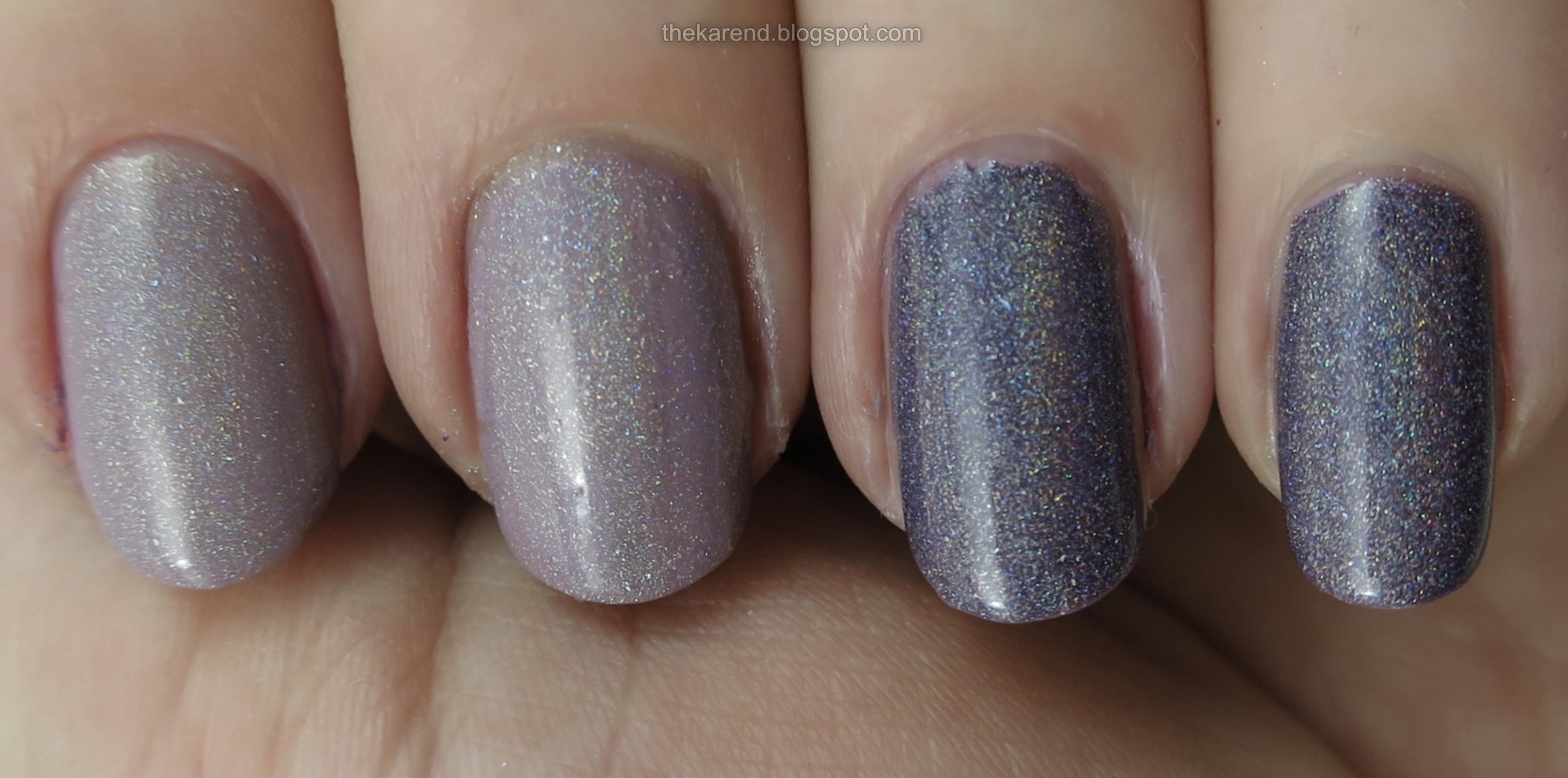 I'd lost the sun at this point, but here's the comparison in direct light.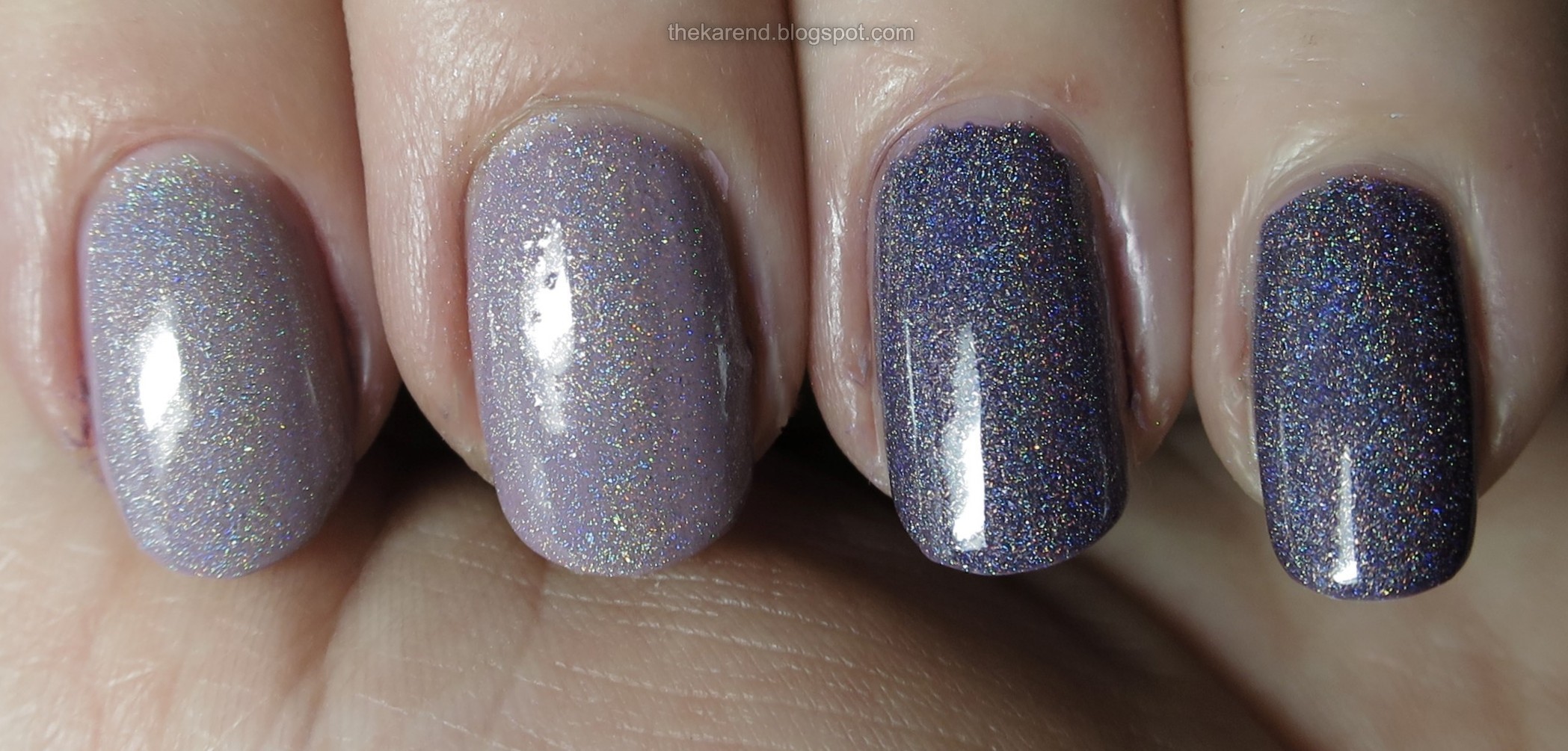 While Ulta doesn't seem to carry these anymore, both look like they're available on the
Pacifica
website. They're $14 versus $9 for the non-holos in the line (all are 12ml bottles). They're both decent polishes with a fairly good holo payoff in the sun, but if you're going to spend $14 and have to order online, I'd go for an indie brand.
Starlight Polish
, for instance, has three different holo toppers with varying levels of intensity, and they're less than $14 for 15 ml.