Today I've got a display and some polishes from it, as it's not likely I'll see enough other displays to fill a display post any time soon. COVID cases are spiking in my rural county, and are even worse in the county south of mine, where the stores like Ulta and Walgreens and Rite Aid are, so I'm not venturing out except for necessities like grocery shopping (which is how I saw this display; it was on the other side of the Super Walmart where I'd gone to get some grocery items that our regular store didn't have). I know that I'd probably be fine if I did go out display hunting but given how many people in this area are anti-science anti-maskers, I've decided it's not worth the risk (especially when many in that crowd are also fond of carrying their guns with them everywhere ... and they tell me I'm living in fear). Anyway, enough of my reporting on current events, let's get to the polish. On the rare occasions I go to my local Walmart, I have low expectations I'll see new polish; that means I'm elated when I see things like this Sally Hansen Miracle Gel display at the end of an aisle. It's got three limited edition Snow Globe shades along with a bunch of core stuff.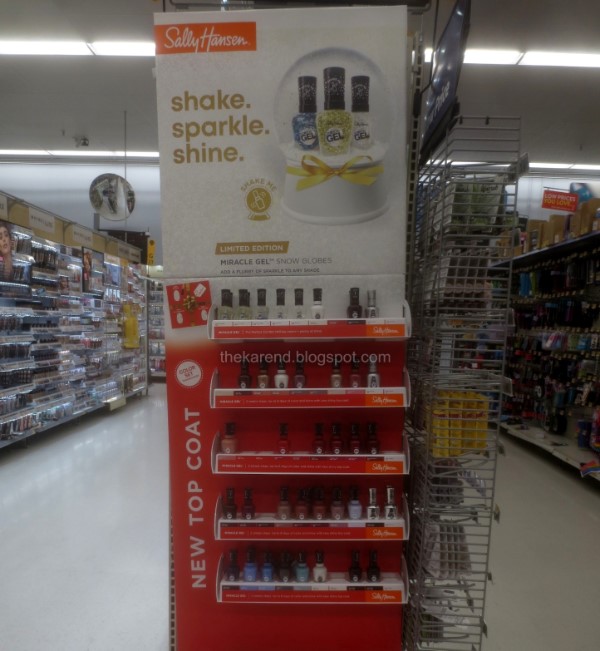 Here's a closer look at the LE shades: All That Glitters (two slots), Oy to the World, and Snow What Fun (two slots). You'll notice these are glitter toppers, with the glitter all sitting at the bottom of the bottles. If these were indie polishes, we'd be talking about failure to use a proper suspension base; Sally Hansen has put "Shake Me" on the caps and is calling them Snow Globes, which is pretty clever. (And reminds me of the INM Northern Lights top coat, which also has sinking glitter and urges one to Shake It Up" on the cap.)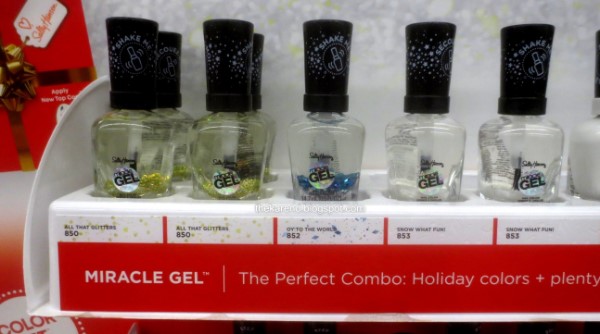 Since these newest Sally Hansens are toppers, I needed something to put them on top of, so I looked in my swatching boxes and pulled out the three Miracle Gel shades that I'd bought from this past summer's Marine Metals collection. (I skipped the two glitter toppers from that collection, figuring I had plenty of silver glitters and gold glitters, but yes, I did buy all three of the Snow Globes, including the gold. I contradict myself; it's okay.) Top: Hyp-nautical, Hue There, Hollaa-gram. Bottom: All That Glitters, Snow What Fun, Oy to the World.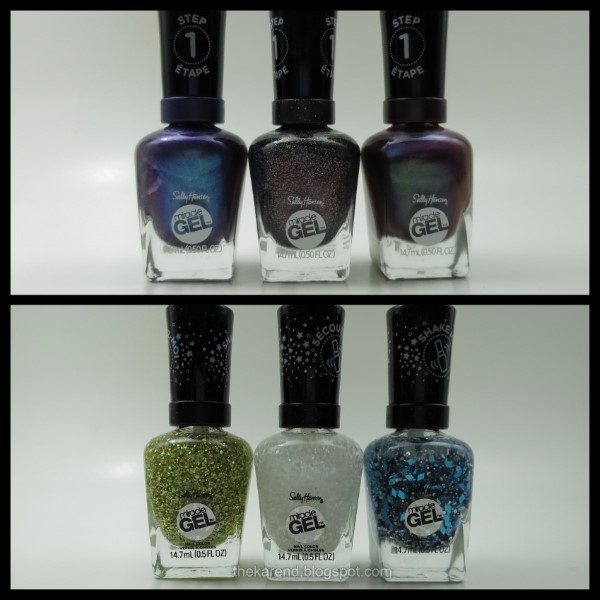 Hyp-nautical is a blue shimmer with a subtle but definitely visible purple shift. I did two coats for my swatch.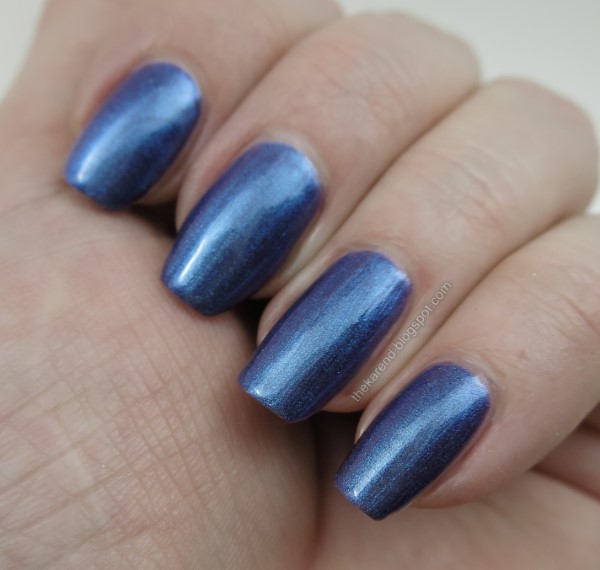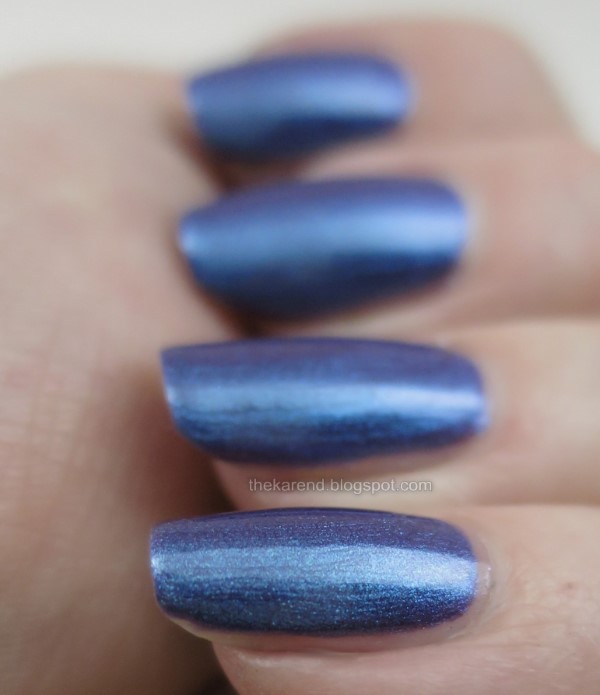 I paired Hyp-nautical with All That Glitters, which has holographic gold hex glitter in a clear base. In the bottle, this appears to have mostly small glitter particles with a scattering of medium ones (which might just be straight gold, not holo gold), but I only managed to get the small to come out onto my nails. Because the glitter starts sinking to the bottom of the bottle as soon as you set it down, it's hard to fish for particular pieces. It's also hard to get even glitter distribution; what you get on the brush depends on how well and how recently you shook the bottle (which I suppose is always the case, but the effect is magnified with this thin base).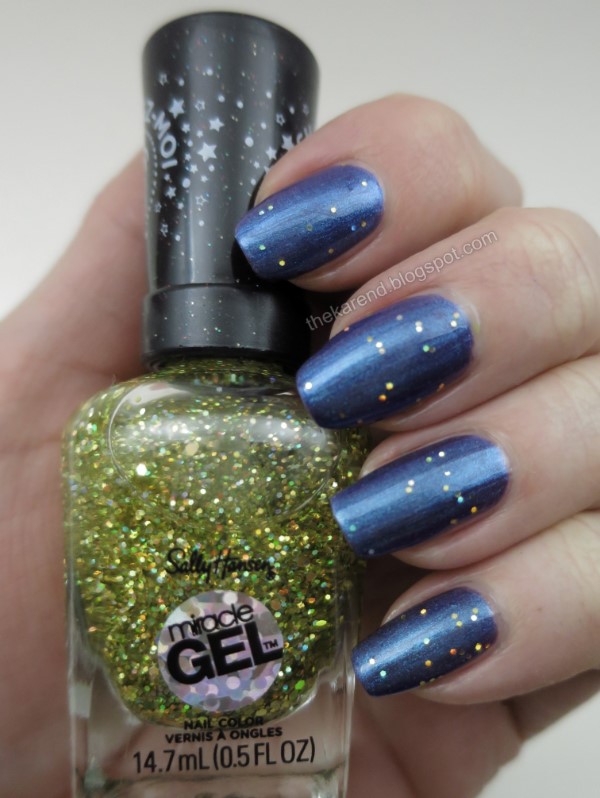 I also tried this combination with Miracle Gel Matte Top Coat; I liked that look a lot.
Holllaa-gram is a brown shimmer with a berry shift. The shimmer in this one has a green cast to it that makes it more interesting than if it had been the more expected light brown or silver. I used three coats of this one.
Here's a bonus shot of Holllaa-gram in direct light because it's just so interesting to look at:
I put Oy to the World on Holllaa-gram. Oy to the World has blue diamond shaped glitter plus small and medium silver holo hex glitter in a clear base. Unlike All That Glitters, I did get some of the medium hexes out of the bottle and onto my nails. Same as All That Glitters, even glitter distribution was not happening. The blue diamonds are large enough that when one got crosswise on my nail, the ends stuck up because my c-curve is so pronounced.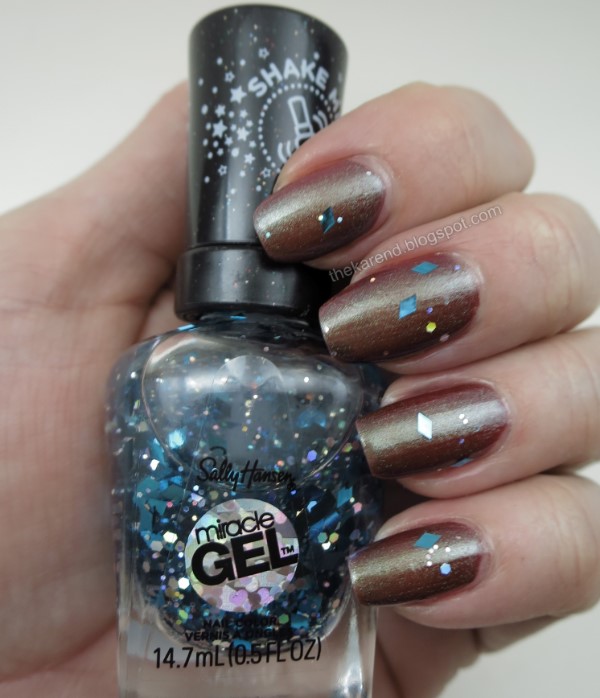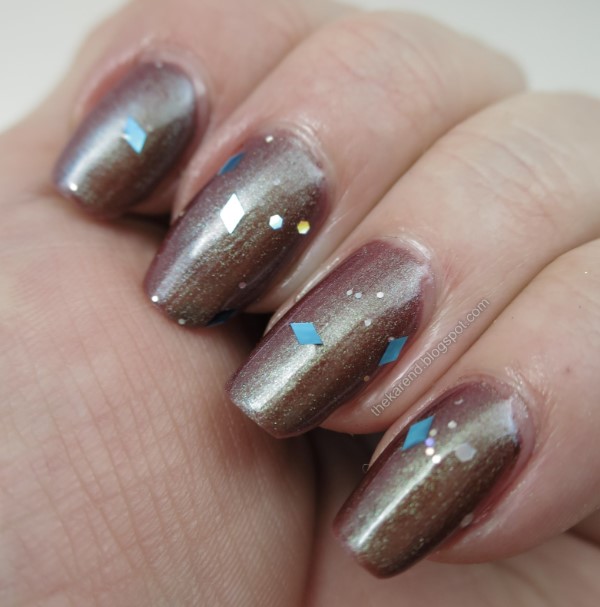 Using the matte top coat on this combination really seemed to mute the shimmer in Holllaa-gram.
Hue There is a charcoal packed with tiny silver holo glitter.The base is slightly sheer, the better to let the glitter shine, so I used three coats for my swatch.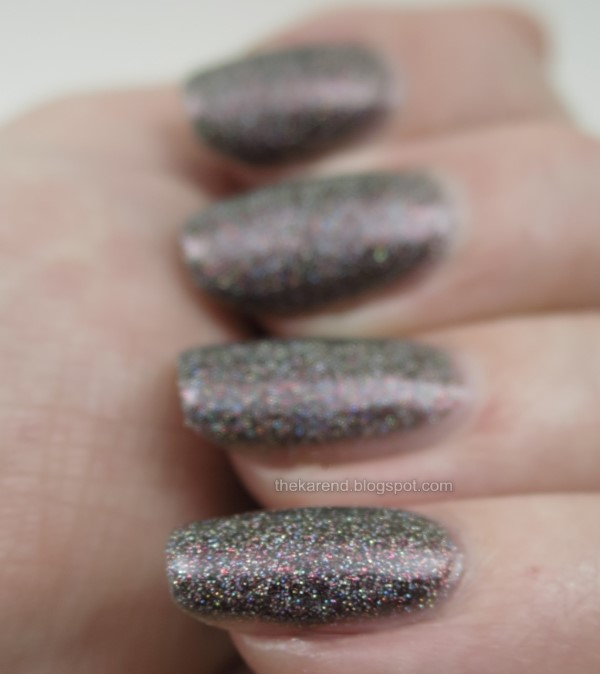 Hue There really shines in direct light; here it is both in and out of focus: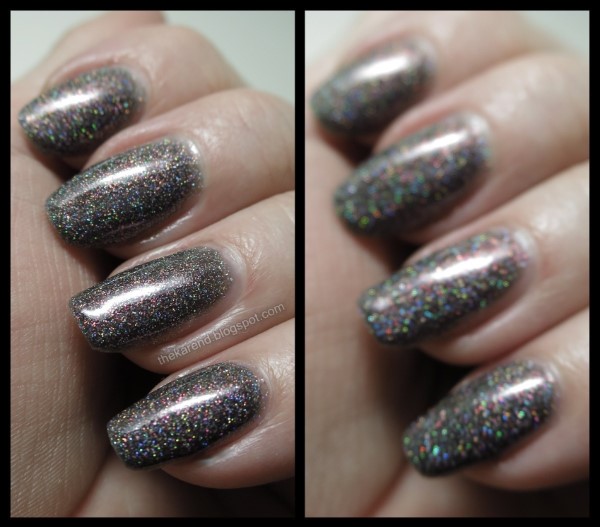 Hue There got topped with the last of the Snow Globes, Snow What Fun, which has several sizes of white matte hex glitter in that same thin clear base.
Here's how this combination looked matte:
Before I put these away, I laid down a black creme base and experimented. Top to bottom (over the black): all three Snow Globes, Holllaa-gram, Hue There, Hyp-nautical. I'm not sure if I got better at distributing the glitter by this point or if I was just lucky, but all three Snow Globes together looked pretty decent. The black base really brought out the green shimmer in Holllaa-gram. Hue There looks fine over black though I think not as interesting as on its own. I thought the black might bring out more of the purple shift in Hyp-nautical but that didn't really seem to happen.
While I think the Snow Globe idea is fun, I'd just as soon have the glitter in a suspension base so it's easier to work with. I do like all three of the Marine Metals, so glad I got those, especially Holllaa-gram and Hue There.