Happy 4th of July to those of you celebrating today! Flawed as they were, I honor our Founding Fathers for starting this experiment; if only they could rise up from the mists of history and get our current leaders back on track. What I am excited about today is the polishes I picked up on my trip from the holiday displays at Walmart, which I got swatched just in time (though this post is going up late in the day due to not getting the photos selected and cropped quite as efficiently as I'd hoped).
I'll kick things off with the red, white, and blue trio from Pure Ice: Party Time, Light It Up, and Fly High.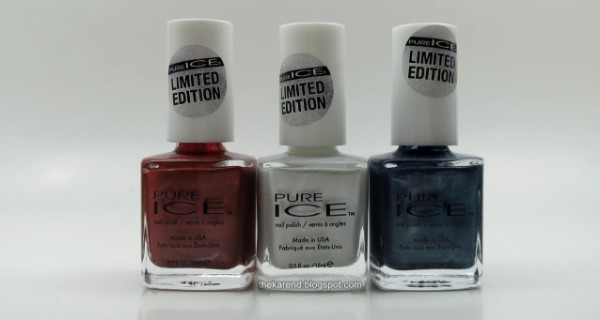 Fly High is a white shimmer that reminded me of the pearly frost polishes from back in the day. It's not as brushstrokey as some of those were, fortunately. I used two coats and that was plenty, so it's nice and opaque for a white.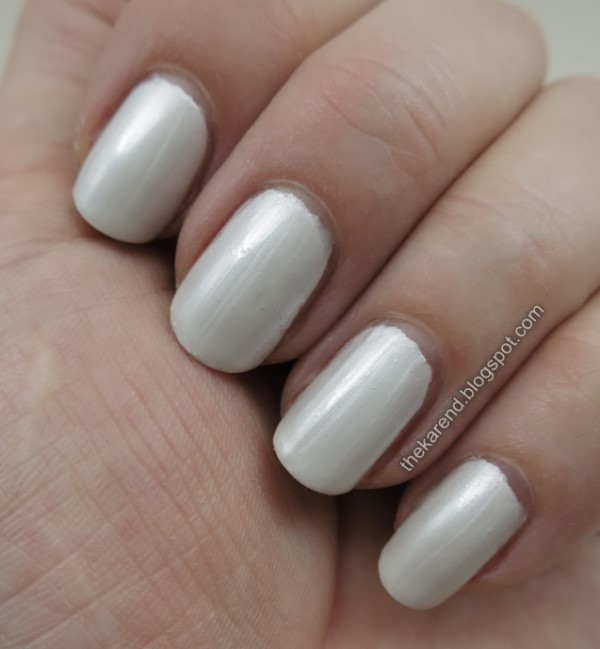 Lacking patience to see the other two Pure Ice shades, I went ahead and slicked some freehand stripes of them on top of the white. Was immediately reminded of why I don't usually freehand stripes. But sharing them in all their wiggly glory so you can see how similar the finishes are. (This has clear topcoat on it to smooth the stripes somewhat.)
Party Time is a red shimmer. I used two coats, though one might have sufficed if I'd gotten the brushstrokes straight from the get go.
Fly High is a sapphire blue shimmer in the same finish as the other two in the trio. I did do just one coat of this one; it's very nice that Pure Ice isn't stinting on pigments even at their $1.98 price point.
I got in a little more wiggly freehand lines practice before I put these three Pure Ice aside. I added some dots this time to make myself feel slightly better about my nail art skills. (Again, added clear topcoat to smooth things over.)
Now let's look at the limited edition Salon Perfect polishes from their Make Sparks Fly display: Firewerk, National Holi-yay, Star Spangled Selfie, Block Party Blue, Bling Bursting in Air, Sea to Shimmery Sea, and The American Sheen.

Block Party Blue is a vibrant medium blue with a subtle shimmer. I did two coats and let it dry, which it did to a satin finish.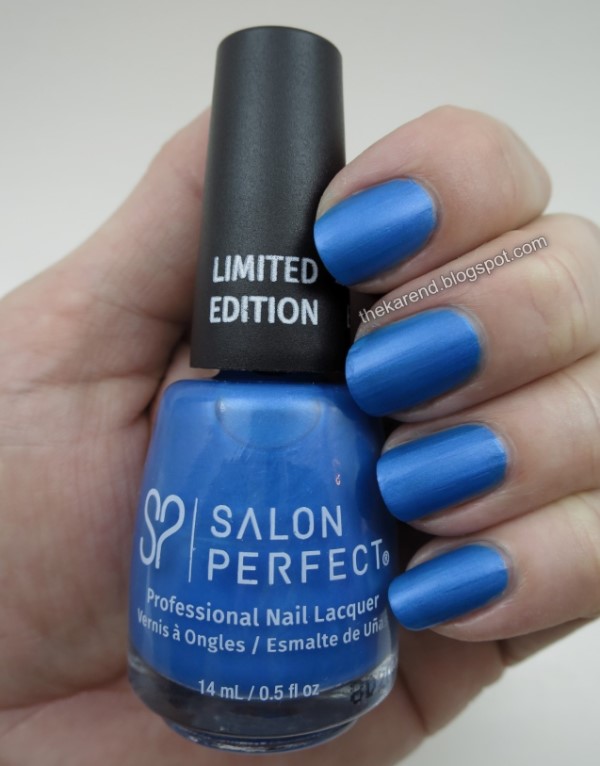 Adding topcoat brought out the shimmer more: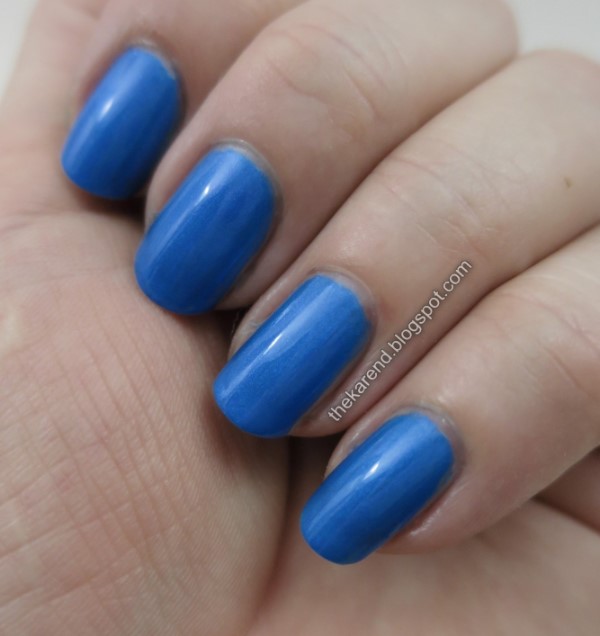 Bringing it into direct light really showed the shimmer: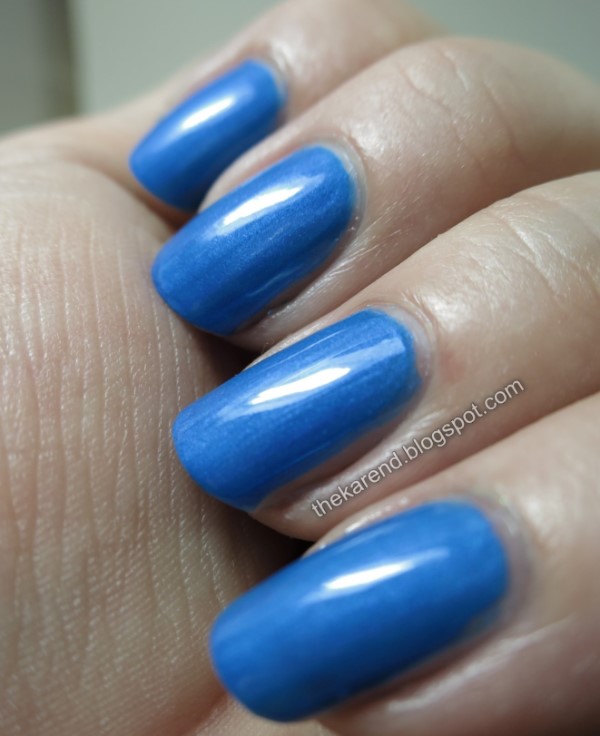 With a nice base color laid down, of course the next step was a glitter topper; in this case, Bling Bursting in Air, a mix of blue, red, silver, and silver holo hexes in various sizes in a clear base.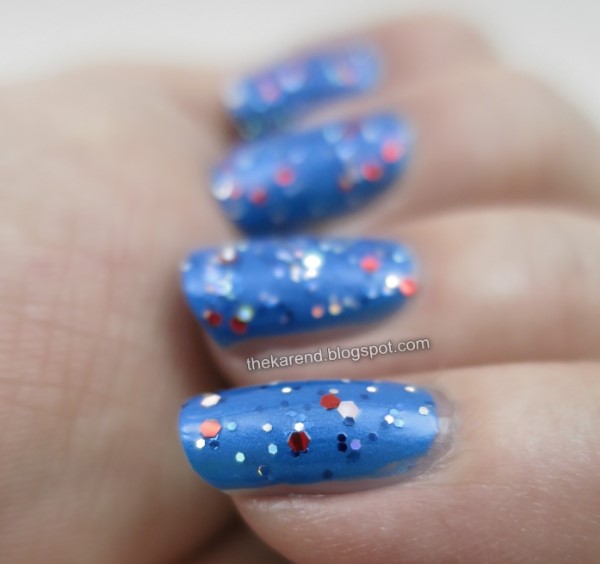 The American Sheen is a red with a sublte golden shimmer that gives it a very nice glow. It's alos a one-coater and pretty shiny on its own with no topcoat.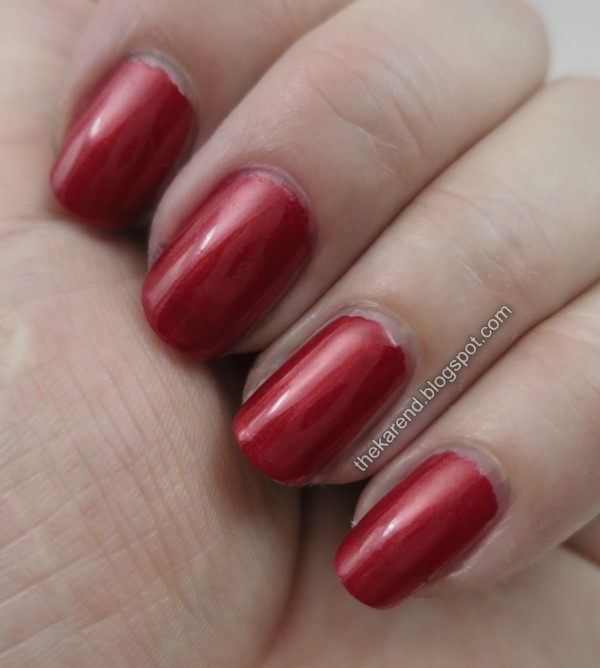 It got more glow-y in direct light: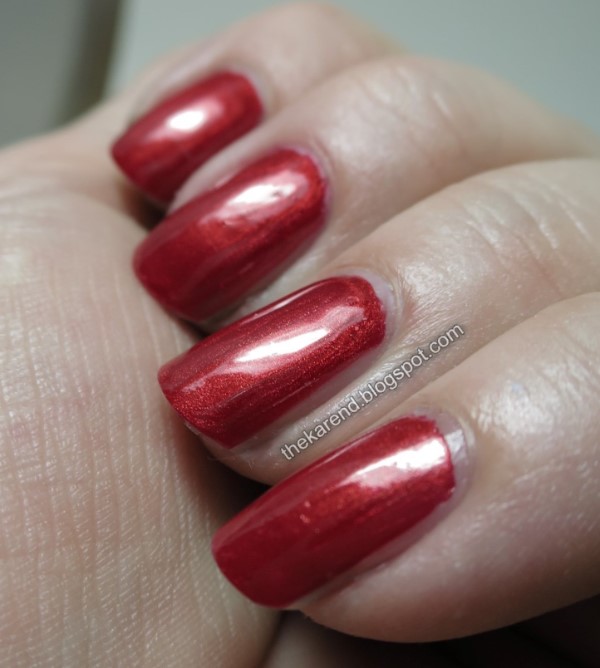 I paired American Sheen with Firewerk, which is a red jelly packed with red (and possibly gold—it's hard to tell so tinted is the base) hex glitter in assorted sizes. I freehanded a diagonal block across my nails with Firewerk and added clear topcoat. Firwerk is very flashy for having such a restrained color palette.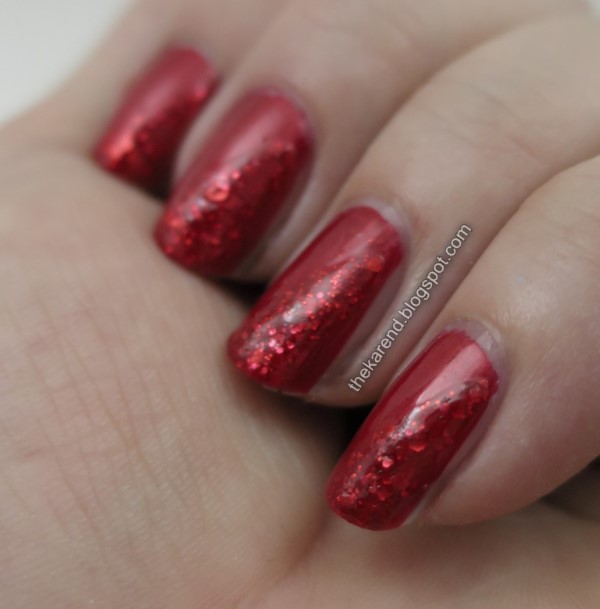 Sea to Shimmery Sea is a blue metallic shimmer. I used two coats, though it's probably quite possible to make this a one-coater if you want to do a thicker coat. This has a nice depth to it.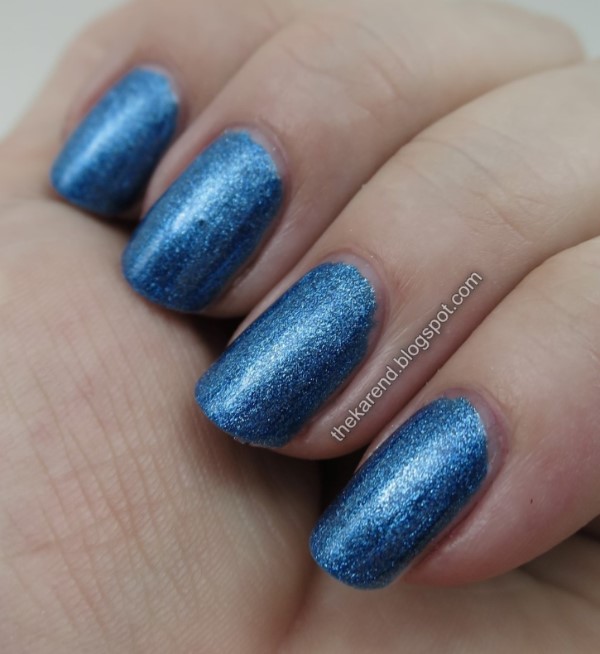 Sea to Shimmery Sea's counterpart is called National Holi-Yay; it's the blue (and maybe silver—again the base is tinted enough to make it hard tell) version of Firewerk. I did the same diagonal swipe as I did with the red. Since Sea to Shimmery Sea is more glitzy than The American Sheen, it doesn't contrast as much with the bling of the glitter.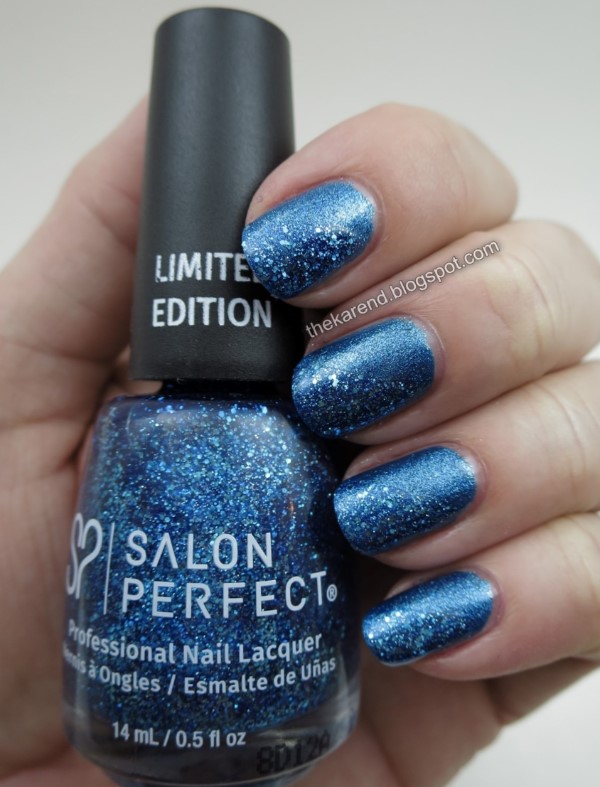 Seven polishes in the LE collection means one glitter didn't have a partner, so I alternated Sea to Shimmery Sea and The American Sheen on my digits so Star Spangled Selfie would have its moment to shine. This glitter topper has red and blue metallic hex glitter and silver star glitter in a clear base. I did one coat of it on top of the red and blue, plus clear topcoat. The best part was I did not have to fish for the stars, not at all. Sometimes I'd even get more stars than I wanted on the brush at one time. Impressive.
I was on a roll at this point, so kept playing. I put down a base of Pure Ice Light It Up then alternated Salon Perfect Firewerk and National Holi-YAY, adding clear topcoat for greater depth. The jelly bases of the two Salon Perfects are tinted enough that they likely would have been buildable to opacity on their own, but I think the white base adds a nice vibrancy.
Then, just for good measure, I added a coat of Star Spangled Selfie, making an effort to only get one star in each brushload, and topped with clear. So festive!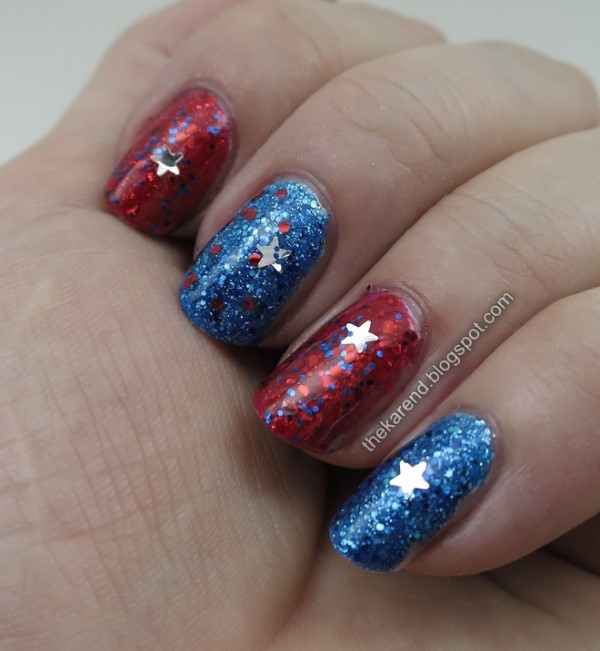 I'm glad I braved the chaos of many Walmart stores to find these. I still wish they paid their workers better; I'd gladly spend another few pennies on each bottle of polish.