This month, I've managed to wear three Halloween holiday designs of Sally Hansen Salon Effects strips from my hoard. I feel a little sad to be using them up, as there aren't any new ones coming out, definitely not from Sally Hansen, who doesn't even have non-seasonal strips anymore, nor have I seen any seasonal strips from Incoco at Walgreens like I used to—not all stores had them, but they were around if I hunted and now they're not. Color Street (an Incoco brand) has Halloween designs but I'm uncomfortable with the multi-level marketing direct sales business model. Oh well. Maybe by the time I deplete my stash, the cycle will have come around again and more strips will be in stores.
Ghoulie Girl, with a tiled design of ghosts in traditional white and innovative orange accented in black, was first up earlier this month.
Not too long after applying the ghosts, I tore off part of the strip on one of my thumbnails (yes, still haven't broken myself of the habit of using them as tools) and was able to cover up the problem by using a piece of one of the leftover strip ends (which I usually save at least until I take the strips off), stuck on with clear polish and then topcoated.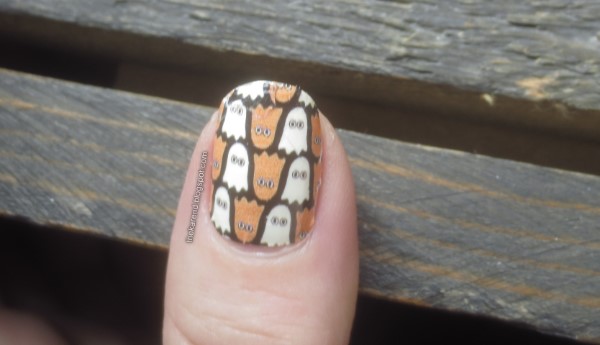 Batty for You came next; this has black bats on a rich warm purple background that has a slight shimmer to it.
I was planning to (and did) wear these to a party a couple days after I applied them, so for extra assurance they'd still look good, I added Sally Hansen Diamond Flash top coat to them. Since the strips were shiny on their own, the topcoat didn't change the look but did seem to keep the strips in good shape a bit longer than usual.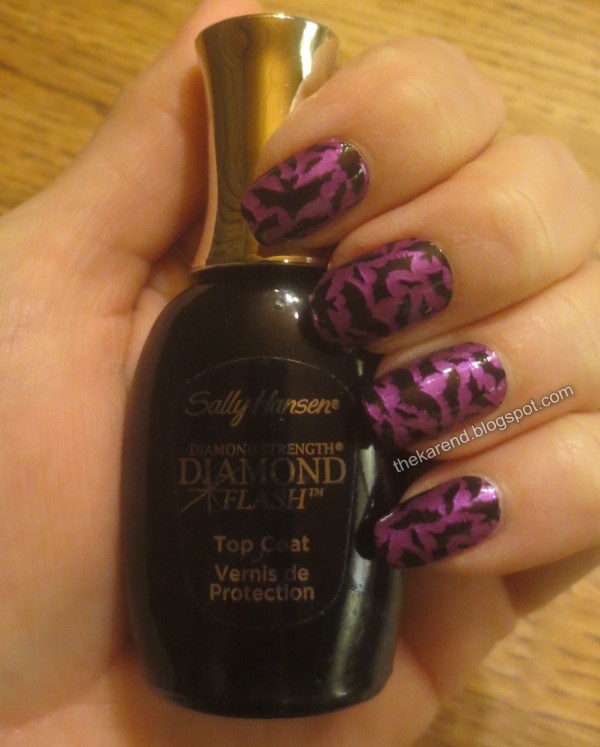 I'm finishing up the month with Patch-o-Lanterns, which has black and orange jack o' lantern faces.
I've had these last ones on for almost a week at this point and the tips are looking a little worn, so I think I'll add a black funky French later today so they look good for the actual holiday.