When I was display hunting over the past several weeks, I got sucked into collecting all the shades of L.A. Colors Glows I came across, which eventually turned out to be fifteen of them. At 98 cents a bottle, it was a cheap indulgence, and I'd not seen black light polishes in some of these colors before. Justification complete.
I lack the motivation to sit down and swatch fifteen colors at once, but I knew where my black light bulb was, so Skittles swatches it would be. I began with the quietest shades, all cremes: Energy (white), Vapor (tan), Lucent (seafoam green), and Nuclear (blue).
Top to bottom in same order as the bottles above—Energy was three coats and the others were two: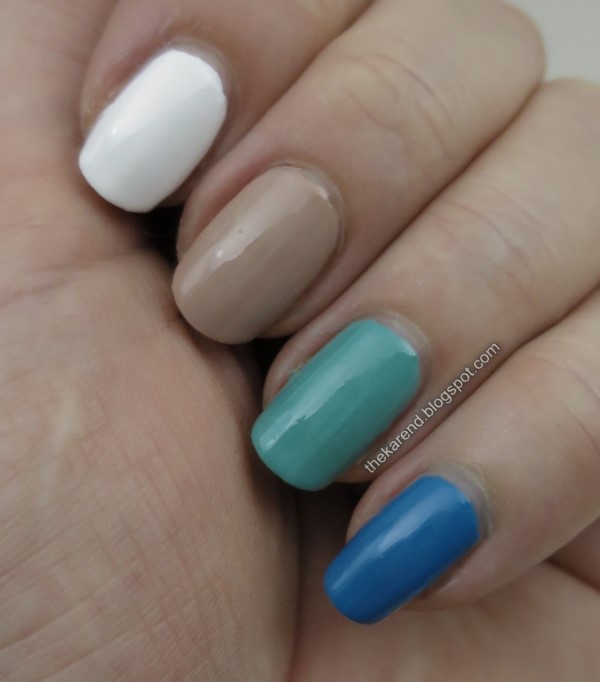 Under black light, Energy glowed by far the most. The other three were very similar looking, with Vapor being maybe a touch more pink than the other two.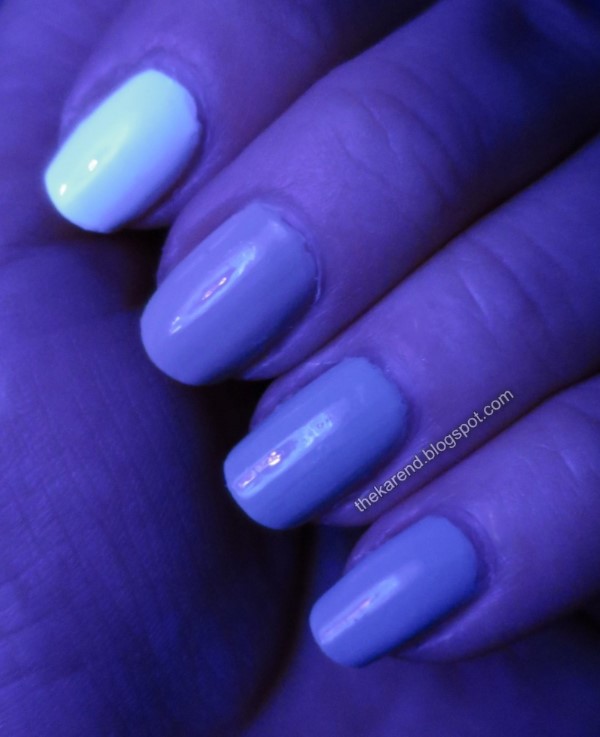 Next up was the tropical quartet of Luminous (coral pink), Ionize (orange), Radiation (neon yellow), and Fluorescent (lime). Again, all cremes.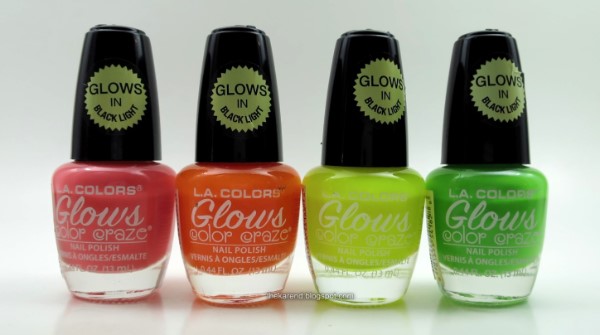 I did three coats of all but Fluorescent, which was two. Ionize showed a phantom dirt line; I will experiment with using a base under it next time, either white to make it pop or neutral to just cover my nail line.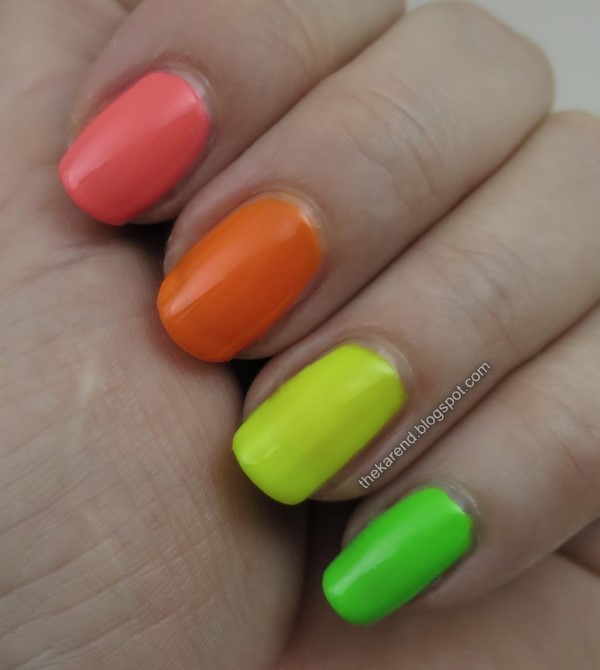 These four popped quite nicely under black light:
Because 15 polishes divided by four fingers doesn't come out even, this next group of cremes has a repeat in it. I figure it helps show the difference between the two pinks. Left to right: Luminous (coral pink), Gleaming (watermelon pink), Radio Active (red), and Electric (red violet).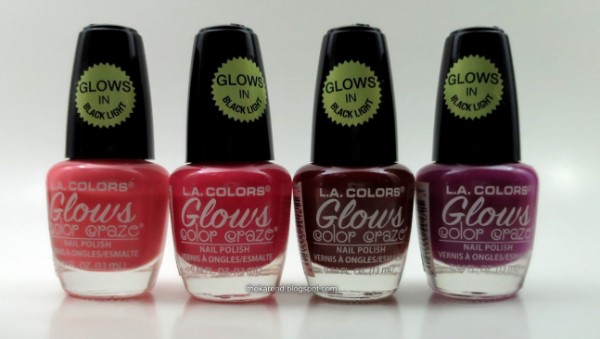 I did three coats of Luminous and Gleaming (though both could probably be two if I went thick with them) and two of Radio Active and Electric.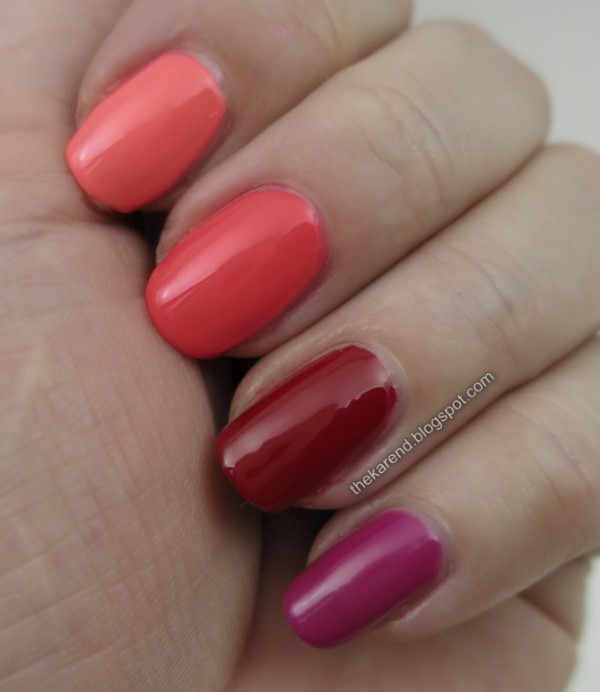 Luminous is the glow winner of this group under black light; the others are far more muted.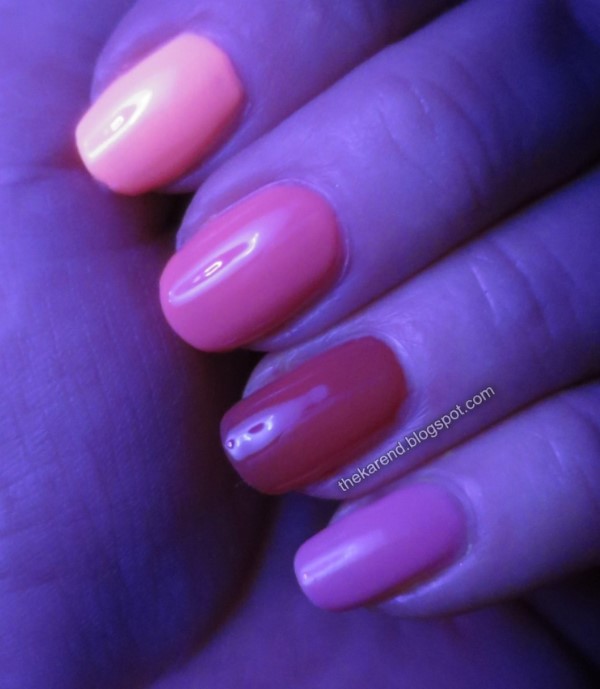 Finally we have our cool/dark cool quartet, with Ultra Violet (purple), Wave Length (blue, and the only shimmer), X-Ray (blue black), and Spectrum (darkest red).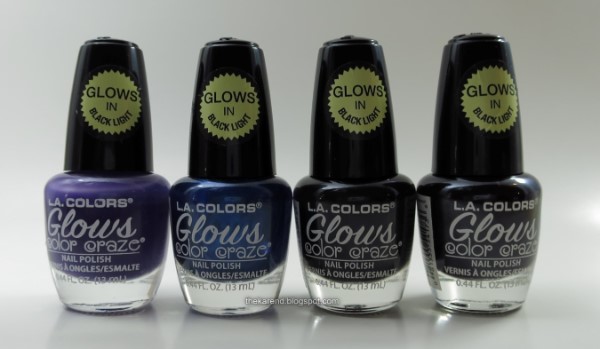 I did three coats of Ultra Violet (maybe could have stopped at two but I was on a roll) and two of the others. Wave Length does show some brushstrokes but they're not too prominent.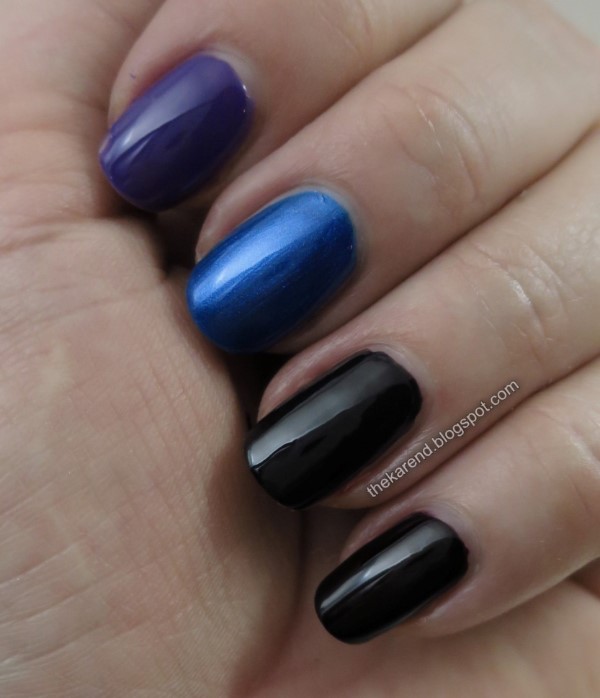 Another angle so you can see the shimmer better (and maybe spot the subtle difference betweent the two essentially black shades):
Under the black light, these were interesting though not brightly glowing.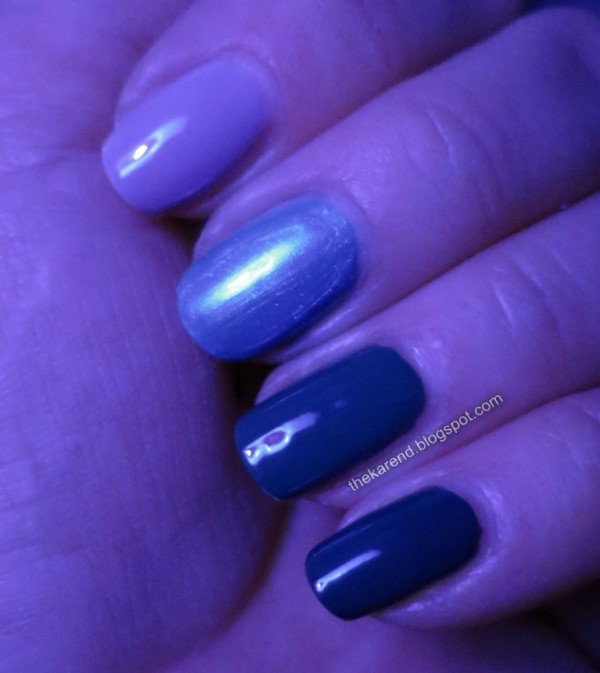 I don't spend much time at parties these days, and those I do go to rarely have black light, but now I'm more than ready if the occasion presents itself. I was a bit disappointed that so many of these didn't glow all that much but that wasn't really surprising; there's a reason we don't often see black and teal and other deeper colors in black light formulas.