It's been over a year since I tried a new matte to me matte topcoat. It hasn't been over a year since I bought one, I'm just behind on trying them. Today I've got a few different ones.
For comparison, I grabbed my old favorite, OPI Matte Top Coat. The three new additions are Alter Ego She Matters, Sally Hansen Miracle Gel Matte Top Coat, and Sally Hansen Complete Salon Manicure Matte Top Coat.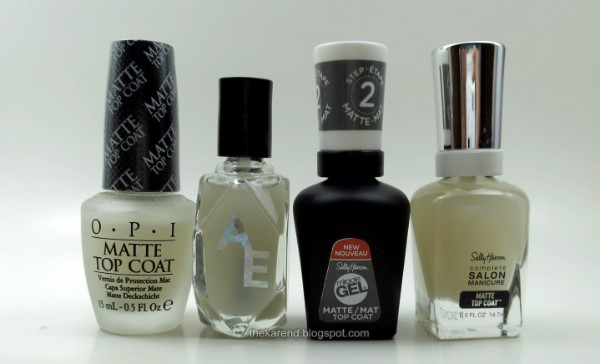 I applied these over a black creme base in the same order as the bottles above. Top/index finger is the OPI, which is super matter. Alter Ego She Matters is just a touch less matte. The Sally Hansen Miracle Gel is really nice and matte, and doesn't need to be over a no-light gel to work. The Sally Hansen Complete Salon (which I got in Canada) dries the least matte of this group, not quite a satin finish but heading in that direction along the spectrum.
I then swapped out the Alter Ego for the newest SinfulColors Matte Top Coat (the older one, MatteFinish, appeared in the very first installment of this series
back in 2013
, before I knew this was going to be a series).
This new SinfulColors, on my middle finger below, seems like it's more matte than the older version (I would have compared them side by side if I could have put my hands on the older one, but that was six years and a cross country move ago). It's not as matte at the OPI or the Sally Hansen Miracle Gel.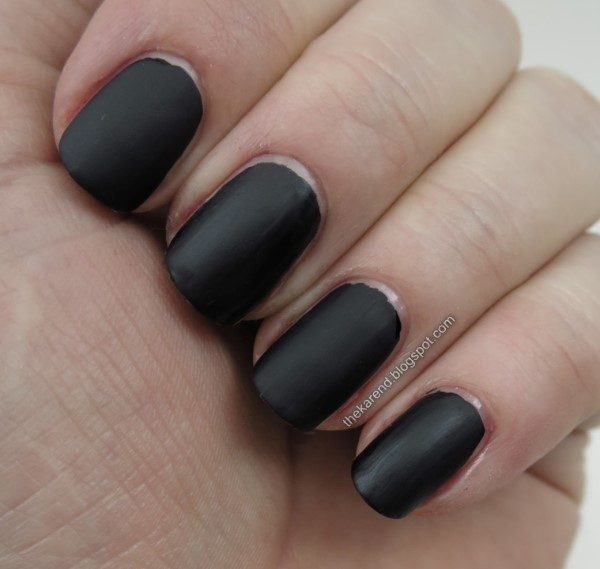 OPI is still one of my favorite matte top coats. Of the new ones, the Sally Hansen Miracle Gel is my pick, with Alter Ego not far behind.
Links to all the prior installments in this series:
Part 1
: OPI, Barielle, China Glaze, SinfulColors, Butter London, Obsessive Compulsive Cosmetics
Part 2
: Revlon, NYC, Essie, Claire's
Part 3
: OPI, Essie, GOSH, Cult Nails, Icing, Ulta, Fing'rs
Part 4
: Orly, Salon Perfect, OPI, Sally Girl
Part 5
: OPI, elf, L'Oreal
Part 6
: Nicole by OPI, OPI, Sally Hansen, Formula X for Sephora, Deborah Lippmann, Dolce & Gabbana, Nails Inc., Nina Ultra Pro, Illamasqua
Part 7
: Fresh Paint, OPI, CK One, Wet 'n' Wild
Part 8
: Glitter Guilty, Rescue Beauty Lounge, H & M, Kleancolor, Wet 'n' Wild, OPI.
Part 9
: Paul & Joe, OPI, Wet 'n' Wild
Part 10
: Dr.'s Remedy, Zoya, Hollish, OPI.
Part 11
: Julie G, Pop-arazzi, Pure Ice, OPI.
Part 12
: Jin Soon, Morgan Taylor, Girly Bits, Colour Prevails, Wet 'n' Wild.
Part 13
: OPI, Pacifica, Bliss, Essence
Part 14
: OPI, LA Colors, Wet 'n' Wild, Butter London