It's been over three months since my last
display post
, which rounded up all the photos I'd taken before Mr. and I went into isolation from the pandemic. Since then, I've tried to limit my shopping to our grocery store, which doesn't have nail polish (except a few bottles of Wet 'n' Wild Wild Shine in core colors which never change). I haven't been out of my county since early March, which means no Ulta, no Fred Meyer, no chain drugstores. I don't know what's going on out there, and it's a strange feeling. However, I have been into Walmart and the Dollar Tree a few times looking for things that my grocery either never stocks or had run out of (I feel like the paper product shortages of 2020 will stick with me for a while; I saw my preferred TP on the shelf for the first time in months the other day and about passed out from surprise). So today I've got a few photos of the few displays I've seen.
I was surprised to see a China Glaze Trolls World Tour collection at Walmart; I don't remember seeing seasonal collections from that brand there before. There were mini sets on top and full size bottles on the bottom.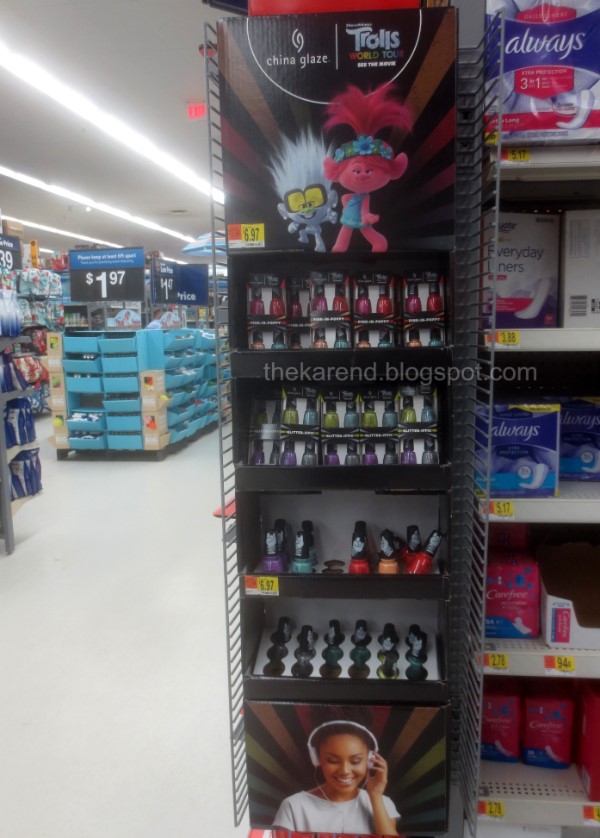 The mini kits each had four of the shades from the collection. On top, the Pink-in-Poppy kit had Pink-in-Poppy (pink), No-Holds Barb (red), Delta Darlin (peach), and Can't Stop Branching (light teal). On bottom, the Glitter-iffic kit had It's All Techno (acid green), Chill in Symphonyville (light blue), Funky Beat (purple), and Glitter-iffic (silver).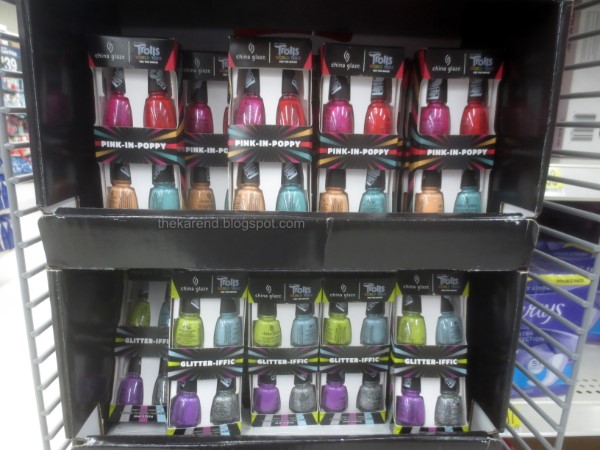 Tucked into the regular nail polish section at Walmart, I found some Essies that looked like they were a collection but had no signage. Later, I researched and found they're the summer collection: Souq Up the Sun, Mosaic on Down, Bustling Bazaar (times 2), Spice It Up, Kaf-tan, and Worth the Tassle (x2).
Also at Walmart, I saw an LA Colors line I'd not spotted before, Quick Color. If it had been pre-pandemic, I would have straightened up these bottles and turned the fronts to the front, but I don't know who's been touching them or sneezing on them or what, so I just snapped photos and moved on. Top row: Clear (sold out), Impatient, Hyper, Dashing, Eager, Snappy, Fury, Spark. Bottom row: Ambitious, Hustle (sold out; looks like a bright yellow if the shelf label is accurate), Go-Getter, At Once, Moment, Swift.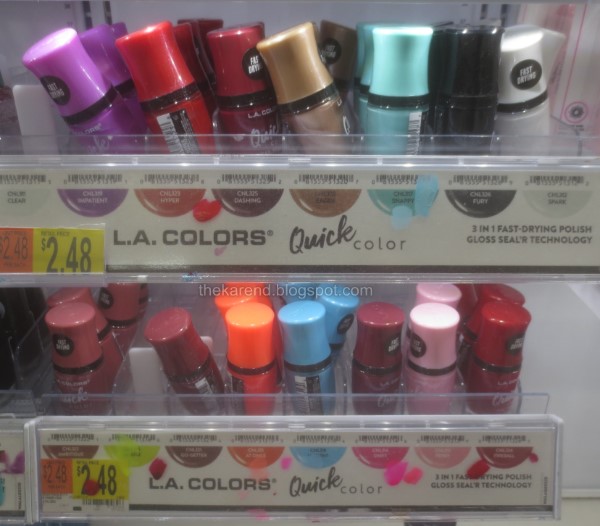 At Dollar Tree, I found four (!!) tray displays of LA Colors Color Craze collections, and I did fix the bottles here because they were so messed up I just couldn't stand it (and I sanitized my hands after). First up, the Glitter Glam collection, which had eight slots but I only found six colors: Shine On, Silver Belle, 14K Gold, Party Glam, Crimson Shine, and Blue Flame. Poking around the internet, it looks like the missing shades are a medium pink (Groovy) and a deep purple (which the bottle photo I found didn't list/show the name of).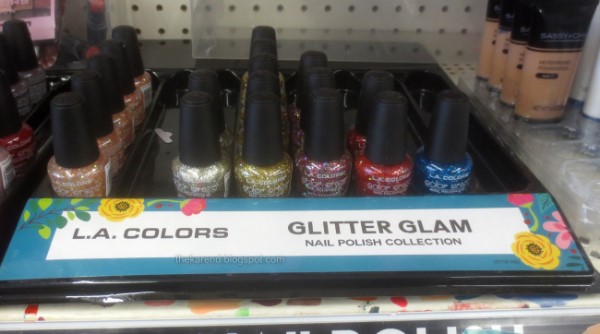 The Nude Trends collection was also missing two shades. The ones that were there were (left to right): World Traveler, Sentimental, Warrior, Innocence, Balance, and Spirit. Missing is Prosperous (peachy rose) and Lucky in Love (lighter peachy rose).
The Creamy Jelly collection was only missing one shade. The seven that were there: Sheer Kiss, Sheer Veil, Sheer Rose, Sheer Joy, Sheer Perfection, Sheer Delight, and Sheer Magic. I wasn't able to track down what was missing here.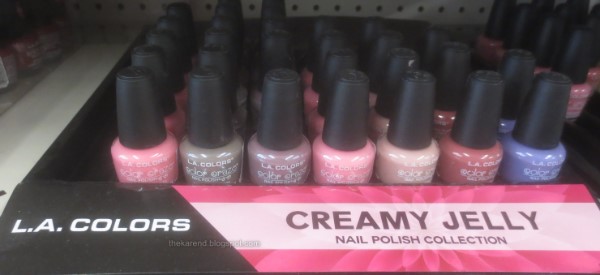 The entire Creamy Neon collection was present and accounted for (yay!): Pink Vibe, Bling Babe, Go Bright, Green Glow, See It My Way, Breezy Baby, So So Good, Late Night.
Back to Walmart; they had LBK, whith the "try it" tips on the caps. I'd only ever seen this brand before at Ulta, where it was on an end cap for a while and then disappeared. (In the store, they were arranged all in one long line, but for ease of fitting on my blog, I've cut that line into thirds and stacked the photos.) Top row: Jewel of Janelle, Strong Hildy, Loveable Lindsey, Sandy Seas All, Rachel's Revolution, Don't Steal My Teal, Humble Riley, Kylie. Middle row: Danyelle's Desire, Gina's Generosity, Lola Belle, Rockin Rose, Driven Mattie, Coco's Cabana, Perfect Peyton, Lady Diana. Bottom row: Claire's Creation, Sweet Carolyn, Love Lucy, Alexi, Elyse, Teri's So Terrific, Jaime's Jetaime, Hastily Hazily. Looking at the
LBK Nail Lacquer
website, these are available to purchase online as well direct from the brand. (And theres's a different collection for Walgreens, which looks like it might have a holo in it ... wish I could see those in person.)
Walmart also had the Sally Hansen Donut Cafe display, which had a limited edition collection of Miracle Gel colors as well as slots for a bunch of core colors.
The limited edition shades: Mixture Perfect (deep pink with bar glitter), Bakers Gonna Bake (tan), Drive Me Glazy (pink), Sprinkle & Spice (pink with hex glitter), A-Dough-able (light yellow), and Mint Together (pastel green).
And that's all I've got. I've been poking at the Ulta website and can see some of what I'm missing. There's the Sally Hansen Pride stuff: the Xtreme Wear bottles have rainbow striped caps (with the brown and black stripes, so go Sally Hansen for being inclusive) and there's an Insta Dri set of six with an oddly light orange (these all seem to be core colors). There are two Essie collections, Perfect 10 (which look like very nice shimmers) and Sunny Business, and an Essie Gel Couture collection, Sunset Soiree. OPI has the Neo-Pearl collection (does this mean frosts are coming back?). There's a new brand called Nailtopia that's plant-based and has dozens of shades.
I'm not sure when I'll feel comfortable leaving my isolation cocoon. The virus cases here, which had been pretty low, are now increasing as Idaho has gradually opened up and tourists from other areas have been visiting the area. Being around a lot of folks I don't know, many of whom refuse to wear masks or practice other risk reduction measures because "freedom", just doesn't seem wise yet.