One of the last big in-store in-person nail polish purchases I made before the pandemic hit the US was the Sally Hansen Insta-Dri Jelly Belly 2020 collection. I never even saw a proper display for it, just one where the tray of polishes had been put out without the backing card, but that did not stop me from scooping up all the non-core shades in that tray. There were eight of them: two glitters (top row)—Tutti Frutti and Birthday Cake, and six cremes and shimmers (bottom row)—Island Punch, Green Apple, Piña Colada, Jewel Bubble Gum, Cotton Candy, and Jewel Very Cherry. Three of these are re-releases of colors in the 2019 Jelly Belly collection, though they were given new shade numbers: Island Punch (shade 629 in 2019, 674 in 2020), Green Apple (632 and 667), and Tutti Fruitti (628 and 673).
Two of these I got in a duo pack with rabbit cutouts on the box.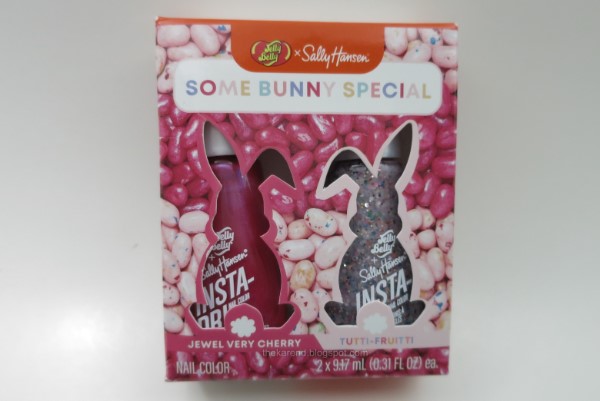 I've been on a green kick with Nail Wheel Wednesday, so I started with Green Apple, a medium green creme. It was a one-coater.
I put Cotton Candy, a warm pink creme, on my index finger and decided I wasn't interested in doing a full hand of that so adorned my other digits with Birthday Cake, a white crelly with "funfetti" glitter pieces in two sizes in blue, peach, and golden yellow. Each of these was two coats.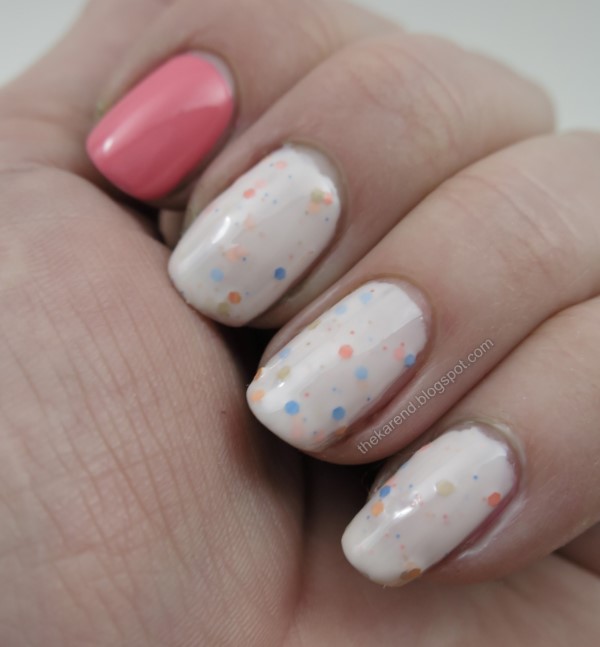 Jewel Bubble Gum is a light pink pearl (more the color of cotton candy than Cotton Candy was). I struggled a bit with application on this one; it might have been good at one coat but I was trying to get the brushstrokes straight so did two.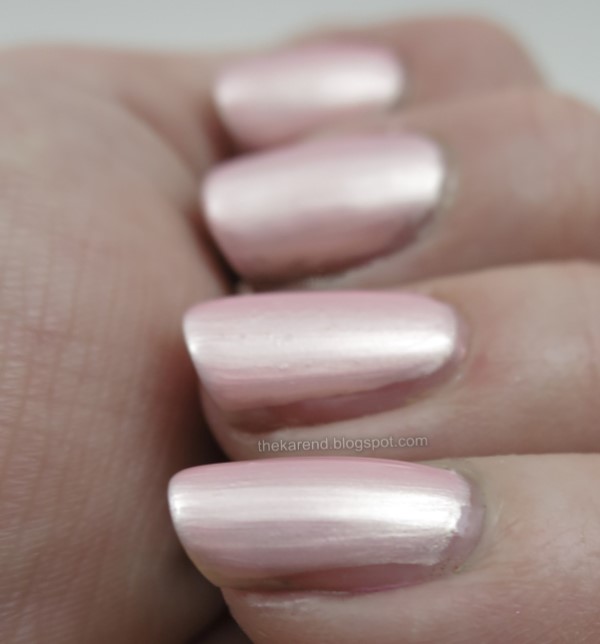 Jewel Very Cherry is the other shimmer; this is a fuchsia with a purple flash. The formula was thinner than Jewel Bubble Gum and easier for me to work with. I ended up doing three coats to make sure my nail line was hidden.
The purple flash shows up best in direct light: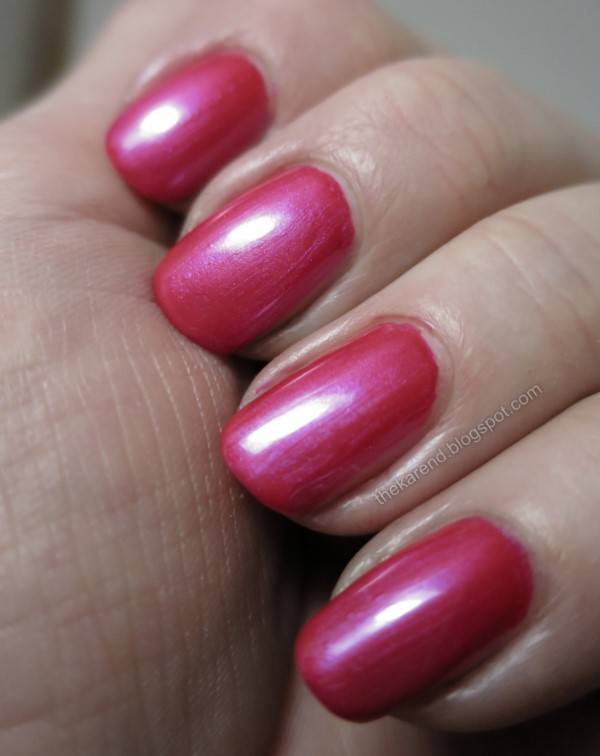 I combined an index accent nail of Island Punch, a slightly dusty orchid creme, with Tutti Fruitti, a pink crelly with multi-colored and multi-sized metallic glitter (I see copper and green and blue and silver and gold and red and pink in there). I used two coats of Island Punch and three of Tutti Fruitti (its base is less opaque than that of Birthday Cake).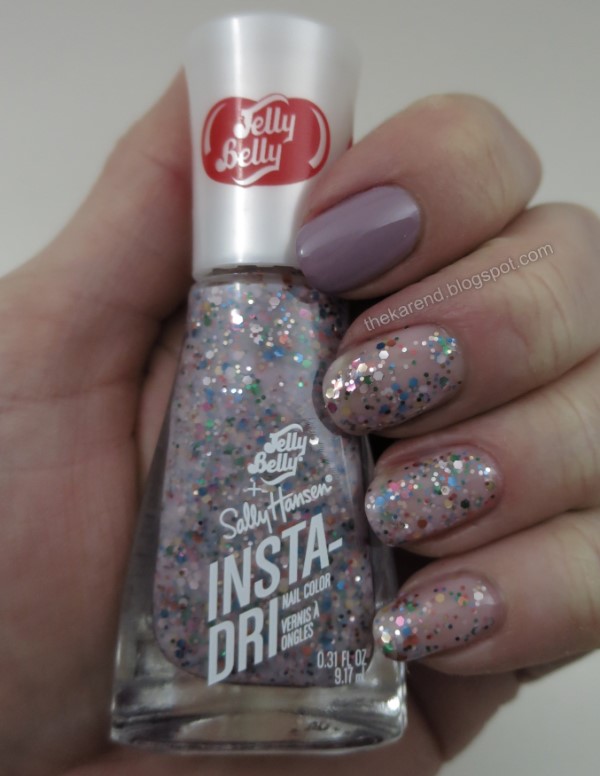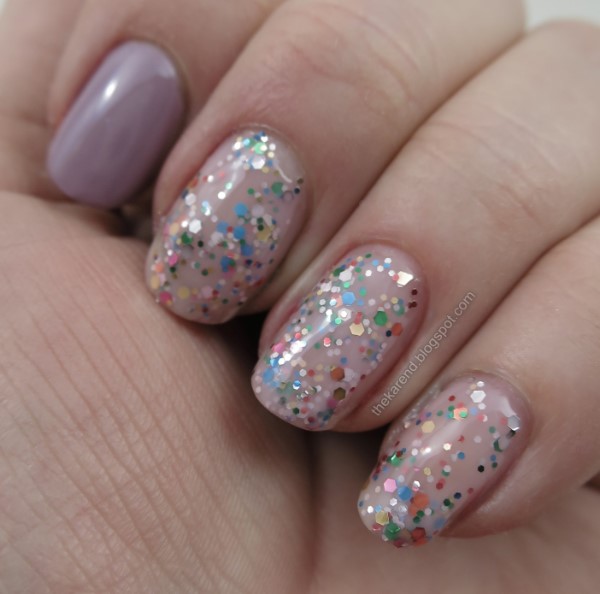 With Tutti Fruitti being a bit more sheer than I expected, I wanted to try layering it, so I put on Skittles of Jewel Bubble Gum, Island Punch, Jewel Very Cherry, and Green Apple, topped with one coast of Tutti Fruitti. The milky base of Tutti Fruitti worked best over the lighter hues but it wasn't awful over the darker. I'd wear any of these combinations.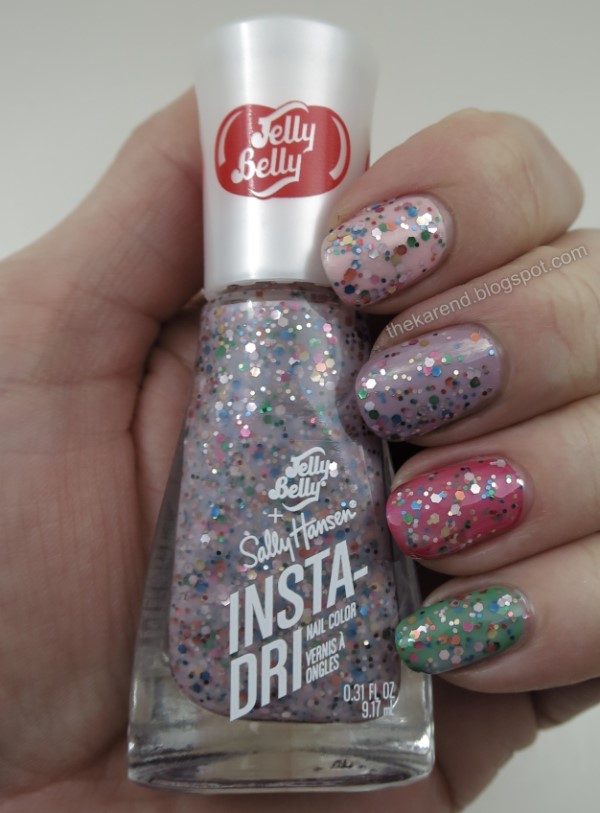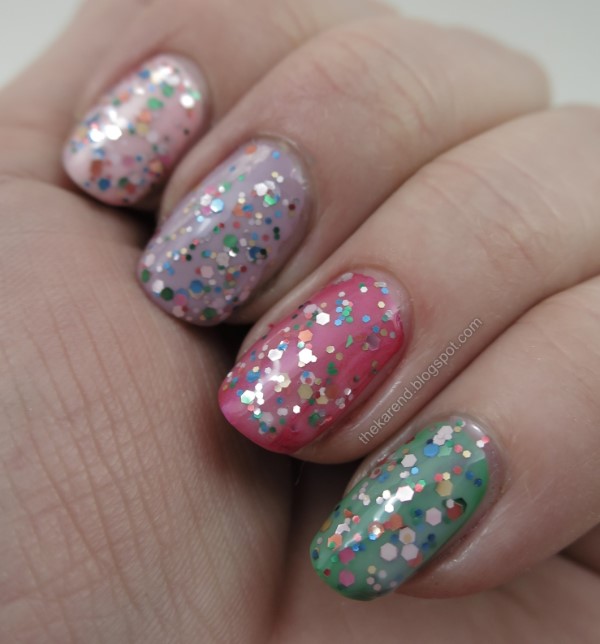 Piña Colada is a light yellow creme. My swatch is two careful coats; as with many yellows, I found I needed to pay close attention to get this one to apply nicely.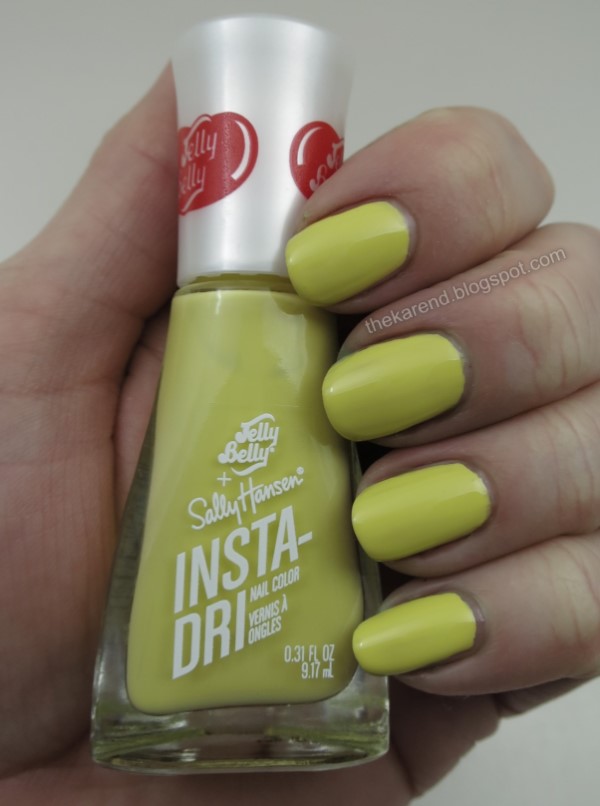 To add some fun, I dotted Piña Colada with Island Punch, Green Apple, Cotton Candy, and Jewel Very Cherry, then added top coat (which smeared a few of the dots due to my impatience).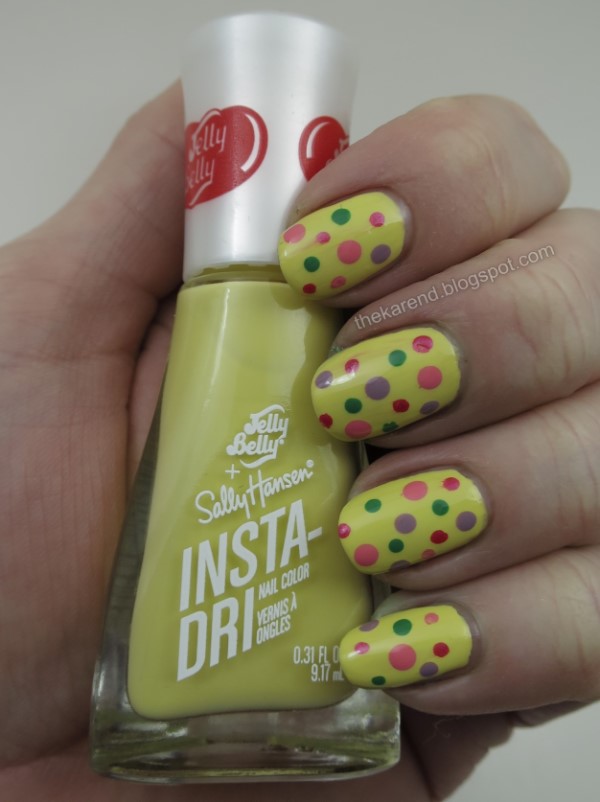 After I swatched these colors but before I managed to write a post about them, I discovered one more polish in the collection on the Ulta website. Of course I had to order it along with skin care necessities I'd gone on the site to get in the first place. French Vanilla is a white with small black glitter. I used two coats.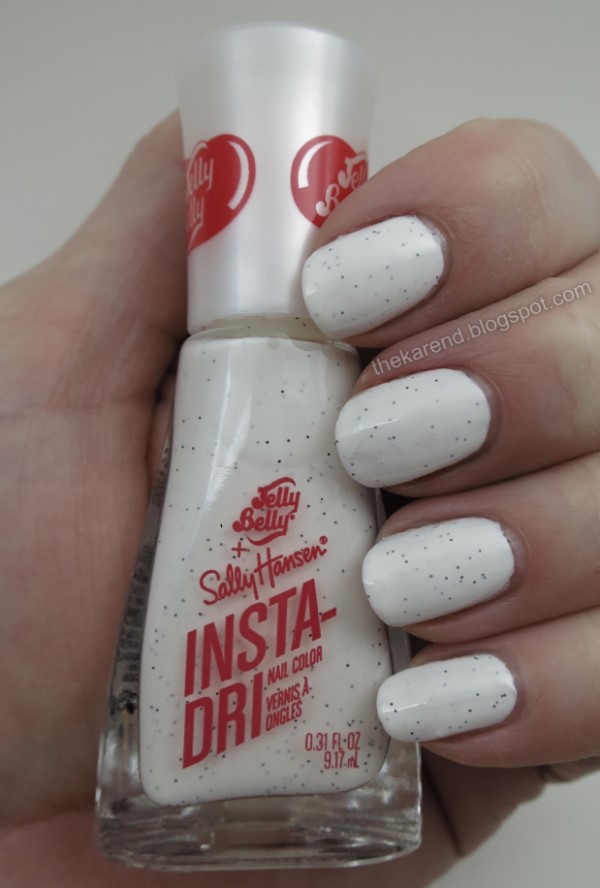 These are fun colors, and I'm glad I got them. I never swatched the 2019 Jelly Belly collection; maybe I'll get around to that this year since I'm not spending any time traveling like I did last year.