The last time I did a nails of the day post was
back in April
. Depsite all that time passing, catching up on my NOTD looks isn't going to be difficult, as I've worn something other than a treatment coat exactly three times since that last post. I've been swatching right along, yes, but when it comes to doing a full manicure, I've been slacking. I blame pandemic malaise. I'm not seeing any of my friends who expect me to have interesting nails so I haven't bothered. After a swatching session, I'll usually just slick on a treatment and call it good. Still, I did make at least a little effort a few times in the last several months.
I used a set of Incoco nail polish strips called Sweet Surprise from back when they sold seasonal designs at Walgreens. These have a pale pink base scattered with tiny silver glitter, square silver holo glitter, and multi-colored bar glitter. I added Sally Hansen Insta Gel UV topcoat to them and wore them for two weeks (they didn't look great at the end but like I said, not many people see me these days).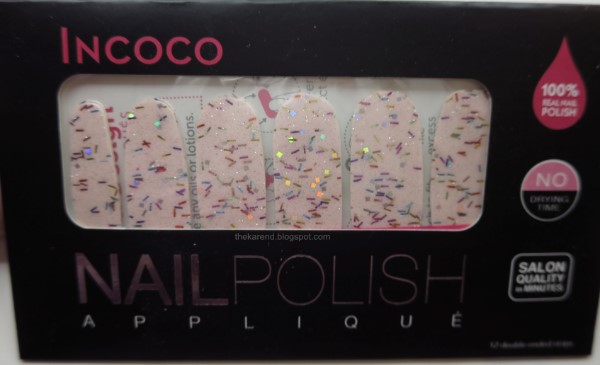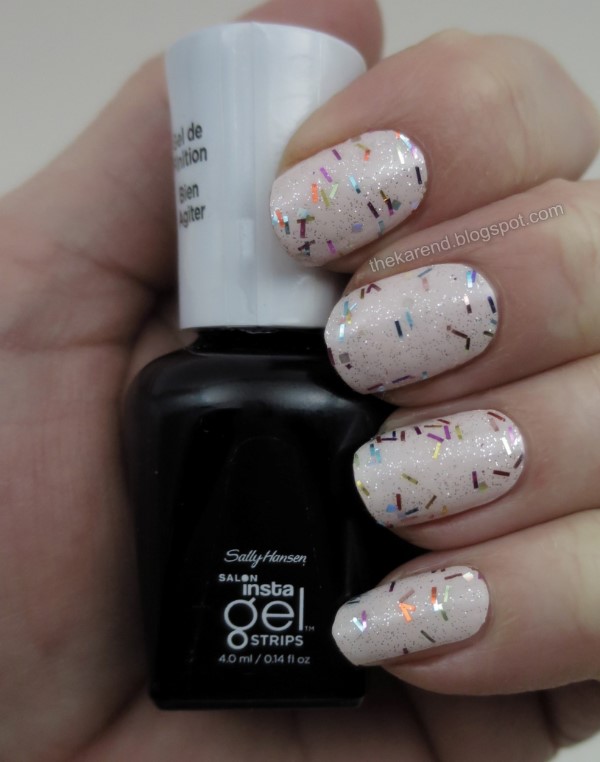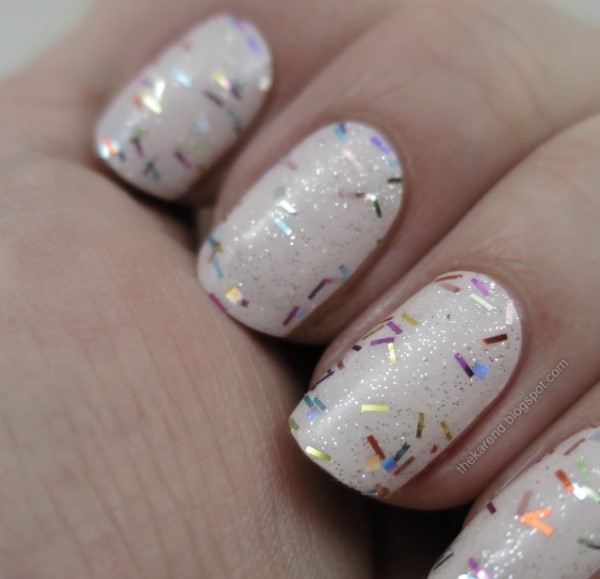 I mentioned back in April that I'd decided to lay off the fake nails for a while in light of all the handwashing. Well, I've now decided to go back to them. I feel like I can get my hands clean enough while wearing them, and since I so seldom go out of my safe zone, most days I don't have to wash my hands any more than I did pre-pandemic when I wore fakes quite a lot of the time. I kicked off this new regime with a set of Fing'rs Prints called Simply Chic. This artsy French design with silver tips adorned with swoops of black and white creme and silver glitter isn't my usual style but I figured there's no better time to experiment than during isolation. I did not take that experiment so far as to use the rhinestone charms in the set; maybe another time. After I got them all on, I noticed that the swoops on my index fingers were going in the opposite direction from my other nails ... I'd failed to notice that the sizes were in pairs, one in each orientation, and had switched the ones for my index fingers. Oh well. These lasted a week before the grow out at the base annoyed me. They stuck pretty darn well; I'd wear this brand more if they came in a longer length.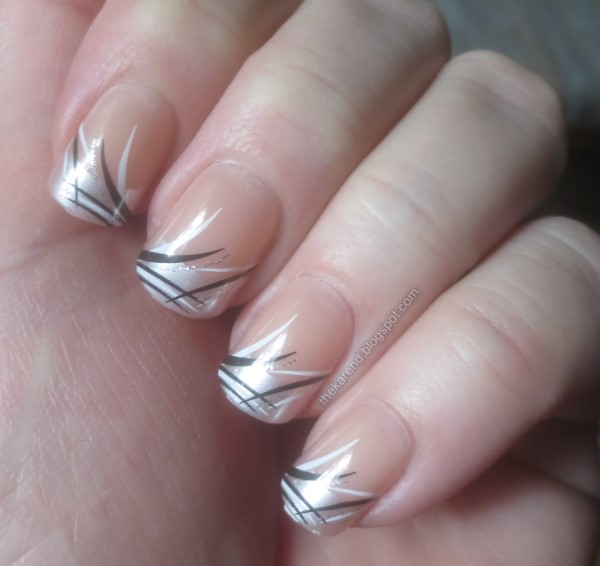 I followed that set of fakes with another, this time one from NailBliss MagicPress that I'd grabbed from the clearance section at Sally Beauty. Hot Stuff has medium pink plain nails with silver glitter accents (not my idea of "hot" but okay). I wore these for two weeks, sticking them back on with a thick treatment polish when they fell off. They looked pretty ratty by the end, with a wide gap at the base and worn edges on the tips, but that's pandemic times I guess.
The ski resort I call my home did open for summer season, with distancing and other precautions in place, so Mr. K and I have been riding the chairlift up and hiking the trails at the top a lot of days. That's helped my state of mind, for sure.
As I type this, I'm back to just clear treatment on my nails, though I have some sets of fakes nearby and am pondering which one to put on.