Since I was hiding out at home (except for trips to the grocery store every couple weeks) when the SinfulColors Sweet and Salty collection came out this past May, I never saw the display for it. (I am still mostly hiding out at home even now, though have made a few forays outside my home/grocery store bubble.) I did manage to get the polishes online before they sold out on from the Target and Walmart sites, and today finally I have swatches. There are six shades in this collection, three sweet and three salty: Donut Even, Chocolate Cake, Cookies & Cream, Pizza Party, Cheese Puff, and Taco Tuesday. Note that on the sticker on the cap it says "avoid mouth contact" (it also says that on the bottom label); sad that it's necessary to have that. I tend to think anyone who thinks these are edibles isn't going to heed the warning anyway, either because they're too young to read it or too high to heed it. These are all scented, too.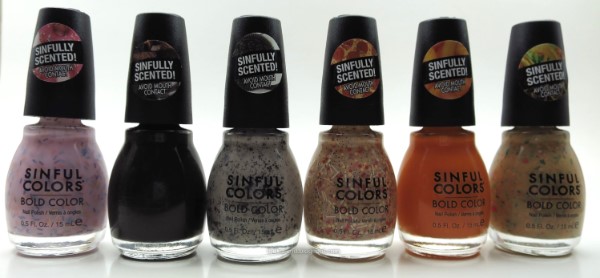 Donut Even has bar glitter "sprinkles" (or "jimmies" depending on where you're from) in a pink crelly base. Unlike Sally Hansen's donut-themed bar glitter, Mixture Perfect, which I shared
recently
, I would wear this one on its own. My swatch is three coats; there is the tiniest hint of visible nail line at certain angles, but it doesn't bother me. This was a little lumpy; I should have added topcoat to smooth it out (and been more careful in application ... I was more focused on getting the glitters distributed than in keeping the layers thin).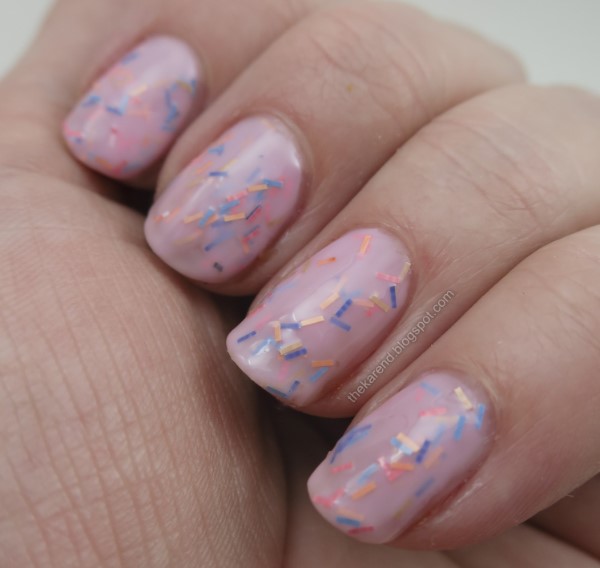 I also tried Donut Even as a topper over Sinful Colors Quick Bliss Juicy, a medium pink creme. Top to bottom: 3 coats of Donut Even alone, then 1 coat of it over Juicy on the other digits. The layering works just okay; it lets the glitter show more, but it's a challenge to get the crelly base to look even in one coat.
Chocolate Cake is a deep brown textured creme. I used two coats for my swatch though one might have worked as well. I could see using this for nail art if I needed tree bark or something like that, but I'm not sure I'd wear it as a full mani.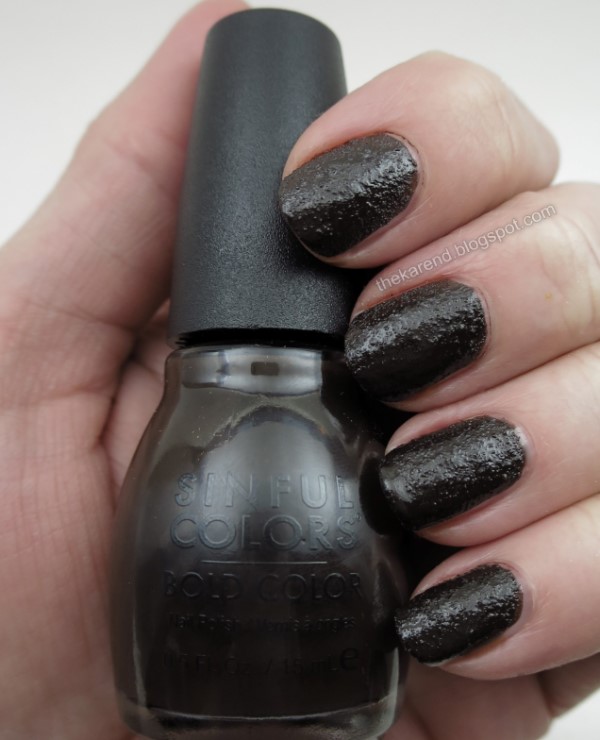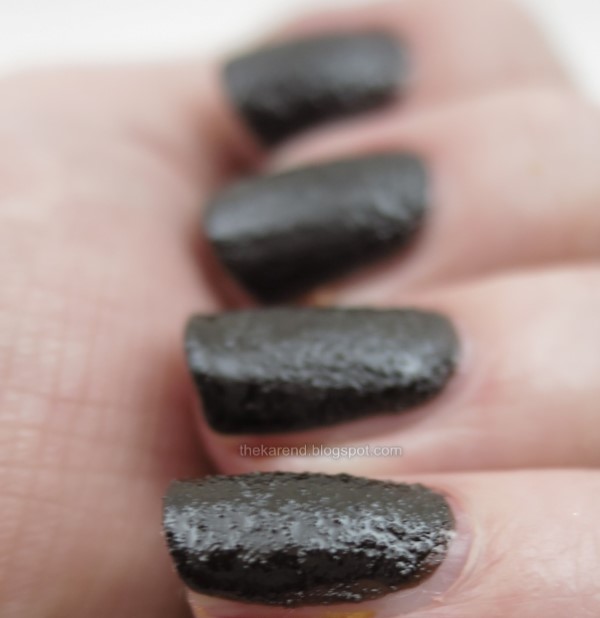 Cookies & Cream is a french vanilla crelly base filled with various sizes of matte black glitter. The base here is a closer to the creme end of the crelly spectrum than the one in Donut Even; my swatch is two coats and that seemed like plenty. I did add a clear topcoat to this one but still feel it looks a bit uneven.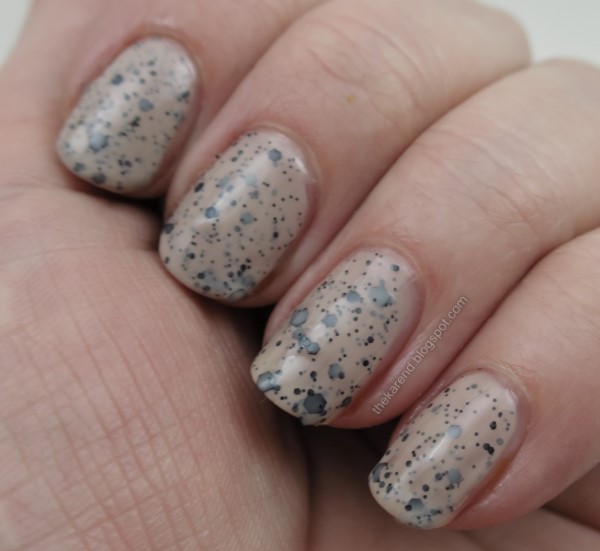 When I got to Pizza Party, I went right to experimenting with layering. This has a warm light tan crelly base with white bar glitter (cheese?), red and yellow hex glitter (pepperoni & mushroom?), and tiny black hex glitter (?). I did two coats of it alone on my index finger and one coat layered over SinfulColors Hot Toffee, a warm brown creme, on my other fingers. I added clear topcoat to all my digits. The bar glitter is on the longer side and if it's the cheese, there's not enough of it.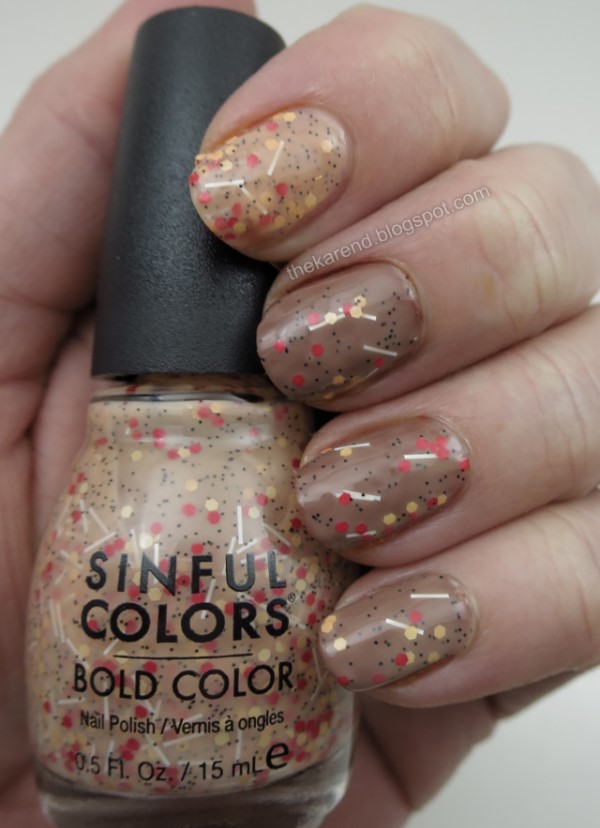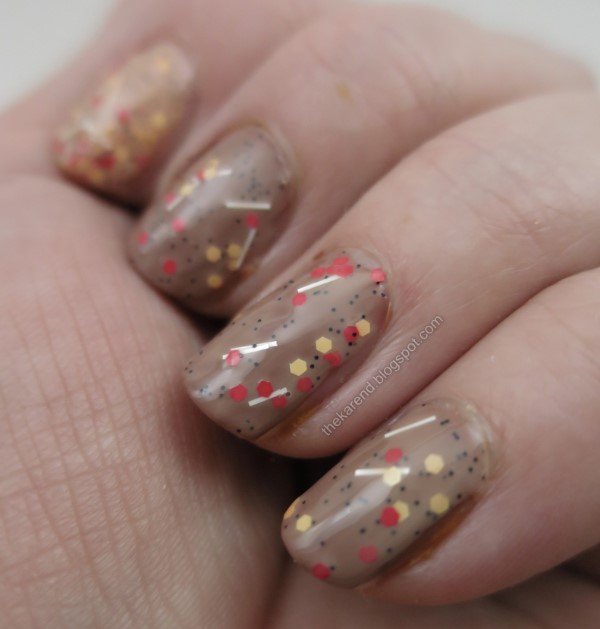 Taco Tuesday has a light yellow crelly base with small bar glitter, hex glitter, and shred glitter in shades of red, green, and peach. It's messy like tacos can be sometimes. I went right to layering with this one, too. Index finger has two coats of Taco Tuesday alone; my other fingers have a base of SinfulColors Raisin the Roof plus one coat of Taco Tuesday. All fingers have clear topcoat.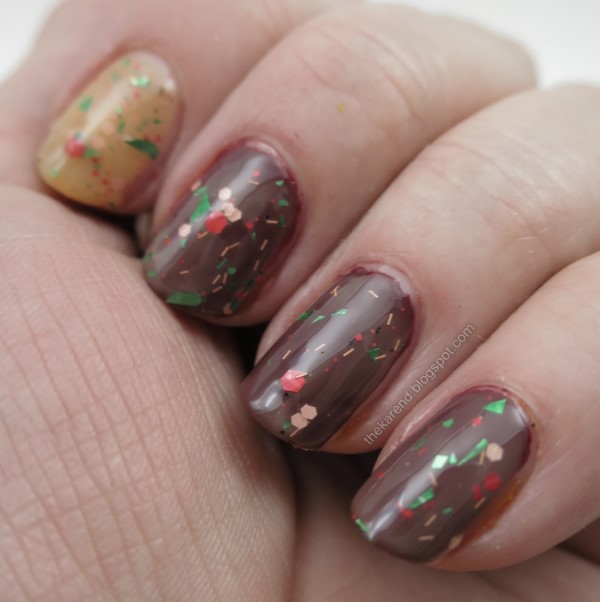 I saved the best and brightest for last. It's Cheese Puff, a yellow orange textured creme that definitely matches its inspiration. I did two coats for my swatch.
I decided it would be a fine idea to try layering the other two "salty" polishes over Cheese Puff, so below you see (top to bottom) Cheese Puff plus Pizza Party, Cheese Puff plus Taco Tuesday, Cheese Puff plus Pizza Party, and Cheese Puff plus Taco Tuesday. I don't hate these combinations; I think Cheese Puff is a better base color for the glitters than the two shades I tried with them first.
I give SinfulColors much credit for putting out this quirky collection. Donut Even and Cookies & Cream are the most mainstream of these, and even they are a departure from "normal" nail polishes. I'm not sure I'll wear these much, but they sure were fun to play with.