Today I finally have individual swatches of the three polishes I used to create my
Northern Lights Nails
look to kick off 2021: Tonic Euphorealis, Pahlish Solar Wind, and Polished for Days Polar Lights.
I started with Polished for Days Polar Lights. It's got a blue-leaning purple base with shifting flakes in turquoise, pink, and blue along with some silvery holo flakes.
I did three coats of Polar Lights for my swatch. Two might have been fine, but I got distracted by the pretty. I added clear topcoat for more depth even though the polish was self-leveled nicely.
Tonic Euphorealis is a warm purple with green to blue shifting shimmer.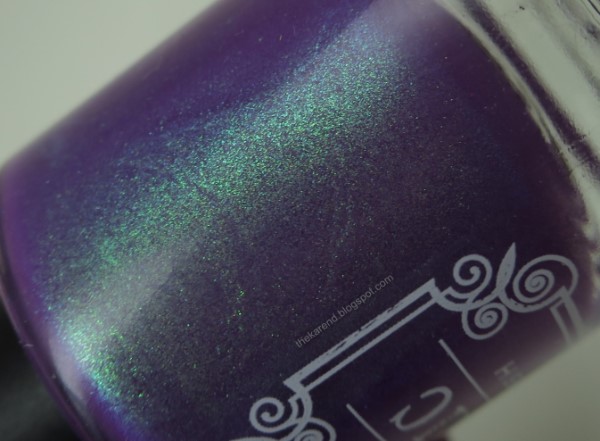 I did three coats plus topcoat for this swatch as well, and again, two and no topcoat would probably have been just fine.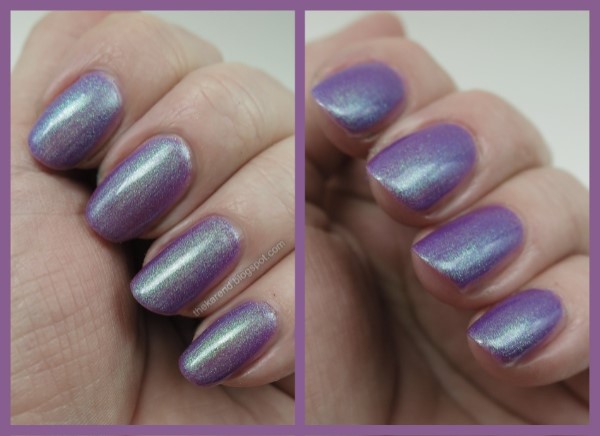 Here's the embarrassing part: I forgot Euphorealis is a thermal. Since it's winter, my hands weren't warm enough to make it change, so there was no visual indication of its thermal-ness, and the label doesn't say anything about it, so I went about my merry way without capturing the warm state at all. Between the time I did my swatching and the time I sat down to write this post, my nails have taken a beating from the winter weather, so instead of re-swatching, I slapped Euphorealis on a nail wheel to see the shift. Its warm state is a very pale lilac.
Pahlish Solar Wind is a dusty green-leaning blue shimmer with plenty of flakes to add even more visual interest: green shifty flake and holo flakes and microflakies.
Two coats of Solar Wind was plenty for full opacity, so I stopped there with this one. I did go ahead and add topcoat just because; it was smooth enough on its own.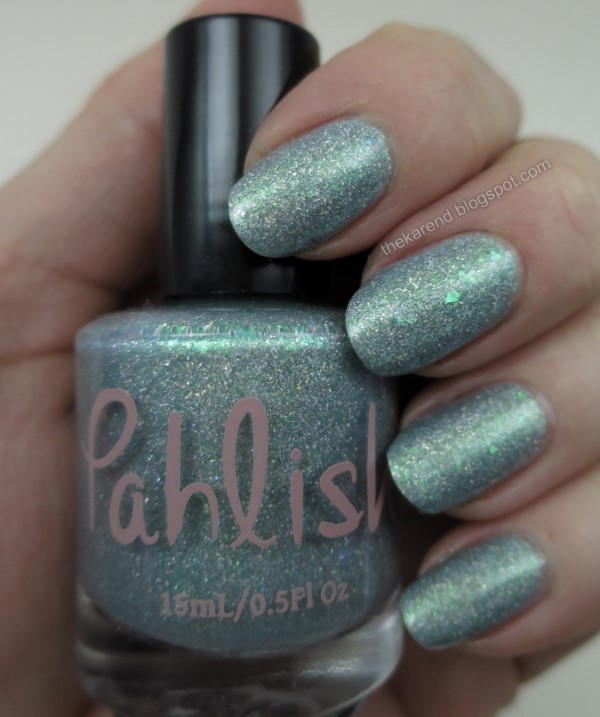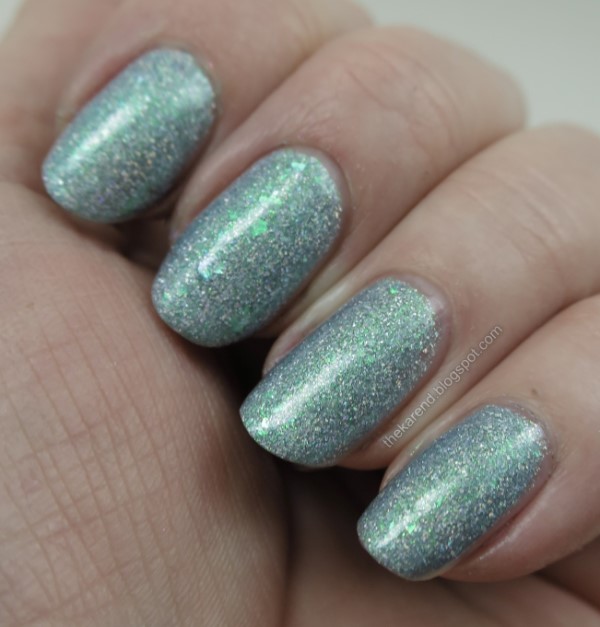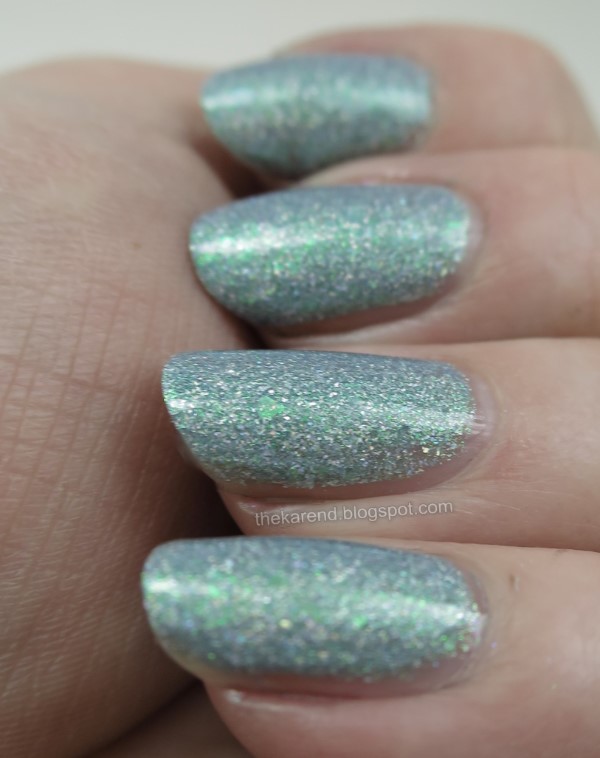 Here's Solar Wind in direct light, showing off its holo:
Being me, I had to play around with layering, even though none of these are technically layering polishes. Why let that little detail stop me? First up I have one coat of Tonic Euphorealis over Pahlish Solar Wind. Euphorealis mostly covers up the flakes in Solar Wind, though one or two of the bigger ones do peek through at some angles. The dusty base of the Pahlish cools down the purple of of the Tonic, makes it softer.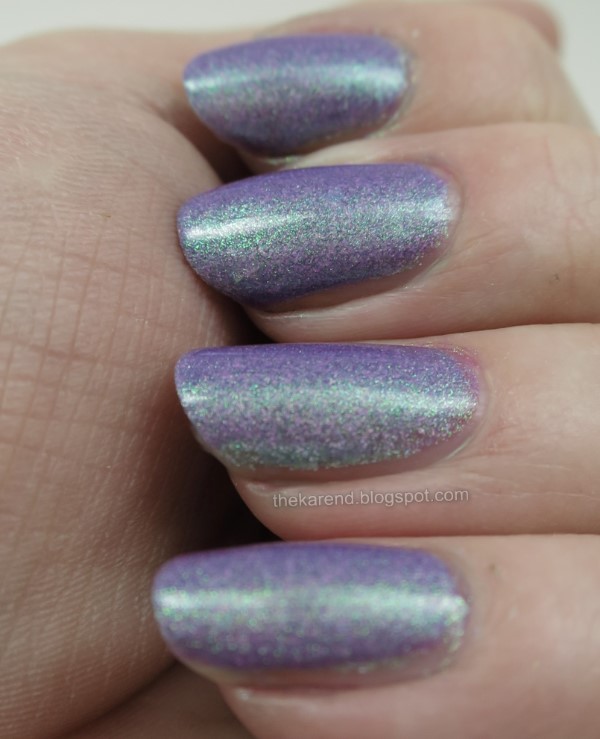 I tried Euphorealis as a base under Polished for Days Polar Lights, leaving the Tonic on its own on my index finger for comparison's sake (should have done this with the above layering combination, but too late now). The warm purple of the Tonic used as a base does make the Polished for Days warmer, too, though the difference is subtle.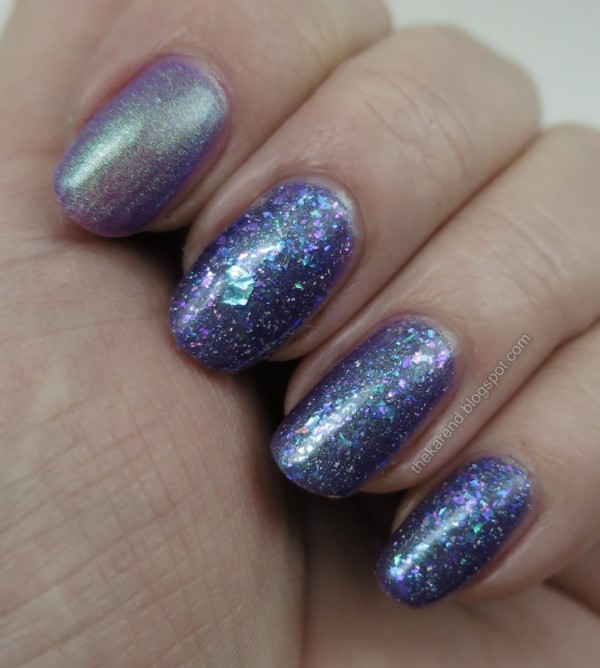 Then I was curious how much the base color could change the look of Polar Lights so I did Skittles with China Glaze Plur-ple (medium warm-leaning purple), Sally Hansen Insta Dri Purple Heart (deep blue violet), SinfulColors Roar (medium blue), and SinfulColors On the Prowl (teal), then topped those with one coat of Polar Lights plus clear topcoat. And yes, I'm calling this experiment a success, as the base colors definitely have an effect, pulling Polar Lights more to purple or blue or navy. Purple Heart on my middle finger changes it the least, which makes sense as it's the closest to the color of the base of Polar Lights.
I'm very glad I bought this box back in November. I'll have to remember the Tonic come summer and hope the thermal won't be dead by then (I don't think it will be but when you see this next Nail Wheel Wedenesday you'll understand my concern).